Tigers Fall to Trinity in SCAC Semifinals; Possible NCAA At-Large Bid Announced Monday
February 28, 2009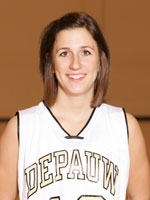 February 28, 2009, Conway,Ark. — Trinity shot 56 percent from the field including 68 percent in the second half, hit 25-of-27 free throws and knocked 17th-ranked DePauw out of the Southern Collegiate Athletic Conference tournament with a 98-80 semifinal win.
DePauw closed the regular season with a 22-5 record and awaits a possible NCAA Division III at-large bid which will be announced on Monday. Trinity advances to Sunday's championship game and improved to 20-7.
The teams battled through a tight first half with DePauw gaining as much as a seven-point advantage. Trinity closed the half with a 7-2 run to knot the score at 45-45.
Trinity used a 12-2 run early in the second half to grab a 61-53 lead with 14:15 remaining. The Tigers later closed the gap to six at 72-66 on Kathryn Denbow's layup with 9:22 left. However, Trinity scored the next seven at the start of a 13-3 run which pushed the lead to 85-69 with just over five minutes left.
Emily Marshall paced the Tigers with 15 points and 14 rebounds and broke DePauw's single-season rebounding mark of 239 established by Kelly Bailey in the 1997-98 season. Cassie Pruzin added 14 and matched a career high with 10 assists. Katie Mathews and Katie Aldrich each scored 12 and Kathryn Denbow scored a career-high 10.
Krista Prato Matthews led Trinity with 27 points and 12 rebounds, while Danielle Hubenak scored 19 and Ali Marzella added 16. Kelsey Goodell followed with 14 and Abby Dietert added 12.
Trinity outscored DePauw in the paint by a 50-38 margin including 32-20 in the second half. DePauw shot 40 percent from the floor and held a 34-30 rebounding edge.
The loss marked the first time in the seven-year history of the SCAC tournament that the Tigers failed to advance to the title game.
Back