DePauw Finishes Seventh at Anderson
March 1, 2009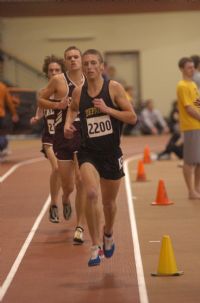 February 28, 2009, Anderson, Ind. — DePauw totaled 26 points and finished seventh at the Fred Wilt Invitational at Anderson University. Vincennes won with 162 points, while Calvin was second with 108.
Nathan Ellis (pictured) finished fourth in the 5,000 meters in 15:16.13, while Jon Cripe was sixth in the 1,000 meters in 15:16.13. Nick Pucillo also placed sixth in the one-mile run in 4:36.50.
The Tigers' 4 x 200 relay placed third in 1:34.95, while the 4 x 400 relay finished fourth in 3:36.68. DePauw's distance medley relay was fifth in 10:39.46.
DePauw returns to action on Friday, March 6, when it hosts the DePauw Indoor Qualifier at 5 p.m. The meet is the final prior to the NCAA Division III Indoor Championships.
Licensed to DePauw University                             HY-TEK's Meet Manager
                   AU Fred Wilt Memorial Indoor Invitational                   
                  Hosted by ANDERSON UNIVERSITY  - 2/28/2009                   
                 KARDATZKE WELLNESS CENTER, ANDERSON, INDIANA                  
                                    Results                                    
 
                    Men - Team Rankings - 18 Events Scored
===============================================================================
    1) Vincennes                 162     
    2) Calvin                    108   
    3) Wabash                     65    
    4) Anderson (Ind.)            56   
    5) Centre                     41    
    6) Manchester                 40   
    7) DePauw                     26    
    8) Albion                     24   
    9) University of St. Francis  16    
   10) Fontbonne                  12   
   11) Franklin                     1                                           


Event 2  Men 55 Meter Dash
===================================================================
  Fieldhouse: F  6.39  2/28/2009   Shaun Smith, Vincennes                      
    Name                    Year School                 Prelims  H#
===================================================================
Preliminaries
  1 Smith, Shaun              FR VINCENNES                 6.57Q  1 
  2 Harding, Keron            FR VINCENNES                 6.67Q  2 
  3 Simms, Delmon             SO VINCENNES                 6.70Q  3 
  4 Ridley, Michael           FR ALBION                    6.72Q  4 
  5 Cripe, EJ                 SO ANDERSON (IND.)           6.70q  2 
  6 Dodd, Jamell              SO VINCENNES                 6.71q  1 
  7 Fahnbulleh, Baba          FR ANDERSON (IND.)           6.75q  4 
  8 Pierre, Charles           FR DEPAUW                    6.80q  1 
  9 McCaster, Ned             SO CENTRE                    6.81   2 
  9 Albright, Jordan          FR CENTRE                    6.81   3 
 11 Poindexter, Reggie        FR ALBION                    6.83   3 
 12 Moon, Brian               JR ANDERSON (IND.)           6.84   2 
 13 Steele, Robert            SO DEPAUW                    6.85   3 
 14 Hay, Aaron                JR CENTRE                    6.86   4 
 15 Kimbrew, Brandon          FR VINCENNES                 6.88   3 
 15 Russell, Mike             SR WABASH                    6.88   1 
 15 Morrison, Mike            SO CENTRE                    6.88   4 
 18 Scarver, Chris            SO DEPAUW                    6.89   2 
 19 Conway, Steven            FR ALBION                    6.97   4 
 20 Heiny, Wade               SR WABASH                    7.06   1 
 20 Mahnken, Chris            SR DEPAUW                    7.06   3 
 22 Gasberra, Chris           SR DEPAUW                    7.13   4 
 23 Sparks, Andrew            SO WABASH                    7.17   4 
 24 Ferguson, Ryan            SO DEPAUW                    7.21   2 
 25 Miller, Tyler             FR ALBION                    7.24   2 
 26 Jones, Charles            JR DEPAUW                    7.32   1 
 27 Maximuik, Andrew          SR ALBION                    7.34   1 
 28 Geary, James              FR ANDERSON (IND.)           7.52   3 
 29 Glowinski, Sam            FR WABASH                    7.69   4 
 
Event 2  Men 55 Meter Dash
=======================================================================
  Fieldhouse: F  6.39  2/28/2009   Shaun Smith, Vincennes                      
    Name                    Year School                  Finals  Points
=======================================================================
Finals
  1 Smith, Shaun              FR VINCENNES                 6.39F  10   
  2 Harding, Keron            FR VINCENNES                 6.48    8   
  3 Simms, Delmon             SO VINCENNES                 6.59    6   
  4 Ridley, Michael           FR ALBION                    6.69    4   
  5 Cripe, EJ                 SO ANDERSON (IND.)           6.70    2   
  6 Dodd, Jamell              SO VINCENNES                 6.74    1   
  7 Fahnbulleh, Baba          FR ANDERSON (IND.)           6.78  
  8 Pierre, Charles           FR DEPAUW                    6.86  
 
Event 4  Men 200 Meter Dash
==========================================================================
  Fieldhouse: F 22.33  2/7/2004    Kent Benson, Anderson University            
    Name                    Year School                  Finals  H# Points
==========================================================================
  1 Duerson, Tony             SO VINCENNES                22.35   7  10   
  2 Smith, Shaun              FR VINCENNES                22.38   7   8   
  3 Baize, Randy              SO VINCENNES                22.53   7   6   
  4 Harding, Keron            FR VINCENNES                22.86   6   4   
  5 Thomas, Darius            SO VINCENNES                22.87   6   2   
  6 Simms, Delmon             SO VINCENNES                23.28   6   1   
  7 Chamblee, Wes             SO WABASH                   23.39   7 
  8 Poindexter, Reggie        FR ALBION                   23.45   5 
  9 Pierre, Charles           FR DEPAUW                   23.50   4 
 10 Zielinski, Jake           FR WABASH                   23.67   5 
 11 Morrison, Mike            SO CENTRE                   23.74   4 
 12 Russell, Mike             SR WABASH                   23.78   7 
 13 Adeymi, Andre             FR WABASH                   23.81   5 
 14 Ridley, Michael           FR ALBION                   23.88   4 
 15 Poe, Ken                  FR VINCENNES                23.98   4 
 16 Fahnbulleh, Baba          FR ANDERSON (IND.)          24.06   5 
 17 Rowe, Chris               SR MANCHESTER               24.25   1 
 18 Scarver, Chris            SO DEPAUW                   24.27   4 
 19 Conway, Steven            FR ALBION                   24.42   3 
 20 Rodriguez, Andrew         SO ANDERSON (IND.)          24.73   2 
 20 Yoquelet, Shawn           FR MANCHESTER               24.73   3 
 22 Kimbrew, Brandon          FR VINCENNES                24.94   6 
 23 McCaster, Ned             SO CENTRE                   24.95   3 
 24 Larimer, William          FR ALBION                   26.16   2 
 25 Nelson, Maurice           SO ALBION                   26.25   2 
 26 Ferenc, Timothy           FR ALBION                   26.33   2 
 27 Jones, Charles            JR DEPAUW                   26.64   1 
 28 Zimmerman, Alex           SR CENTRE                   26.81   2 
 29 Geary, James              FR ANDERSON (IND.)          27.36   1 
 -- Albright, Jordan          FR CENTRE                     DNF   5 
 
Event 6  Men 400 Meter Dash
==========================================================================
  Fieldhouse: F 49.20  2/21/2009   Anthony Flournoy, UNAT-Indianapoli          
    Name                    Year School                  Finals  H# Points
==========================================================================
  1 Duerson, Tony             SO VINCENNES                49.23   4  10   
  2 Baize, Randy              SO VINCENNES                49.78   4   8   
  3 Cok, Jared                SR CALVIN                   50.08   4   6   
  4 Bucher, Korey             JR MANCHESTER               50.23   4   4   
  5 Jackson, Everett          SO FONTBONNE                50.99   3   2   
  6 Thomas, Darius            SO VINCENNES                51.76   4   1   
  7 Sheridan, Spencer         FR WABASH                   51.91   2 
  8 Rowe, Chris               SR MANCHESTER               52.84   3 
  9 Smith, Lari               FR VINCENNES                53.64   3 
 10 Yoquelet, Shawn           FR MANCHESTER               54.01   2 
 11 Wilhem, Logan             FR ANDERSON (IND.)          54.08   2 
 12 Dvorscak, Bobby           FR DEPAUW                   54.12   2 
 13 Poe, Ken                  FR VINCENNES                54.15   3 
 14 Nave, Dan                 SO MANCHESTER               54.22   2 
 15 Smith, Colin              JR ALBION                   54.35   1 
 16 Forester, Patrick         FR MANCHESTER               54.82   1 
 17 Colago, Miles             FR CALVIN                   54.99   1 
 18 Moreland, Eric            FR MANCHESTER               55.01   1 
 19 Pearson, Daniel           FR CENTRE                   55.59   3 
 20 Larimer, William          FR ALBION                   58.98   1 
 
Event 8  Men 800 Meter Run
=======================================================================
  Fieldhouse: F 1:56.65  2/25/2006   Cody Hannie, Huntington College           
    Name                    Year School                  Finals  Points
=======================================================================
  1 Pryor, Tony               SR ANDERSON (IND.)        1:57.55   10   
  2 Vance, Colin              FR CALVIN                 1:59.62    8   
  3 Wrobel, Alex              SO CALVIN                 2:01.03    6   
  4 Jackson, Everett          SO FONTBONNE              2:01.44    4   
  5 Dykema, Ben               SO CALVIN                 2:02.05    2   
  6 Campbell, Graham          FR CENTRE                 2:02.50    1   
  7 Johnson, Tanner           SO ANDERSON (IND.)        2:02.57  
  8 Sterchi, Carson           FR CALVIN                 2:02.97  
  9 Selby, Kevin              SO VINCENNES              2:03.40  
 10 Albright, Nick            FR MANCHESTER             2:03.49  
 11 Giesting, Tyler           FR DEPAUW                 2:05.26  
 12 Bosin, Doug               SR ALBION                 2:05.28  
 13 Laki, Lemi                FR WABASH                 2:05.30  
 14 Duncan, Emby              FR ANDERSON (IND.)        2:06.70  
 15 Wharam, Carl              FR ALBION                 2:07.20  
 16 White, Donovan            FR WABASH                 2:07.22  
 17 Morris, Christopher       SO VINCENNES              2:08.85  
 18 Woods, Garien             SO VINCENNES              2:08.99  
 19 St. Amour, Matt           FR ANDERSON (IND.)        2:09.09  
 20 Allen, Justin             SO WABASH                 2:09.64  
 21 Digman, Bill              FR WABASH                 2:13.74  
 22 Newman, Korey             FR VINCENNES              2:13.82  
 23 Taylor, Houston           SO CENTRE                 2:15.82  
 24 Zhang, George             SO CENTRE                 2:15.83  
 25 Emmons, Derek             FR VINCENNES              2:35.25  
 
Event 10  Men 1000 Meter Run
=======================================================================
  Fieldhouse: F 2:30.71  2/25/2006   Adam Walters, Otterbein College           
    Name                    Year School                  Finals  Points
=======================================================================
  1 McCarthy, Kevin           FR WABASH                 2:36.75   10   
  2 St. Amour, Marc           FR ANDERSON (IND.)        2:39.03    8   
  3 Rowe, Jamarus             FR VINCENNES              2:39.14    6   
  4 Cahall, Clinton           SO CENTRE                 2:40.21    4   
  5 Malloy, Dan               JR ANDERSON (IND.)        2:41.88    2   
  6 Cripe, Jon                FR DEPAUW                 2:43.97    1   
  7 Richardson, Eric          JR ALBION                 2:48.60  
  8 Patris, Kyle              FR VINCENNES              3:05.65  
  9 Augsti, John              FR FONTBONNE              3:22.52  
 
Event 12  Men 1 Mile Run
=======================================================================
  Fieldhouse: F 4:15.52  2/25/2006   Michael Sawicki, Otterbein College        
    Name                    Year School                  Finals  Points
=======================================================================
  1 White, Donovan            FR WABASH                 4:26.75   10   
  2 Kent, Tyler               SO VINCENNES              4:26.76    8   
  3 Carreon, Dan              FR CALVIN                 4:30.74    6   
  4 Allen, Justin             SO WABASH                 4:33.01    4   
  5 Duncan, Emby              FR ANDERSON (IND.)        4:35.25    2   
  6 Pucillo, Nick             SO DEPAUW                 4:36.50    1   
  7 Richardson, Eric          JR ALBION                 4:37.25  
  8 Dixon, Frankie            SR ANDERSON (IND.)        4:37.31  
  9 Nielson, Kerry            SO MANCHESTER             4:38.16  
 10 Digman, Bill              FR WABASH                 4:39.41  
 11 Pratt, Kenton             FR ANDERSON (IND.)        4:45.02  
 12 Herbel, AJ                SO MANCHESTER             4:48.51  
 13 St. Amour, Matt           FR ANDERSON (IND.)        4:48.79  
 14 Zhang, George             SO CENTRE                 4:51.70  
 15 Childs, Joel                 AU ALUMNI              4:54.80  
 16 Alanson, Mark             FR ALBION                 4:55.57  
 17 Campbell, Jake            FR DEPAUW                 5:00.15  
 18 Surface, Jacob            SO WABASH                 5:02.26  
 19 Beaty, Drew               SO ANDERSON (IND.)        5:03.45  
 20 Kunkel, Josh              SO MANCHESTER             5:04.48  
 21 Houston, Ben              FR MANCHESTER             5:08.43  
 22 Leyva, Carlos             FR MANCHESTER             5:10.28  
 23 Silverthorn, Tyler        JR ALBION                 5:17.72  
 24 Augsti, John              FR FONTBONNE              5:34.60  
 
Event 14  Men 5000 Meter Run
=======================================================================
  Fieldhouse: F 14:55.14  2/28/2004   Jason Parks, Anderson University         
    Name                    Year School                  Finals  Points
=======================================================================
  1 Christiansen, Jake        SO CALVIN                15:00.01   10   
  2 Vankampen, Erik           SR CALVIN                15:01.29    8   
  3 Kramer, Nick              FR CALVIN                15:11.80    6   
  4 Ellis, Nathan             SR DEPAUW                15:16.13    4   
  5 VanWyk, Ben               SO CALVIN                15:17.57    2   
  6 Welti, Brandon            SR FRANKLIN              15:22.25    1   
  7 Langenberg, Tim           SR CALVIN                15:26.05  
  8 Weinberg, Zack            JR DEPAUW                15:31.67  
  9 Holmes, Taylor            SO ANDERSON (IND.)       15:35.25  
 10 Hawley, Eric              SO DEPAUW                15:45.85  
 11 Milliman, Micah           JR WABASH                15:51.92  
 12 Polio, Joey               SR CENTRE                15:57.14  
 13 Helm, Matt                SR ANDERSON (IND.)       15:57.27  
 14 Dunlap, Colin             FR WABASH                15:58.53  
 15 Morici, Rhett             FR CALVIN                15:59.46  
 16 Kober, Nate               FR DEPAUW                16:01.35  
 17 Richard, Pete             FR DEPAUW                16:03.67  
 18 Wellik, Jay               JR DEPAUW                16:07.47  
 19 Hojnacki, Jake            SO FRANKLIN              16:10.18  
 20 Womboldt, Alec            FR MANCHESTER            16:11.15  
 21 Polzin, Taylor            FR ALBION                16:16.52  
 22 Mitchell, Matt            SO VINCENNES             16:17.29  
 23 Lindquist, Ian            FR FONTBONNE             16:23.02  
 24 Schulte, Todd             FR FONTBONNE             16:27.61  
 25 David, Brian              FR WABASH                16:29.06  
 26 Wyatt, Jake               FR ANDERSON (IND.)       16:32.38  
 27 Roark, Michael            SO VINCENNES             16:51.98  
 28 Goodin, Quentin           FR VINCENNES             17:07.84  
 29 Shaheen, Nicholas         JR ALBION                17:11.66  
 30 Santos, Jack              FR CENTRE                17:28.43  
 31 Alanson, Mark             FR ALBION                17:41.69  
 32 Fanslau, Travis           JR ALBION                19:40.03  
 
Event 16  Men 55 Meter Hurdles
===================================================================
  Fieldhouse: F  6.65  2/25/2006   Justin Rash, Otterbein College              
    Name                    Year School                 Prelims  H#
===================================================================
Preliminaries
  1 Nash, Christian           SO VINCENNES                 7.80Q  2 
  2 Rottman, Caleb            JR CALVIN                    7.97Q  1 
  3 Aouad, Emmanuel           JR WABASH                    7.83q  2 
  4 Newman, Korey             FR VINCENNES                 8.15q  1 
  5 Heiny, Wade               SR WABASH                    8.20q  2 
  6 Coleman, Dan              JR ALBION                    8.45q  2 
  7 Vermeer, Tim              SO CALVIN                    8.63q  1 
  8 Rodriguez, Andrew         SO ANDERSON (IND.)           8.73q  1 
  9 Rassel, Sean              SR ALBION                    9.08   1 
 10 Bradley, Zach             JR MANCHESTER                9.16   2 
 
Event 16  Men 55 Meter Hurdles
=======================================================================
  Fieldhouse: F  6.65  2/25/2006   Justin Rash, Otterbein College              
    Name                    Year School                  Finals  Points
=======================================================================
Finals
  1 Nash, Christian           SO VINCENNES                 7.72   10   
  2 Aouad, Emmanuel           JR WABASH                    7.77    8   
  3 Newman, Korey             FR VINCENNES                 8.05    6   
  4 Heiny, Wade               SR WABASH                    8.06    4   
  5 Rottman, Caleb            JR CALVIN                    8.22    2   
  6 Vermeer, Tim              SO CALVIN                    8.65    1   
  7 Coleman, Dan              JR ALBION                    8.66  
  8 Rodriguez, Andrew         SO ANDERSON (IND.)           8.67  
 
Event 18  Men 4x200 Meter Relay
=======================================================================
  Fieldhouse: F 1:29.45  2/24/2007   , Monmouth College (IL)                   
    School                                               Finals  Points
=======================================================================
  1 ANDERSON (IND.)                                     1:34.74   10   
  2 CENTRE                                              1:34.94    8   
  3 DEPAUW                                              1:34.95    6   
 
Event 20  Men 4x400 Meter Relay
==========================================================================
  Fieldhouse: F 3:20.32  2/28/2009   Vincennes, Vincennes                      
                         T Duerson, C Fletcher, R Baize, C Nash            
    School                                               Finals  H# Points
==========================================================================
  1 VINCENNES                                           3:20.32F  2  10   
  2 WABASH                                              3:27.24   2   8   
  3 ANDERSON (IND.)                                     3:32.26   2   6   
  4 DEPAUW                                              3:36.68   2   4   
  5 ALBION                                              3:40.80   1   2   
  6 ANDERSON (IND.)  'B'                                3:42.45   1 
  7 CALVIN                                              3:42.52   2   1   
  8 ALBION  'B'                                         3:48.45   1 
 
Event 22  Men Distance Medley
=======================================================================
  Fieldhouse: F 10:10.21  2/28/2009   Calvin, Calvin                           
                          N DeHaan, J Cok, A Wrobel, J Christiansen         
    School                                               Finals  Points
=======================================================================
  1 CALVIN                                             10:10.21F  10   
  2 WABASH                                             10:11.81    8   
  3 VINCENNES                                          10:35.31    6   
  4 AU ALUMNI                                          10:36.10  
  5 DEPAUW                                             10:39.46    4   
  6 CENTRE                                             10:39.99    2   
  7 CALVIN  'B'                                        10:40.93  
  8 ALBION                                             11:16.24    1   
 
Event 24  Men Shot Put
=================================================================================
  Fieldhouse: F 17.01m  2/4/2006    Dwayne Lockridge, Anderson University      
    Name                    Year School                  Finals            Points
=================================================================================
  1 Wells, Leonard            FR ANDERSON (IND.)         14.93m   48-11.75  10   
  2 Smith, Ryan               FR MANCHESTER              14.12m   46-04.00   8   
  3 Boyd, Jamie               SO ALBION                  13.75m   45-01.50   6   
  4 Scheller, Matt            SO WABASH                  13.62m   44-08.25   4   
  5 Carter, Jacob             FR CENTRE                  13.56m   44-06.00   2   
  6 Edwards, Kyle             FR WABASH                  13.48m   44-02.75   1   
  7 Echtinaw, Ken             SO CALVIN                  13.22m   43-04.50 
  8 Rodgers, Austin           JR ALBION                  13.21m   43-04.25 
  9 Doane, Tyler              SO DEPAUW                  12.98m   42-07.00 
 10 Mercy, Charles            SR CENTRE                  12.62m   41-05.00 
 11 Tindall, Adam             SO ANDERSON (IND.)         12.46m   40-10.50 
 12 Wilson, Terrance          SR ALBION                  12.36m   40-06.75 
 13 Benson, Mike              SO DEPAUW                  12.00m   39-04.50 
 14 Sparks, Andrew            SO WABASH                  11.78m   38-07.75 
 15 Bozarth, James            SO CENTRE                  11.70m   38-04.75 
 16 Zimmerman, Alex           SR CENTRE                  10.98m   36-00.25 
 17 Bradley, Zach             JR MANCHESTER              10.90m   35-09.25 
 18 Steele, Robert            SO DEPAUW                   9.28m   30-05.50 
 19 Fagan, John               JR MANCHESTER               8.43m   27-08.00 
 20 Steel, Reginald           FR WABASH                   7.57m   24-10.00 
 
Event 26  Men Weight Throw
=================================================================================
  Fieldhouse: F 18.85m  2/21/2009   Willie Little, Indianapolis                
    Name                    Year School                  Finals            Points
=================================================================================
  1 Adams, Nick                  UNIVERSITY OF ST        16.91m   55-05.75  10   
  2 Moseman, Alex             SO WABASH                  15.39m   50-06.00   8   
  3 Truttling, Matt              UNIVERSITY OF ST        14.08m   46-02.50   6   
  4 Wells, Leonard            FR ANDERSON (IND.)         13.41m   44-00.00   4   
  5 Carter, Jacob             FR CENTRE                  11.84m   38-10.25   2   
  6 Smith, Ryan               FR MANCHESTER              11.80m   38-08.75   1   
  7 Bozarth, James            SO CENTRE                  11.61m   38-01.25 
  8 Mercy, Charles            SR CENTRE                  10.79m   35-05.00 
  9 Barth, James              FR MANCHESTER               7.34m   24-01.00 
 
Event 28  Men Long Jump
=================================================================================
  Fieldhouse: F 7.11m  2/28/2004   Jon Cook, Goshen College                    
    Name                    Year School                  Finals            Points
=================================================================================
  1 Albright, Jordan          FR CENTRE                   6.52m   21-04.75  10   
  2 Dodd, Jamell              SO VINCENNES                6.21m   20-04.50   8   
  3 Steele, Robert            SO DEPAUW                   6.18m   20-03.50   6   
  4 Harding, Keron            FR VINCENNES                6.10m   20-00.25   4   
  5 Velgersdyk, Corey         JR CALVIN                   5.87m   19-03.25   2   
  6 Zimmerman, Alex           SR CENTRE                   5.76m   18-10.75   1   
  7 Baker, Aaron              SR ALBION                   5.63m   18-05.75 
  8 Both, Willem              FR CALVIN                   5.38m   17-08.00 
  9 Conway, Steven            FR ALBION                   5.29m   17-04.25 
 10 Miller, Tyler             FR ALBION                   5.02m   16-05.75 
 11 Maximuik, Andrew          SR ALBION                   4.84m   15-10.50 
 
Event 30  Men Triple Jump
=================================================================================
  Fieldhouse: F 14.58m  2/24/2007   Jamaury Harris, Missouri Baptist Univers   
    Name                    Year School                  Finals            Points
=================================================================================
  1 Jones, Chrys              SO CENTRE                  14.28m   46-10.25  10   
  2 Wilson, Jerome            FR VINCENNES               14.16m   46-05.50   8   
  3 Velgersdyk, Corey         JR CALVIN                  12.84m   42-01.50   6   
  4 Baker, Aaron              SR ALBION                  12.28m   40-03.50   4   
  5 Both, Willem              FR CALVIN                  12.12m   39-09.25   2   
  6 Maximuik, Andrew          SR ALBION                  11.94m   39-02.25   1   
  7 Gasberra, Chris           SR DEPAUW                  11.65m   38-02.75 
  8 Miller, Tyler             FR ALBION                  11.48m   37-08.00 
  9 Smith, Lari               FR VINCENNES               11.33m   37-02.25 
 
Event 32  Men High Jump
=================================================================================
  Fieldhouse: F 2.03m  2/25/2006   Zach Weber, Indiana Wesleyan Univers        
    Name                    Year School                  Finals            Points
=================================================================================
  1 Pines, De'Rhon            FR VINCENNES                1.92m    6-03.50   9   
  1 Kimmel, John              JR MANCHESTER               1.92m    6-03.50   9   
  3 Rottman, Caleb            JR CALVIN                   1.88m    6-02.00   6   
  4 Miller, Adam              FR MANCHESTER               1.88m    6-02.00   4   
  5 Parsons, Josh             SO VINCENNES                1.78m    5-10.00   2   
  6 Zimmerman, Alex           SR CENTRE                   1.78m    5-10.00   1   
  7 Moreland, Eric            FR MANCHESTER               1.78m    5-10.00 
  7 Rassel, Sean              SR ALBION                   1.78m    5-10.00 
  9 Conway, Steven            FR ALBION                   1.78m    5-10.00 
 10 Ferenc, Timothy           FR ALBION                   1.73m    5-08.00 
 
Event 34  Men Pole Vault
=================================================================================
  Fieldhouse: F 4.92m  2/28/2003   Andrew Schipper, Rose-Hulman Inst. of T.    
    Name                    Year School                  Finals            Points
=================================================================================
  1 Bradtmiller, Beau         SR MANCHESTER               4.57m   15-00.00  10   
  2 Swisher, Dakota           FR VINCENNES                4.57m   15-00.00   8   
  3 Michel, Eric              SO CALVIN                   4.42m   14-06.00   6   
  4 Fagan, John               JR MANCHESTER               4.27m   14-00.00   4   
  5 Nixon, Wade               SO VINCENNES                4.27m   14-00.00   2   
  6 Foster, Jed               FR ANDERSON (IND.)          4.12m   13-06.25   1   
  7 Coleman, Dan              JR ALBION                   4.12m   13-06.25 
  8 Edwards, Nick             JR CENTRE                   3.80m   12-05.50 
  9 Rigsby, John              SR ANDERSON (IND.)          3.80m   12-05.50 
 10 Both, Willem              FR CALVIN                   3.50m   11-05.75 
 11 Lambrect, Schuyler        SO VINCENNES                3.35m   10-11.75 
 -- Mahnken, Chris            SR DEPAUW                      NH            
 -- Glowinski, Sam            FR WABASH                      NH            
 
Event 36  Men 3000 Meter Steeplechase
=======================================================================
  Fieldhouse: F 9:16.85  2/28/2009   Aaron Goodman, Calvin                     
    Name                    Year School                  Finals  Points
=======================================================================
  1 Goodman, Aaron            JR CALVIN                 9:16.85F  10   
  2 Visser, George            JR CALVIN                 9:39.21    8   
  3 Kassman, Zach             SO FONTBONNE              9:43.64    6   
  4 Albano, Mike              SO ALBION                 9:44.78    4   
  5 Fuentes, Drew             FR ALBION                 9:52.28    2   
  6 Dougherty, Matt           FR ANDERSON (IND.)       10:17.81    1   
  7 Jackson, Cole             SO MANCHESTER            10:21.20  
  8 Bennett, Daniel           FR FRANKLIN              10:25.89  
  9 Stevenson, Zach           FR FRANKLIN              10:45.58  
 10 Carrier, Jared            FR MANCHESTER            11:08.82  
 11 Bartkus, Jon              SR ALBION                11:50.21  
 

Back