Tigers Place Second at Anderson; DMR Provisionally Qualifies
March 1, 2009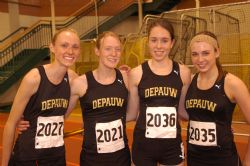 February 28, 2009, Anderson, Ind. — DePauw totaled 109 points and finished second to Calvin's 140 at the Fred Wilt Invitational at Anderson.
DePauw's distance medley relay (pictured) of Claire Hollis, Emily Reavis, Alison Case and Lauren Reich finished second in 12:01.3 but did so in an NCAA provisionally-qualifying time.
Chenae White won the 55-meter dash in a school-record 7.39 seconds, while Schavel Morrison was third in 7.85 seconds. White also set a school mark in the 200 meters with a winning time of 26.67 seconds. Maggie Baber was second in 27.85 seconds and Morrison placed fourth in 28.31 seconds.
Lindsay Bauman won the 1,000 meters in 3:25.76, while Jackie Boehmler was second in the 400 meters in 1:02.62 as was Lauren Reich in the 800 meters in 2:20.64. Julie Theibert finished fourth in the 3,000 steeplechase in 11:52.64.
Adrienne Cobb was third in the shot put with a toss of 12.00 meters (39-4.5) as was Meredith Rausch in the pole vault at 2.74 meters (8-11.75), while Kelsey Floyd was fourth in the triple jump at 9.19 meters (30-2)
DePauw's 4 x 200 relay of Nicole Stein, Boehmler, Baber and White won and set a school record in 1:48.47. The 4 x 400 relay was third in 4:16.47.
The Tigers wrap up the indoor regular season on Friday, March 6, when they host the DePauw Indoor Qualifier.
Licensed to DePauw University                             HY-TEK's Meet Manager
                   AU Fred Wilt Memorial Indoor Invitational                   
                  Hosted by ANDERSON UNIVERSITY  - 2/28/2009                   
                 KARDATZKE WELLNESS CENTER, ANDERSON, INDIANA                  
                                    Results                                    

                    Women - Team Rankings - 18 Events Scored
===============================================================================
    1) Calvin                    140    
    2) DePauw                    109   
    3) Albion                     63    
    4) Manchester                 62   
    5) Anderson (Ind.)            54    
    6) Centre                     40   
    7) Vincennes                  32    
    7) Fontbonne                  32   
    9) University of St. Francis  10    
    9) Franklin                   10   
 
Event 1  Women 55 Meter Dash
===================================================================
  Fieldhouse: F  7.06  2/10/2007   Amber Williams, Ball State                  
    Name                    Year School                 Prelims  H#
===================================================================
Preliminaries
  1 White, Chenae             FR DEPAUW                    7.59Q  1 
  2 Morrison, Schavel         SO DEPAUW                    7.94Q  2 
  3 Ritter, Samantha          FR ALBION                    8.00q  2 
  4 Webb, Jenny               SO ALBION                    8.02q  1 
  5 Wahlers, Emily            FR CENTRE                    8.14q  1 
  6 Anderson, Claire          JR FONTBONNE                 8.18q  2 
  7 Rowlett, Michelle         FR ANDERSON (IND.)           8.32q  2 
  8 Sink, Alisha              FR ANDERSON (IND.)           8.56q  1 
  9 Simon, Megan              JR FONTBONNE                 8.99   2 
 
Event 1  Women 55 Meter Dash
=======================================================================
  Fieldhouse: F  7.06  2/10/2007   Amber Williams, Ball State                  
    Name                    Year School                  Finals  Points
=======================================================================
Finals
  1 White, Chenae             FR DEPAUW                    7.39   10   
  2 Ritter, Samantha          FR ALBION                    7.77    8   
  3 Morrison, Schavel         SO DEPAUW                    7.85    6   
  4 Webb, Jenny               SO ALBION                    8.07    3   
  4 Anderson, Claire          JR FONTBONNE                 8.07    3   
  6 Wahlers, Emily            FR CENTRE                    8.14    1   
  7 Rowlett, Michelle         FR ANDERSON (IND.)           8.33  
  8 Sink, Alisha              FR ANDERSON (IND.)           8.54  
 
Event 3  Women 200 Meter Dash
==========================================================================
  Fieldhouse: F 24.79  2/10/2007   Amber Williams, Ball State                  
    Name                    Year School                  Finals  H# Points
==========================================================================
  1 White, Chenae             FR DEPAUW                   26.67   5  10   
  2 Baber, Maggie             SO DEPAUW                   27.85   5   8   
  3 Lindsey, Kelly            JR FONTBONNE                27.89   5   6   
  4 Morrison, Schavel         SO DEPAUW                   28.31   4   4   
  5 Ritter, Samantha          FR ALBION                   28.41   5   2   
  6 St. Clair, Rena           SO ANDERSON (IND.)          28.64   4   1   
  7 Webb, Jenny               SO ALBION                   28.65   4 
  8 Lovelace, Rayneshia       FR FONTBONNE                28.80   5 
  9 Grinstead, Emily          FR CENTRE                   29.07   5 
 10 Jackson, Kasey            SO CENTRE                   29.12   4 
 11 Anderson, Claire          JR FONTBONNE                29.16   3 
 12 McCollum, Kate            SO ANDERSON (IND.)          29.22   3 
 13 Wahlers, Emily            FR CENTRE                   29.45   4 
 14 Johnston, Angie           SO ALBION                   29.98   2 
 15 Floyd, Kelsey             FR DEPAUW                   30.00   3 
 16 Rausch, Meredith          FR DEPAUW                   30.01   3 
 17 Rowlett, Michelle         FR ANDERSON (IND.)          30.19   1 
 18 Gash, Stacey              SR CENTRE                   30.42   3 
 19 Swoverland, Nicole        SR MANCHESTER               30.73   1 
 20 Fogt, Anna                FR DEPAUW                   30.97   3 
 21 Sink, Alisha              FR ANDERSON (IND.)          31.23   2 
 22 Peters, LaTavia           FR ANDERSON (IND.)          32.29   1 
 23 Simon, Megan              JR FONTBONNE                32.87   1 
 24 Kaisler, Claire           FR ALBION                   35.23   1 
 
Event 5  Women 400 Meter Dash
==========================================================================
  Fieldhouse: F 59.89  2/25/2006   Nathalie Hutchins, Tiffin College           
    Name                    Year School                  Finals  H# Points
==========================================================================
  1 Roelofs, Katie            SO CALVIN                 1:01.45   3  10   
  2 Boehmler, Jackie          SO DEPAUW                 1:02.62   3   8   
  3 Lindsey, Kelly            JR FONTBONNE              1:03.17   2   6   
  4 Grinstead, Emily          FR CENTRE                 1:04.11   2   3   
  4 Orndorff, Sarah           FR CALVIN                 1:04.11   2   3   
  6 St. Clair, Rena           SO ANDERSON (IND.)        1:04.62   3   1   
  7 Lucas, Maggie             SO ANDERSON (IND.)        1:06.84   2 
  8 Putans, Becca             JR ALBION                 1:07.30   1 
  9 Vidican, Lisa             FR DEPAUW                 1:09.28   2 
 10 Leads, Rachel             FR ALBION                 1:09.69   1 
 11 Borroco, Alyssa           JR FONTBONNE              1:10.34   2 
 12 McMurray, Rebecca         SO ALBION                 1:10.65   1 
 -- Ritchie, Jazmunn          FR VINCENNES                  DNF   3 
 
Event 7  Women 800 Meter Run
=======================================================================
  Fieldhouse: F 2:14.64  2/25/2006   Maggie Noonan, Anderson University        
    Name                    Year School                  Finals  Points
=======================================================================
  1 Bergstrom, Lauren         SR CALVIN                 2:16.62   10   
  2 Reich, Lauren             JR DEPAUW                 2:20.64    8   
  3 Diemer, Kaitlin           FR CALVIN                 2:23.73    6   
  4 Tuuk, Alison              SO CALVIN                 2:24.09    4   
  5 Phillips, Steph           SR MANCHESTER             2:24.80    2   
  6 Griggs, Vanessa           FR VINCENNES              2:26.11    1   
  7 Rufenacht, Dani           FR ANDERSON (IND.)        2:27.65  
  8 Jackson, Laura            SR CALVIN                 2:28.23  
  9 Becharus, Lisa            FR DEPAUW                 2:28.76  
 10 Scales, Myrissa           FR VINCENNES              2:35.93  
 11 Nichols, Erika            JR ALBION                 2:40.52  
 12 Anderson, Laurie          SO ALBION                 2:41.37  
 13 Kus, Jordan               FR ALBION                 2:44.29  
 14 Heckman, Andrea           SR CENTRE                 2:45.26  
 15 Fulmer, Eloise            FR MANCHESTER             2:49.58  
 16 Brimmer, Courtney         FR DEPAUW                 2:53.54  
 17 Keys, Jessica             FR VINCENNES              2:59.93  
 18 Wohlhuter, Mary           SO ALBION                 3:05.67  
 
Event 9  Women 1000 Meter Run
=======================================================================
  Fieldhouse: F 3:01.64  2/24/2007   Petrana Petkova, Goshen College           
    Name                    Year School                  Finals  Points
=======================================================================
  1 Bauman, Lindsey           FR DEPAUW                 3:25.76   10   
  2 Crew, Cassi               FR VINCENNES              3:29.32    8   
  3 Titsworth, Kaitlin        FR FONTBONNE              3:34.95    6   
  4 Farris, Paige             FR CENTRE                 3:42.42    4   
  5 Morris, Tricia            SO FONTBONNE              3:46.85    2   
  6 Engelbrecht, Monica       JR FONTBONNE              3:52.30    1   
  7 Crouch, Sydney            FR DEPAUW                 3:53.83  
  8 Schwartzman, Maria        SR DEPAUW                 4:04.25  
 
Event 11  Women 1 Mile Run
=======================================================================
  Fieldhouse: F 5:02.95  2/21/2009   Katie Hickey, Bellarmine                  
    Name                    Year School                  Finals  Points
=======================================================================
  1 Waterman, Heather         SO FRANKLIN               5:31.55   10   
  2 McLaughlin, Emily         SO ALBION                 5:47.32    8   
  3 Gray, Haley               SO CENTRE                 5:50.76    6   
  4 Weiler, Emma              FR MANCHESTER             5:56.18    4   
  5 Ringer, Mollie            SO ANDERSON (IND.)        5:56.35    2   
  6 Hutchenson, Kaitlin       SO MANCHESTER             5:57.30    1   
  7 Titsworth, Kaitlin        FR FONTBONNE              6:00.14  
  8 Anderson, Laurie          SO ALBION                 6:01.19  
  9 Cox, Marcey               SO FONTBONNE              6:03.40  
 10 Hope, Erica               SO ALBION                 6:04.80  
 11 Karp, Ashlee              SO DEPAUW                 6:10.32  
 12 Gingerich, Kaitlyn        FR ANDERSON (IND.)        6:17.48  
 
Event 13  Women 5000 Meter Run
=======================================================================
  Fieldhouse: F 17:16.66  2/25/2006   Robyn Burns, Franklin College            
    Name                    Year School                  Finals  Points
=======================================================================
  1 Koster, Jessica           JR CALVIN                17:36.26   10   
  2 Hale, Jesi                SR CALVIN                18:19.49    8   
  3 Dugan, Sarah              JR CALVIN                18:19.93    6   
  4 Edwards, Kelly            SR CALVIN                18:49.19    4   
  5 Nichols, Erika            JR ALBION                19:06.07    2   
  6 Beakas, Jennifer          SO MANCHESTER            19:32.26    1   
  7 Hanson, Rachel            SO FONTBONNE             19:49.05  
  8 Moore, Kelsey             FR DEPAUW                19:53.61  
  9 Alva, Tiffany             JR MANCHESTER            20:04.57  
 10 Broekema, Katie           FR ALBION                21:19.35  
 11 Smith, Chelsea            SR ALBION                21:33.16  
 
Event 15  Women 55 Meter Hurdles
===================================================================
  Fieldhouse: F  8.19  2/10/2007   Amber Williams, Ball State                  
    Name                    Year School                 Prelims  H#
===================================================================
Preliminaries
  1 Roth, Michelle            SR ANDERSON (IND.)           9.17Q  2 
  2 Ripley-Nifong, Holly      FR MANCHESTER                9.84Q  1 
  3 Johnston, Angie           SO ALBION                    9.85q  2 
  4 Swoverland, Nicole        SR MANCHESTER               10.07q  2 
  5 Thayer, Kathleen          FR MANCHESTER               10.14q  1 
  6 Leads, Rachel             FR ALBION                   10.34q  2 
  7 Jackson, Kasey            SO CENTRE                   10.35q  1 
  8 Loshe, Casey              FR MANCHESTER               10.39q  1 
  9 Gash, Stacey              SR CENTRE                   10.49   2 
 10 Klumpp, Stephanie         SR ALBION                   11.26   1 
 11 Morris, Tricia            SO FONTBONNE                11.36   2 
 
Event 15  Women 55 Meter Hurdles
=======================================================================
  Fieldhouse: F  8.19  2/10/2007   Amber Williams, Ball State                  
    Name                    Year School                  Finals  Points
=======================================================================
Finals
  1 Roth, Michelle            SR ANDERSON (IND.)           9.00   10   
  2 Ripley-Nifong, Holly      FR MANCHESTER                9.71    8   
  3 Johnston, Angie           SO ALBION                    9.75    6   
  4 Thayer, Kathleen          FR MANCHESTER               10.01    4   
  5 Jackson, Kasey            SO CENTRE                   10.03    2   
  6 Swoverland, Nicole        SR MANCHESTER               10.06    1   
  7 Loshe, Casey              FR MANCHESTER               10.25  
  8 Leads, Rachel             FR ALBION                   10.30  
 
Event 17  Women 4x200 Meter Relay
=======================================================================
  Fieldhouse: F 1:46.63  2/26/2005   , Tiffin College                          
                         A. Bader, F. Dorsey, J. Duncan, N. Hutchens       
    School                                               Finals  Points
=======================================================================
  1 DEPAUW                                              1:48.47   10   
  2 ALBION                                              1:52.82    8   
  3 FONTBONNE                                           1:55.01    6   
  4 CENTRE                                              1:56.58    4   
 
Event 19  Women 4x400 Meter Relay
==========================================================================
  Fieldhouse: F 3:57.99  2/28/2009   Calvin, Calvin                            
                         K Van Sickel, S Wittingen, R Boerner, H Koning    
    School                                               Finals  H# Points
==========================================================================
  1 CALVIN                                              3:57.99F  2  10   
  2 VINCENNES                                           4:15.18   2   8   
  3 DEPAUW                                              4:16.47   2   6   
  4 CALVIN  'B'                                         4:18.01   1 
  5 ALBION                                              4:29.80   1   4   
  6 FONTBONNE                                           4:34.33   1   2   
  7 ANDERSON (IND.)                                     4:35.30   1   1   
 
Event 21  Women Distance Medley
=======================================================================
  Fieldhouse: F 11:57.59  2/28/2009   Calvin, Calvin                           
                          E Smit, H Koning, L Bergstrom                     
    School                                               Finals  Points
=======================================================================
  1 CALVIN                                             11:57.59F  10   
  2 DEPAUW                                             12:01.30    8   
  3 CALVIN  'B'                                        12:25.21  
  4 ALBION                                             13:48.01    6   
  5 CENTRE                                             14:01.23    4   
 
Event 23  Women Shot Put
=================================================================================
  Fieldhouse: F 18.45m  2/9/2008    Liz Wanless, New York Athletic Club        
    Name                    Year School                  Finals            Points
=================================================================================
  1 Frazier, Bellosie         FR VINCENNES               13.65m   44-09.50  10   
  2 Reasoner, Sarah           SO CALVIN                  12.99m   42-07.50   8   
  3 Cobb, Adrienne            SR DEPAUW                  12.00m   39-04.50   6   
  4 Machamer, Lindsey         JR MANCHESTER              11.60m   38-00.75   4   
  5 Niehaus, Emily            FR CENTRE                  11.03m   36-02.25   2   
  6 Chandler, Elizabeth       FR VINCENNES               10.93m   35-10.50   1   
  7 Anthony, Chelsea          FR ALBION                  10.91m   35-09.50 
  8 Sears, Brett              JR ANDERSON (IND.)         10.82m   35-06.00 
  9 Sears, Aubrey             FR VINCENNES               10.39m   34-01.25 
 10 Hall, Courtney            SO MANCHESTER              10.17m   33-04.50 
 11 Crowell, Loran            FR CENTRE                   9.22m   30-03.00 
 12 Turay, Sandy              JR ALBION                   9.19m   30-02.00 
 13 Malone, Katie             SO ANDERSON (IND.)          9.16m   30-00.75 
 14 Kelly, Phylicia           SO MANCHESTER               9.09m   29-10.00 
 15 Timmons, Cori             FR MANCHESTER               8.24m   27-00.50 
 16 Pasley, Kiersten          SR ALBION                   8.02m   26-03.75 
 17 McGrady, Meredith         SO DEPAUW                   7.73m   25-04.50 
 18 Ksiezopolski, Erika       FR MANCHESTER               7.23m   23-08.75 
 
Event 25  Women Weight Throw
=================================================================================
  Fieldhouse: F 23.30m  2/21/2009   Erin Gilreath, New York Athletic Club      
    Name                    Year School                  Finals            Points
=================================================================================
  1 Marqueling, Jean             UNIVERSITY OF ST        16.58m   54-04.75  10   
  2 Niehaus, Emily            FR CENTRE                  14.78m   48-06.00   8   
  3 Sears, Brett              JR ANDERSON (IND.)         14.51m   47-07.25   6   
  4 Frazier, Bellosie         FR VINCENNES               13.67m   44-10.25   4   
  5 Machamer, Lindsey         JR MANCHESTER              12.53m   41-01.50   2   
  6 Stichter, Stephanie       FR ANDERSON (IND.)         12.04m   39-06.00   1   
  7 Hall, Courtney            SO MANCHESTER              11.77m   38-07.50 
  8 Sears, Aubrey             FR VINCENNES               11.61m   38-01.25 
  9 Kelly, Phylicia           SO MANCHESTER              10.55m   34-07.50 
 10 Crowell, Loran            FR CENTRE                   9.87m   32-04.75 
 11 McGrady, Meredith         SO DEPAUW                   9.07m   29-09.25 
 12 Malone, Katie             SO ANDERSON (IND.)          8.34m   27-04.50 
 13 Kalugyer, Jacquie         SO CENTRE                   8.08m   26-06.25 
 14 Ksiezopolski, Erika       FR MANCHESTER               7.06m   23-02.00 
 
Event 27  Women Long Jump
=================================================================================
  Fieldhouse: F 5.38m  2/28/2004   E.Abbey, A.Yandell, Huntington, DePauw      
    Name                    Year School                  Finals            Points
=================================================================================
  1 Roth, Michelle            SR ANDERSON (IND.)          4.65m   15-03.25  10   
  2 Ripley-Nifong, Holly      FR MANCHESTER               4.54m   14-10.75   8   
  3 Koenig, Dana              SO ALBION                   4.40m   14-05.25   6   
  4 Ivey, Ashley              SR CENTRE                   4.27m   14-00.25   4   
  5 Wigboldy, Kimberly        SO CALVIN                   4.19m   13-09.00   2   
  6 Reed, Hannah              SO MANCHESTER               4.10m   13-05.50   1   
  7 Wong, Sam                 FR DEPAUW                   4.06m   13-04.00 
  8 Morrison, Schavel         SO DEPAUW                   4.02m   13-02.25 
  9 Cronin, Dana              FR MANCHESTER               3.88m   12-08.75 
 10 Leese, Amanda             JR CALVIN                   3.78m   12-05.00 
 11 Lovelace, Rayneshia       FR FONTBONNE                3.71m   12-02.25 
 
Event 29  Women Triple Jump
=================================================================================
  Fieldhouse: F 12.25m  2/10/2007   Tamelca Lewis, Ball State                  
    Name                    Year School                  Finals            Points
=================================================================================
  1 Bratt, Julie              SR CALVIN                  11.03m   36-02.25  10   
  2 Roth, Michelle            SR ANDERSON (IND.)         10.39m   34-01.25   8   
  3 Sybesma, Laura            FR CALVIN                   9.40m   30-10.25   6   
  4 Floyd, Kelsey             FR DEPAUW                   9.19m   30-02.00   4   
  5 Gash, Stacey              SR CENTRE                   9.18m   30-01.50   2   
  6 Fogt, Anna                FR DEPAUW                   8.98m   29-05.50   1   
  7 Cronin, Dana              FR MANCHESTER               8.89m   29-02.00 
  8 Koenig, Dana              SO ALBION                   8.88m   29-01.75 
  9 Reed, Hannah              SO MANCHESTER               8.74m   28-08.25 
 10 Tipton, Jordan            SR ANDERSON (IND.)          8.54m   28-00.25 
 11 Lovelace, Rayneshia       FR FONTBONNE                8.26m   27-01.25 
 
Event 31  Women High Jump
=================================================================================
  Fieldhouse: F 1.65m  2/21/2009   Emily Schaf, Indianapolis                   
    Name                    Year School                  Finals            Points
=================================================================================
  1 Honn, Kailey              SO MANCHESTER               1.57m    5-01.75  10   
  2 Loshe, Casey              FR MANCHESTER               1.52m    4-11.75   8   
  3 Damm, Kaycee              FR ALBION                   1.52m    4-11.75   6   
  4 Van Dyk, Rebekah          SO CALVIN                   1.47m    4-09.75   4   
  5 Connor, Julia             SO ANDERSON (IND.)          1.47m    4-09.75   2   
  6 McCollum, Kate            SO ANDERSON (IND.)          1.42m    4-07.75   1   
  7 Weiler, Emma              FR MANCHESTER               1.42m    4-07.75 
  8 McMurray, Rebecca         SO ALBION                   1.42m    4-07.75 
  9 Sybesma, Laura            FR CALVIN                   1.37m    4-06.00 
  9 Rausch, Meredith          FR DEPAUW                   1.37m    4-06.00 
 -- Cronin, Dana              FR MANCHESTER                  NH            
 
Event 33  Women Pole Vault
=================================================================================
  Fieldhouse: F 3.35m  2/10/2007   Lauren McNichols, Ball State                
    Name                    Year School                  Finals            Points
=================================================================================
  1 Lindemulder, Carla        JR CALVIN                   3.20m   10-06.00  10   
  2 Veldkamp, Kelly           FR CALVIN                   3.20m   10-06.00   8   
  3 Rausch, Meredith          FR DEPAUW                   2.74m    8-11.75   6   
  4 Ramp, Sarah               JR ALBION                   2.59m    8-06.00   3   
  4 Tipton, Jordan            SR ANDERSON (IND.)          2.59m    8-06.00   3   
  6 Orndorff, Sarah           FR CALVIN                   2.59m    8-06.00   1   
  7 Louise, Ashley            JR DEPAUW                   2.28m    7-05.75 
  8 Box, Kelsey               JR MANCHESTER               2.28m    7-05.75 
 
Event 35  Women 3000 Meter Steeplechase
=======================================================================
  Fieldhouse: F 11:17.48  2/28/2009   Gretchen Braymer, Calvin                 
    Name                    Year School                  Finals  Points
=======================================================================
  1 Braymer, Gretchen         SO CALVIN                11:17.48F  10   
  2 Bremer, Jessi             SO MANCHESTER            11:37.18    8   
  3 Moffitt, Erica            JR ANDERSON (IND.)       11:43.07    6   
  4 Theibert, Julie           SR DEPAUW                11:52.64    4   
  5 DeLong, Candace           FR ANDERSON (IND.)       12:02.26    2   
  6 McLaughlin, Emily         SO ALBION                12:06.48    1   
  7 Nicholson, Marina         JR DEPAUW                13:02.38  
  8 Grissom, Stacie           SO DEPAUW                13:09.02  
 

Back