Tigers' Season Comes to an End in NCAA First Round
March 6, 2009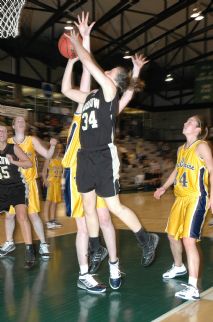 March 6, 2009, Bloomington, Ill. — DePauw shot a season-low 25.8 percent from the field and was outrebounded by 14 as ninth-ranked Wisconsin-Eau Claire defeated the 22nd-ranked Tigers, 62-50 in the NCAA Division III first round at Illinois Wesleyan.
DePauw finished the season at 22-6, while the Blugolds improved to 24-5 and advanced to Saturday's second round.
The Tigers got off to a slow start missing their first seven shots and falling behind 7-0 in the opening four minutes. Wisconsin-Eau Claire stretched their lead to a first-half high of 10 points at 15-5 with just over 12 minutes left in the half on Heidi Arciszewski's bucket.
DePauw tied the game at 18-18 on Cassie Pruzin's three with 7:54 left which capped an 8-1 run. The Blugolds scored the next six and went to the break with a 28-22 lead.
The second half didn't start well for the Tigers either as they hit just one of their first 17 field goal tries and trailed by as many as 20 points at 45-25 with just under 12 minutes remaining.
The Wisconsin-Eau Claire lead was still 16 before Lauren Goff and Pruzin knocked in threes to cut the margin to 51-41 with 4:49 left. The Blugolds put together a 9-2 stretch to seal the victory.
"We didn't have our best game tonight, but we kept fighting," DePauw head coach Kris Huffman said. "It was really a struggle for us tonight."
DePauw hit just 17 of 66 from the field and eight of a school-record 31 three-pointers, while the Blugolds hit 42.9 percent from the floor. Wisconsin-Eau Claire held a 50-36 rebounding lead against the Division III rebound margin leader and outscored the Tigers in the paint, 32-12.
Pruzin led the Tigers with 15 points on five three-pointers, while Emily Marshall grabbed a game-high 15 rebounds.
Hannah Mesick paced Wisconsin-Eau Claire with 18 points, while Arciszewski followed with 15. Ellen Plendl grabbed 11 rebounds and Heather Witt dished out five assists.
Pruzin, Andrea Travelstead and Sarah Merkel finished their DePauw careers as part of a class which amassed a four-year record of 110-15.
PHOTO: Mark Beckenbach, Ohio Wesleyan
Back