Five Tigers Set to Compete at NCAA Men's Championships
March 16, 2009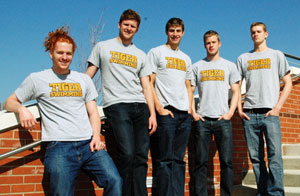 March 16, 2009, Greencastle, Ind. — Five DePauw swimmers are headed to Minneapolis to compete in the NCAA Division III Men's Swimming and Diving Championships. The Tigers will be represented at the national meet by juniors Charlie Boehme, John Cook and Steve Klabak as well as sophomore Josh Baugh and freshman John Montgomery.
Competition begins on Wednesday, March 18 and continues through Saturday, March 21. Complete information including links to live results and video is available through the host site.
Cook enters the meet with the seventh fastest time in the 100-yard freestyle (44.77), ninth in the 200 free (1:39.45) and 13th in the 50 free (20.51).
Boehme will swim the 400 individual medley and enters with the 26th best time of 4:05.31. Montgomery will join Cook in the 200 free and has the 32nd fastest time of 1:41.90, while Klabak will also compete in the 50 free and 100 free. His 100 free time of 46.07 seconds is 42nd as is his 50 free time of 20.97.
Baugh will swim the 200 IM where he has the 30th fastest time of 1:54.54 and 100 breaststroke where his time of 57.75 seconds is 35th.
Cook, Montgomery, Baugh and Klabak will swim both the 200 and 400 free relays. The 200 free relay has the 11th fastest time of 1:22.26, while the 400 is 13th at 3:02.99.
The 800 free relay of Baugh, Boehme, Montgomery and Cook have the 13th fastest time of 6:48.21, while the 200 medley relay of Klabak, Baugh, Montgomery and Cook is 17th with a time of 1:34.26.
Cook, Baugh and Klabak were among five DePauw student-athletes who competed at last year's NCAA Championships and led the Tigers to an 11th place finish. Cook earned all-America honors in the 100 free last year and honorable mention in the 50 free and 200 free. The three were part of the 400 free relay which finished fifth.
Photo by head coach Adam Cohen (left to right): Charlie Boehme, John Cook, Josh Baugh, Steve Klabak, John Montgomery
Back