DePauw Swimmers Compete in Friday NCAA Prelims
March 20, 2009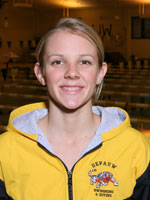 March 20, 2009, Minneapolis, Minn. — A pair of Tigers competed at this morning's NCAA Division III Women's Swimming and Diving Championships at the University of Minnesota Aquatic Center.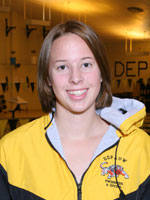 Amanda Stier (left) finished 19th in the 200-yard butterfly in 2:07.00, while Catie Baker (right) was 28th in the 100 breaststroke in 1:06.68.
Baker competes in Saturday's 200 breast, while Callie Boehme swims the 1,650 freestyle.
The Championships wrap up tomorrow with complete information including links to live results and video available through Macalester College's host site.
Back