Five DePauw Players Named to NFCA All-Region Team
May 27, 2009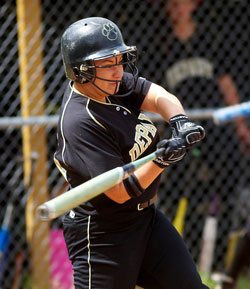 May 27, 2009, Greencastle, Ind. — Five members of the DePauw softball team have been selected to the Louisville Slugger/National Fastpitch Coaches Association All-Central Region Team.
Two-time all-America selection Megan Soultz (below) earned a third straight first team all-region honor as an at-large pick, while designated player Jen Kosinski (left) joined her on the first team.
Soultz posted a 29-9 record with a 1.40 earned run average. She tossed 14 shutouts and struck out 164 in 230 innings. Soultz holds the DePauw and SCAC career records with an 84-18 record, 582 strikeouts, 38 shutouts and 653 innings, while her 1.11 career ERA is a school record.
Kosinski was the team's leading hitter in her first year of collegiate play at .405 and paced the squad with 12 doubles and 33 RBI.
At-large selections to the third team included catcher Rachel Gill, outfielder Chelsy Patterson and third baseman Kelly Schwerzler.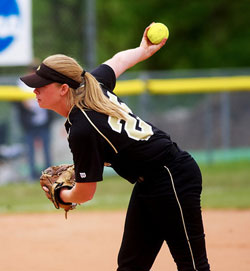 Gill was second on the team with both a .395 batting average and 32 runs batted in. The DePauw career leader with a .421 batting average, Gill also holds DePauw and SCAC records for hits (211), doubles (43) and RBI (158).
She is the school's all-time leader in homers (10), total bases (300) and sacrifice flies (15). Gill also finished the season without an error or a passed ball in 226 chances and finished her career with a streak of 559 consecutive chances without error. She was a second team all-region selection in 2006 and 2007 and last year was a first team all-region choice and a second team all-America selection.
Patterson batted .333 with a .971 fielding percentage and finished her career with a .360 average with school and SCAC records for runs (151) and school records for at-bats (520), walks (70) and stolen bases (51). She also played in and started all 170 games in her four years. She earned first team all-region honors in 2007.
Schwerzler batted .298 and finished with a .983 fielding percentage. She was a third team all-region selection last year.
The Tigers finished the 2009 season with a 32-9 record, their second straight SCAC title and a third straight appearance in the NCAA Division III first-round championship game. In unofficial final statistics, DePauw led the nation with a .979 fielding percentage
Back