Reich Qualifies for 1,500-Meter Finals; Competes in 800 on Friday
May 21, 2009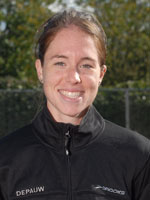 May 21, 2009, Marietta, Ohio — DePauw junior Lauren Reich ran the eighth-fastest time in today's 1,500-meter prelims at the NCAA Division III Track and Field Championships and qualified for Saturday's finals.
Reich finished fourth in her heat in 4:37.52 which was just .2 seconds off the top time of the heat. Marie Borner of Bethel (Minn.) ran the fastest time in the prelims in 4:32.92. Reich finished fifth in the 1,500 at last year's Championships and earned all-America honors.
Saturday's finals are scheduled for 1:30 p.m. at Marietta College. Reich will also compete in tomorrow's 800-meter run prelims at 4:55 p.m.
Back