Reich Earns All-America Honors in Two Events at NCAA Championships
May 23, 2009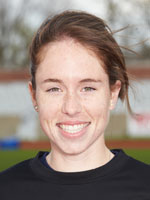 May 23, 2009, Marietta, Ohio — DePauw's Lauren Reich added to her list of athletic accomplishments this afternoon after picking up all-America honors in two events at the NCAA Division III Track and Field Championships.
The junior opened the day with an eighth-place finish in the 1,500-meter run in 4:33.29 before placing seventh in the 800 meters in 2:14.68.
Reich earned all-America honors at last year's Division III Outdoor Championships with a fifth-place finish in the 1,500 meters with her fourth school-record time of the year in 4:29.17. A 2008 NCAA Cross Country All-America honoree, Reich also competed in this year's NCAA Indoor Championships in the mile.
Back