Three Swimmers Named Scholar All-Americans; Team Honored Again
July 21, 2009
July 21, 2009, Greencastle, Ind. — Six DePauw swimmers were among those student-athletes who earned Scholar All-America honors from the College Swimming Coaches Association of America.
Catie Baker, Amanda Stier and Callie Boehme (pictured below left to right) were named Scholar All-Americans, while Cassie Enix, Dani Johnson, Rachel Wheaton were Honorable Mention Scholar All-Americans.
Qualifications for the Scholar All-America honor include a 3.5 cumulative grade point average or a 3.5 average during the entire year or one semester and qualification into the NCAA Division III Championships. Members of the honorable mention team must meet the same grade point average requirements and have met the NCAA "B" qualifying standard.
Among other honors, Stier was one of two nominees from the Southern Collegiate Athletic Conference for the NCAA Woman of the Year Award and earlier was chosen as DePauw's top senior female student-athlete.
DePauw also earned the team award for having at least a 3.0 team semester grade point average. This marks the 22nd straight year the Tigers have earned the honor.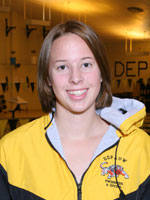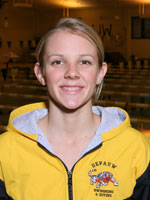 Left to right: Catie Baker, Amanda Stier and Callie Boehme
Back