DePauw Finishes Second at Denison Fall Classic
September 6, 2009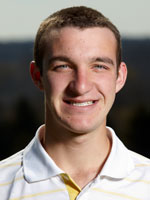 September 6, 2009, Granville, Ohio — DePauw shot a second-round 301 and finished with a two-day total of 607 and in second place at the Denison Fall Classic at the Granville Golf Course.
Ryan Berra (pictured) finished fifth for DePauw with a 148, while Nick Reardon tied for sixth with a 149 including today's 74. Ronnie Harris tied for 10th with a 153 followed by Jake Walsh in a tie for 19th at 158 and Chase King in a tie for 24th with a 159.
Wittenberg's Bleu George was the medalist with a 136 and he led his team to the title with a 587. DePauw was second and Baldwin-Wallace three strokes behind the Tigers in third.
The Tigers return to action on September 19-20 at the Anderson Invitational.
 FINAL RESULTS           Denison Fall Classic          
                         Granville G.C.           Granville OH   
                         Dates: 09/05 - 09/06     (Today:09-06-2009)
                                   Par:        71                
                                   Yardage:  6559                

      Fin.   School                   Scores  

         1   Wittenberg Univ.         291  296    587
         1    Bleu George              66   70    136
         3    Craig Osterbrock         71   71    142
      T 10    Ben Smith                76   77    153
      T 14    Ricky Boerner            78   78    156
      T 19    Bradley Shepherd         79   79    158

         2   De Pauw University       306  301    607
         5    Ryan Berra               73   75    148
      T  6    Nick Reardon             75   74    149
      T 10    Ronnie Harris            76   77    153
      T 19    Jake Walsh               82   76    158
      T 24    Chase King               83   76    159

         3   Baldwin-Wallace          308  302    610
         4    Mike Falk                72   73    145
      T 10    Matt Weiss               78   75    153
      T 19    Connor Cronkhite         75   83    158
      T 27    Nick Bryan               83   77    160
      T 27    Brian Routhieaux         83   77    160

         4   Muskingum College        320  298    618
         8    Joel Ardner              77   73    150
        13    Clinton Myers            78   76    154
      T 14    Josh Colyer              81   75    156
      T 19    James Mickey             84   74    158
        48    David Snider             85   91    176

         5   Mercyhurst College       316  312    628
         2    Tyler Bidwell            75   66    141
      T 24    Derek Fisher             80   79    159
      T 33    Derek Elliot             80   82    162
      T 40    Matt Mahoney             81   85    166
      T 49    Patrick Jackson          87   91    178

         6   Heidelberg Univ.         318  315    633
      T 16    Kevin Lenhart            78   79    157
      T 16    David Lilly              78   79    157
      T 27    Zack Koinis              84   76    160
      T 27    Zack Markley             79   81    160
      T 38    Sam Arnold               83   82    165

         7   Denison University       315  325    640
         9    Connor Monaghan          74   77    151
      T 33    David Erickson           77   85    162
      T 35    Sam Kaiser               85   78    163
      T 40    Rob Colmery              81   85    166
      T 44    Steven Geldart           83   86    169

         8   Wooster, College of      326  316    642
      T  6    Blake Sword              77   72    149
      T 31    Tim Sullivan             80   81    161
      T 38    Michael Peters           83   82    165
        43    Tim Faerber              86   81    167
      T 49    Tim Golding              96   82    178

         9   Kenyon College           321  327    648
      T 19    Sam Hull                 75   83    158
      T 24    Eric Milbourn            80   79    159
        37    Jack Marra               84   80    164
      T 44    Spencer Carlson          84   85    169
        46    Jesse Boomsma-Gold       82   88    170


   Fin.   Individuals            School       Scores  

   T 16   Ricky Jaskolski        B-W           79   78    157
   T 31   Cory Swaisgood         B-W           82   79    161
   T 35   Henry Robb             Denison U.    80   83    163
   T 40   Kyle Lewis             B-W           81   85    166
     47   Jeff Maier             Denison U.    81   93    174
   T 49   Brandon Kissberth      Heidelberg    85   93    178
     52   Michael Crimmins       Denison U.    88   92    180

                      GOLFSTAT COLLEGIATE SCORING SYSTEM      
                     Developed by: Mark Laesch, Golfstat          
               COPYRIGHT (C) 2005, All Rights Reserved, Golfstat  

            Check out Stats, Scores, and More:    www.GOLFSTAT.COM

Back