Tigers Fall to Fourth-Ranked Thunder
September 15, 2009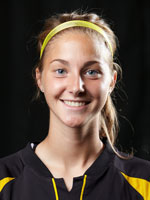 September 15, 2009, Greencastle, Ind. — Fourth-ranked Wheaton scored two goals in the opening four minutes and never trailed on the way to a 5-1 win over DePauw at Boswell Field. The Thunder improved to 5-1, while DePauw dropped to 0-4-2.
Taryne Lee scored at 2:02 and 3:52 with the second coming on Brittany Begh's assist before Katelyn Kishkunas made it 3-0 at 21:24.
Wheaton's Amy Thomas made it 4-0 at 54:41 before DePauw's Alex Ehr (pictured) put the Tigers on the board with an assist from Emelie Johansson at 76:38. Val Lelle extended the Thunder's lead to 5-1 with a goal at 86:22.
The Thunder held a 10-6 advantage in shots, while both team totaled two corners. Hillary Barreto recorded one save in 76 minutes in goal for Wheaton, while Lauren Palfrey and Caroline Kerr split time for the Tigers with Kerr finishing with two saves.
DePauw returns to action on Sunday, September 20, at Ohio Wesleyan.
Back