21st-ranked DePauw Dominates Otterbein Invitational
September 26, 2009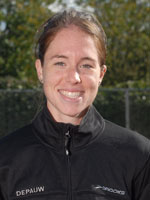 September 26, 2009, Westerville, Ohio — DePauw runners claimed the top four spots as the 21st-ranked Tigers totaled just 29 points and won the Otterbein Invitational by 40 points over the hosts.
Lauren Reich (pictured) covered the 6K course in 22:37.9 and won the meet, while Ellen Mail was second in 22:52.4. Claire Hollis was third in 22:53.0 followed by Jess Macy in fourth in 23:02.2.
Kelsey Moore placed 19th in 24:26.3 followed by Lindsay Bauman in 28th in 24:58.4 and Alana DeWitt in 31st in 25:09.4.
The Tigers return to action on Saturday, October 10, when they host the Gibson Family Invitational in Terre Haute with Rose-Hulman.
Follow DePauw Athletics on Twitter | Become a Fan of DePauw Athletics on Facebook
 On The Mark Timing - Contractor License                    HY-TEK's Meet Manager
                Otterbein Cross Country Invitational - 9/26/2009                 
                                Otterbein College                                
                                Westerville, Ohio                                
                              Last Completed Event                               
 
Event 1  Women 6k Run CC
=======================================================================          
    Name                    Year School                  Finals  Points          
=======================================================================          
  1 Lauren Reich              SR DePauw                 22:37.9    1             
  2 Ellen Mail                SR DePauw                 22:52.4    2             
  3 Claire Hollis             SO DePauw                 22:53.0    3             
  4 Jess Macy                 FR DePauw                 23:02.2    4             
  5 Andie Pautsch             JR Otterbein              23:23.1    5             
  6 Mannie Bizuneh            FR St Mary of t           23:31.9    6             
  7 Melissa Rogers            SR Rose-Hulman            23:35.0    7             
  8 Sarah Appleton            So Wooster                23:37.4    8             
  9 Megan Brackins            SO Oakland CC             23:44.2    9             
 10 Sydney Yoscovits          FR Oakland CC             23:52.9   10             
 11 Colleen O'Neil            Fr Wooster                23:53.3   11             
 12 Creasy Clauser            FR Rose-Hulman            24:04.3   12             
 13 Sarah Hutchinson          SO Otterbein              24:05.3   13             
 14 Nicole Elliott            SO Otterbein              24:09.3   14             
 15 Kelly Noren               SO Oakland CC             24:12.4   15             
 16 Niki Reese                SR Otterbein              24:14.9   16             
 17 Ashley Baumer             So Ohio Norther           24:21.8   17             
 18 Mary Pfeifer              So Wittenberg             24:24.1   18             
 19 Kelsey Moore              SO DePauw                 24:26.3   19             
 20 Shannon McDonald          SR Marietta College       24:26.6   20             
 21 Bekah Reese               FR Otterbein              24:27.1   21             
 22 Jennifer Emmert           SO Marietta College       24:43.8   22             
 23 Shaylyn Webster           JR Otterbein              24:46.4   23             
 24 Stephanie Runyon          FR St Mary of t           24:47.7   24             
 25 Jessica Brant             FR Mt Vernon Nazarene     24:55.4   25             
 26 Chelsea Fisher            Jr Wooster                24:57.6   26             
 27 Erin Ogan-Plews           Fr Wooster                24:58.4   27             
 28 Lindsey Bauman            SO DePauw                 24:58.4   28             
 29 Stephanie Williams        SR Marietta College       25:03.6   29             
 30 Danielle Vickers          SR Otterbein              25:05.9   30             
 31 Alana DeWitt              JR DePauw                 25:09.4   31             
 32 Suzanne Capehart          Jr Wooster                25:12.7   32             
 33 Bobbi Custer              FR Heidelberg U           25:15.1   33             
 34 Katie Ross                FR Rose-Hulman            25:18.8   34             
 35 Taryn Owens               FR DePauw                 25:20.9                  
 36 Alison Ernest             FR Otterbein              25:21.6                  
 37 Emma Crosby               So Wittenberg             25:23.5   35             
 38 Amanda Meyer              SR DePauw                 25:24.1                  
 39 Lisa Becharas             SO DePauw                 25:25.9                  
 40 Meredith Shaul            So Wooster                25:27.0   36             
 41 Meghan Gibson             SO Otterbein              25:28.9                  
 42 Lindley Bell              So Wittenberg             25:31.6   37             
 43 Tara Patrick              SR Mt Vernon Nazarene     25:34.1   38             
 44 Lindsay Main              JR Otterbein              25:35.1                  
 45 Celia Arlinghaus          FR Thomas More            25:38.0   39             
 46 Emily Freiny              FR DePauw                 25:38.9                  
 47 Kitty O'Riordan           Sr Wooster                25:40.5   40             
 48 Mehgan Cline              JR Marietta College       25:40.5   41             
 49 Katherine Williams        FR St Mary of t           25:45.1   42             
 50 Sarah Miller              FR Thomas More            25:49.7   43             
 51 Jenifer Shetley           JR St Mary of t           25:49.7   44             
 52 Caitlyn Tinsley           FR St Mary of t           25:49.8   45             
 53 Melissa Buckley           SR DePauw                 25:51.1                  
 54 Corrie Campbell           SR Rose-Hulman            25:53.6   46             
 55 Alyssa Getta              Jr Wooster                25:56.4                  
 56 Arielle Knapp             FR Otterbein              25:56.6                  
 57 Michelle Fitch            JR Heidelberg U           25:58.7   47             
 58 Caitlin Campbell          SO Mt Vernon Nazarene     26:00.0   48             
 59 Katherine Quigg           JR Rose-Hulman            26:06.2   49             
 60 Samantha Iden             So Wittenberg             26:08.2   50             
 61 Ninette Ruch              JR Heidelberg U           26:08.7   51             
 62 Thea Emmons               Fr Case Western           26:10.5                  
 63 Samantha Swanton          So Wittenberg             26:11.0   52             
 64 Rebecca Craig             Fr Wooster                26:12.9                  
 65 Grace Dubrowski           FR St Mary of t           26:14.2   53             
 66 Meghan Willeke            SO Ohio Dominican         26:15.3   54             
 67 Hannah Fertig             FR Mt Vernon Nazarene     26:15.7   55             
 68 Breanna Morrison          FR Oakland CC             26:19.2   56             
 69 Brittany Stanek           Fr Ohio Norther           26:22.6   57             
 70 Beth Dulaney              SO Muskingum Un           26:22.9   58             
 71 Ashley Jordan             FR Thomas More            26:23.6   59             
 72 Lydia Tillmaand           FR Marietta College       26:24.7   60             
 73 Laura Arvin               FR DePauw                 26:30.9                  
 74 Allie True.               FR St Mary of t           26:32.0   61             
 75 Casey Adamcik             Fr Ohio Norther           26:32.6   62             
 76 Erica Mausser             Fr Ohio Norther           26:36.9   63             
 77 Brittany Hartlaub         So Wittenberg             26:36.9   64             
 78 Quincey McNelis           FR St Mary of t           26:37.7                  
 79 Emilie Ivanowicz          So Wooster                26:37.7                  
 80 Jamie Irwin               FR Oakland CC             26:42.1   65             
 81 Clarissa Wellman          FR Oakland CC             26:42.5   66             
 82 Hali Cassidy              FR Ohio Dominican         26:43.7   67             
 83 Logan Wern                SR Marietta College       26:45.4   68             
 84 Ashlee Karp               JR DePauw                 26:52.5                  
 85 Samantha Stolarz          FR Otterbein              26:57.2                  
 86 Jetti Laggah              FR Muskingum Un           27:00.1   69             
 87 Elise Wyant               JR Ohio Dominican         27:03.1   70             
 88 Danielle Whitefoot        FR Oakland CC             27:04.3   71             
 89 Macy McFarland            FR Heidelberg U           27:04.5   72             
 90 Casandra Barnett          FR St Mary of t           27:05.3                  
 91 Kelsie Markin             FR Marietta College       27:05.6   73             
 92 Aimee Baehrens            Jr Ohio Norther           27:06.0   74             
 93 Lauren Sutton             FR St Mary of t           27:17.2                  
 94 Alice Wallenhorst         FR Thomas More            27:22.5   75             
 95 Katie O'Connor            SR DePauw                 27:29.3                  
 96 Katie Horton              Fr Ohio Norther           27:30.3   76             
 97 Katie Smith               JR Muskingum Un           27:38.6   77             
 98 Natalie Ahlers            SO Heidelberg U           27:42.6   78             
 99 Amy Adams                 FR Thomas More            27:49.3   79             
100 Tabitha Moody             Jr Ohio Norther           27:49.6   80             
101 Melissa Keiser            FR Mt Vernon Nazarene     27:54.7   81             
102 Anna Brodman              FR Heidelberg U           27:57.5   82             
103 Jessica Jones             SO Heidelberg U           27:57.7   83             
104 Allison Green             SO Ohio Dominican         27:58.2   84             
105 Valerie Vogt              So Wittenberg             28:03.9   85             
106 Samantha Catania          Fr Wittenberg             28:08.9                  
107 Jenny Marshall            SO Muskingum Un           28:12.5   86             
108 Amy Dunham                SR Heidelberg U           28:16.8                  
109 Vyta Kavaliauskas         So Ohio Norther           28:23.6                  
110 Katie Feigley             FR Oakland CC             28:24.6                  
111 Tiffany Fritz             FR Otterbein              28:24.7                  
112 Nikki Yates               SO Mt Vernon Nazarene     28:26.2   87             
113 Rachel Krumpelbeck        SO Thomas More            28:27.2   88             
114 Brianna Watson            Fr Wittenberg             28:27.2                  
115 Melissa Erdman            So Wittenberg             28:27.5                  
116 Stephanie Elliott         SR Ohio Dominican         28:48.9   89             
117 Chelsea Morris            SR Muskingum Un           28:50.1   90             
118 Rebecca Gravenstede       Fr Wooster                28:51.4                  
119 Kristina Nagy             Fr Case Western           28:53.4                  
120 Megan Foley               FR Otterbein              28:57.7                  
121 Samantha Grasso           Jr Wittenberg             29:03.0                  
122 Ali Brown                 Sr Wittenberg             29:09.0                  
123 Crystal Craycraft         SO Marietta College       29:14.2                  
124 Bethany Parks             FR Mt Vernon Nazarene     29:19.5   91             
125 Christine Brinkhoff       Jr Wittenberg             29:20.3                  
126 Michelle Lonnemann        FR Thomas More            29:22.0   92             
127 Racheal Genaris           FR St Mary of t           29:24.0                  
128 Megan Gallagher           SR Ohio Dominican         29:40.5   93             
129 Nikki Sullivan            FR Otterbein              29:54.8                  
130 Jessica Laflamme          SO Oakland CC             29:55.2                  
131 Courtney Rizek            SO Ohio Dominican         29:55.6   94             
132 Kirsten Midgley           Jr Wittenberg             29:58.4                  
133 Taylor Bloom              JR Heidelberg U           30:08.0                  
134 Mallory Wigton            So Wittenberg             30:22.8                  
135 Julie Geiger              FR Thomas More            30:28.4                  
136 Sara White                FR Urbana University      30:30.8                  
137 Katrina Housley           SO Muskingum Un           30:34.6   95             
138 Paige Bucher              SO Marietta College       30:38.3                  
139 Kaitlin McNeish           SO Ohio Dominican         30:39.3                  
140 Addie Shough              FR Ohio Dominican         30:39.7                  
141 Libby Engeman             SO Heidelberg U           30:48.3                  
142 Stacey Woeste             SR Ohio Dominican         31:52.8                  
143 Jessica Thomas            FR Urbana University      31:53.5                  
144 Laura Gerhardstein        FR DePauw                 32:09.5                  
145 Leigh Ann Amspaugh        SO Muskingum Un           32:18.6   96             
146 Bri Lally                 JR Muskingum Un           32:18.7                  
147 Chelsea Halderman         SR Urbana University      33:09.7                  
148 DeAnna Hardeman           SO Mt Vernon Nazarene     33:22.5                  
149 Brittany Click            SR Mt Vernon Nazarene     34:32.0                  
150 Sarah St. Clair           SO Urbana University      34:58.5                  
                                                                                 
                                   Team Scores                                   
=================================================================================
Rank Team                      Total    1    2    3    4    5   *6   *7   *8   *9
=================================================================================
   1 DePauw                       29    1    2    3    4   19   28   31          
      Total Time:  1:55:51.80                                                    
         Average:    23:10.36                                                    
   2 Otterbein                    69    5   13   14   16   21   23   30          
      Total Time:  2:00:19.70                                                    
         Average:    24:03.94                                                    
   3 Wooster                     104    8   11   26   27   32   36   40          
      Total Time:  2:02:39.40                                                    
         Average:    24:31.88                                                    
   4 Rose-Hulman                 148    7   12   34   46   49                    
      Total Time:  2:04:57.90                                                    
         Average:    24:59.58                                                    
   5 Oakland CC                  155    9   10   15   56   65   66   71          
      Total Time:  2:04:50.80                                                    
         Average:    24:58.16                                                    
   6 St Mary of the Woods        161    6   24   42   44   45   53   61          
      Total Time:  2:05:44.20                                                    
         Average:    25:08.84                                                    
   7 Marietta College            172   20   22   29   41   60   68   73          
      Total Time:  2:06:19.20                                                    
         Average:    25:15.84                                                    
   8 Wittenberg                  192   18   35   37   50   52   64   85          
      Total Time:  2:07:38.40                                                    
         Average:    25:31.68                                                    
   9 Mt Vernon Nazarene          247   25   38   48   55   81   87   91          
      Total Time:  2:10:39.90                                                    
         Average:    26:07.98                                                    
  10 Ohio Northern University    273   17   57   62   63   74   76   80          
      Total Time:  2:10:59.90                                                    
         Average:    26:11.98                                                    
  11 Heidelberg University       281   33   47   51   72   78   82   83          
      Total Time:  2:12:09.60                                                    
         Average:    26:25.92                                                    
  12 Thomas More                 295   39   43   59   75   79   88   92          
      Total Time:  2:13:03.10                                                    
         Average:    26:36.62                                                    
  13 Ohio Dominican              364   54   67   70   84   89   93   94          
      Total Time:  2:16:49.20                                                    
         Average:    27:21.84                                                    
  14 Muskingum University        380   58   69   77   86   90   95   96          
      Total Time:  2:18:04.20                                                    
         Average:    27:36.84                                                    


Back