Tigers Hold on for 3-2 SCAC Win at Southwestern
October 16, 2009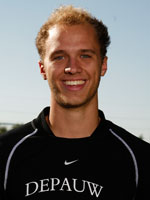 October 16, 2009, Georgetown, Texas — DePauw held a 3-0 lead through most of the second half and fought off a Southwestern rally to take a 3-2 Southern Collegiate Athletic Conference win over the host Pirates.
The Tigers improved to 8-3-1 overall and 4-2 in the SCAC, while Southwestern dropped to 5-7 overall and 1-3 in the conference.
Gary Pett (left) scored a pair of first-half goals with the first at 2:53 on Brad Kean's assist and the second at 23:47 on Christopher Lee's assist. Kreigh Kamman extended the lead to 3-0 at 52:43 with an unassisted score.
Forrest Baker opened the scoring for Southwestern at 70:08 with an assist from Alex Keller before Keller closed the margin to 3-2 on David Lozano's assist.
Southwestern outshot the Tigers 15-10 and held an 11-1 edge in corners. Nate Sprenkel recorded six saves for DePauw, while Nick Pierce had one for the Pirates.
The Tigers travel to 12th-ranked Trinity on Sunday.
Follow DePauw Athletics on Twitter | Become a Fan of DePauw Athletics on Facebook
Back