Tigers Extend Win Streak to Five with Victory at Birmingham-Southern
October 31, 2009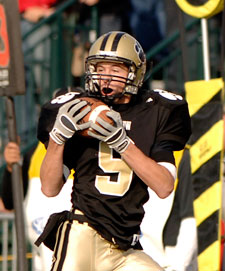 October 31, 2009, Birmingham, Ala. — DePauw jumped out to a 14-0 first-quarter lead and extended it to as many as 21 points on the way to a 35-21 win at Birmingham-Southern. The Tigers improved to 6-1 with their fifth straight win, while the Panthers dropped to 4-4.
The Tigers scored on their opening drive as Derrick Karazsia reached paydirt on a 2-yard run which capped a 6-play, 63-yard drive in the opening 3:06 of the contest.
DePauw needed just five plays to cover 80 yards on its next drive to extend the margin to 14-0 as Spud Dick teamed with Alex Koors (left) for a 62-yard score. The Panthers answered on their next series with quarterback Joe Thigpen rushing 33 yards with 1:10 left in the first to make it 14-7.
Dick's 5-yard pass to Mark Branigan with 2:12 left in the second quarter capped a 15-play, 73-yard possession which took 8:30.
Ryan Preuss picked off a Thigpen pass early in the third and Dick wasted little time in connecting with Koors for a 37-yard score on the first play from scrimmage to push DePauw's lead to 28-7 with 11 minutes remaining in the quarter.
Following Walter Arrington's 36-yard kickoff return which gave the Panthers the ball in DePauw territory, Thigpen scored on a 2-yard run to cut the lead to 28-14 with 7:30 left in the third. The score came on the play immediately following a pass interference call against the Tigers on fourth down.
Late in the third Chris Reeves picked off Dick's pass at the DePauw 49 and the Panthers needed seven plays to close the gap to 28-21 as Shawn Morris scored on a 22-yard run with 14:03 left in the game.
DePauw, ranked second in Division III time of possession, took 6:14 off the clock on their next series with Jon Ellis scoring on a 3-yard run which capped a 12-play, 67-yard drive and pushed DePauw's lead to 35-21.
The Tiger defense stopped Birmingham-Southern on downs at the DePauw 17 and the offense was able to run the clock down to 10 seconds and secure the win.
DePauw outgained Birmingham-Southern 355-306 and held a 323-172 advantage in passing yards. The Panthers picked up 19 first downs to DePauw's 18.

Dick completed 24 of 31 passes for 325 yards with three scores for his 13th career game of 300 or more passing yards. Bryan Mulligan caught seven passes for 61 yards and is now just one shy of tying DePauw's all-time receptions record of 195 held by Jay True (1977-80).
Brayden Dahlstrom had six grabs for 69 yards, while Koors hauled in five passes for 141 yards and two scores. The performance pushed Koors' receiving yardage total this year to 934 which is just 57 yards shy of tying the Tigers' single-season mark.
Thigpen completed 13-of-23 for 172 yards and also gained 42 rushing yards in 27 carries. Arrington led the Panthers with 53 rushing yards on 10 tries. Johnny Lawroski paced Birmingham-Southern with six catches for 61 yards and Arrington had five for 82 yards.
Defensively, the Tigers totaled 12 tackles for losses totaling 61 yards as they sacked Thigpen seven times. Tyler Doane and Ryan Woodard each had two sacks, while Alex Fitch, Scott Mason and Joshua Sturek had one apiece. Thomas Wrona paced the Tigers with 11 tackles, while Jonathan Lambert and Kyle Sherer added nine each.
Kyle Sebestyen totaled nine tackles for the Panthers with Cole Rudder adding eight. Victor Allen and Sam Bratt each had a sack as the Panthers' two sacks matched the effort of DePauw's previous six opponents combined.
DePauw wraps up Southern Collegiate Athletic Conference play next Saturday when it hosts Austin College at 1 p.m. With a win DePauw can clinch at least a share of its third SCAC title.
Follow DePauw Athletics on Twitter | Become a Fan of DePauw Athletics on Facebook
Back