Battle for the Bell Set for Saturday; Playoff-Bound DePauw Hosts 14th-ranked Wabash
November 11, 2009
DEPAUW GAME NOTES | LIVE AUDIO | LIVE STATS | MONON BELL SITE

November 11, 2009, Greencastle, Ind. — The 116th renewal of one of college football's oldest rivalries is set for Saturday at Blackstock Stadium as 7-1 DePauw hosts 8-1 Wabash in the annual Monon Bell game. Kickoff is set for just after 1 p.m. in front of a sellout crowd of just over 8,000 fans and a live, nationwide audience via HDNet.
In a series which began in 1890 the teams have battled to a 53-53-9 tie. Since the Monon Bell entered the rivalry in 1932, DePauw has a 37-34-6 lead. A complete history of the rivalry including recaps of all 115 games are available through DePauw's official Monon Bell site.
After clinching the Southern Collegiate Athletic Conference football co-championship and earning the program's first NCAA postseason appearance with last week's 34-23 win over Austin, DePauw has its sights set on retaining possession of the Monon Bell.
DePauw evened the series with a 24-21 win in 2007 on Jordan Havercamp's 47-yard field goal as time expired and last year's 36-14 victory in Crawfordsville.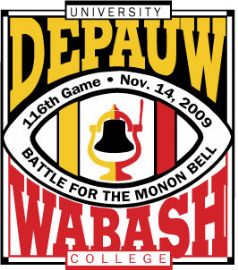 The Tigers enter the contest on a six-game win streak after a 34-24 home loss to Centre on September 19. DePauw shared the SCAC title for the third time in school history, but by virtue of a head-to-head tiebreaker with co-champion Millsaps the Tigers earned the conference's automatic bid to the Division III Championship.
Wabash finished North Coast Athletic Conference play with a 6-1 mark after last Saturday's 41-0 win over Hiram. The Little Giants opened the season with five straight wins before losing at home to Wittenberg by a 10-7 score on October 17. Since then, Wabash has won three straight and is in the hunt for an NCAA at-large bid.
The game will be carried live by WGRE (91.5 FM) with live stats also available. A complete set of DePauw game notes can be downloaded. The HDNet telecast will also be available at over 60 alumni parties across the country. For those traveling to Greencastle for the contest, game day information is posted here.
Follow DePauw Athletics on Twitter | Become a Fan of DePauw Athletics on Facebook
Back