DePauw Holds on for Win over Albion and Tournament Title
November 21, 2009
November 21, 2009, Albion, Mich. — Tournament MVP Steve Lemasters scored a game-high 22 and led DePauw to a 78-73 win over Albion in the Albion College Basketball Classic. The Tigers improved to 2-0, while the Britons dropped to 2-1.
The Tigers took a 44-26 lead to the break and led by as many as 20 at 55-35 early in the second half. DePauw still held a 74-62 advantage with 52 seconds left before the Britons closed to within three in the final five seconds. Lemasters (left) hit a pair of free throws with four seconds left to seal the win.
Lemasters hit 5-of-10 three-pointers as the Tigers knocked down 14-of-25 from long range. Sean Haseley also earned a spot on the all-tournament team and finished with 18 points with four three-pointers.
Tommy Weakley came off the bench and scored 10 while hitting three treys. Tony James dished out seven assists and David Gray grabbed seven boards.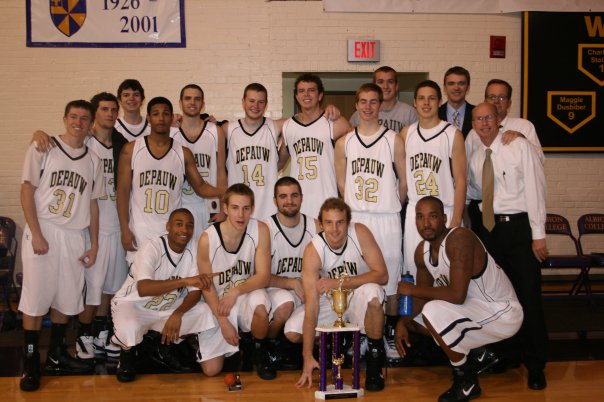 Dave Stasiak and Chris Farr each scored 13, while Kolin Kazen added 10. Andre Bridges grabbed 10 rebounds in the loss.
The Tigers shot 46.7 percent for the game including 51.9 percent in the first half, while Albion connected on 41.4 percent for the game.
DePauw returns to action on Saturday, November 28, when it hosts Washington & Jefferson in the opening game of the Mike Rokicki Community Versus Cancer Challenge.
Follow DePauw Athletics on Twitter | Become a Fan of DePauw Athletics on Facebook
Back