Koors and Long Take SCAC Football Top Honors; 19 Players Earn All-SCAC Honors
November 25, 2009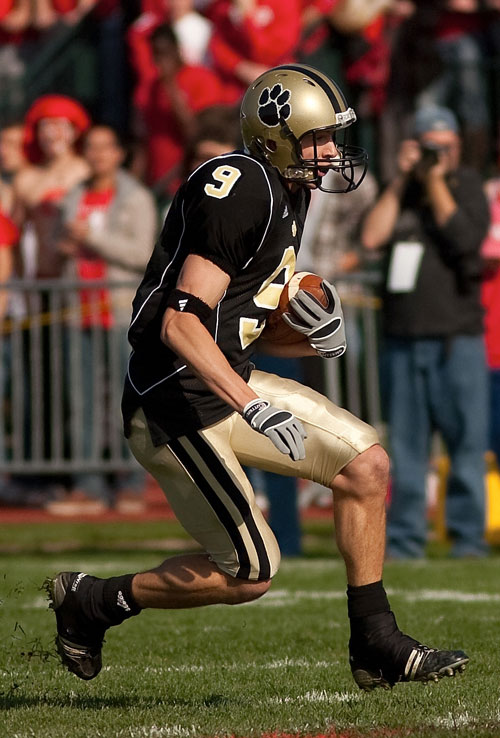 November 25, 2009, Greencastle, Ind. — In voting by the conference's head coaches, DePauw junior wide receiver Alex Koors was named the Southern Collegiate Athletic Conference Offensive Player of the Year and head coach Robby Long was chosen the league's Coach of the Year.
Koors is just the second player to earn SCAC Offensive Player of the Year honors as Jason Lee did so in 2000. Long is the third football coach to garner SCAC Coach of the Year honors after Nick Mourouzis did so in 2000 and Bill Lynch in 2004.
In all, 19 DePauw student-athletes earned spots on the first, second and honorable mention teams. The complete team is available here.
Koors (left), who earned honorable mention as a freshman and first team honors in 2008, set the DePauw single-season record with 1,266 receiving yards which is the third-highest total in SCAC history. His 73 receptions this year places him in a tie for the ninth-most in a SCAC single season and third in DePauw history. Koors' 13 receiving touchdowns are tied for the fourth-most in SCAC history and tied for second at DePauw.
Currently ranked fourth in the nation in receiving yards per game, Koors had two games with more than 200 receiving yards (212 vs. Millsaps and 209 vs. Anderson) this year. He is the first conference receiver to post two 200+ yard receiving games in a single-season since David Crowley of Centre in 2004. He's also the second DePauw receiver to accomplish the feat as Jamie Cunha did so in 1996.
With one year still remaining in his career, Koors is already ranked 10th in SCAC career receptions with 169 and fifth with both 2,595 career receiving yards and 26 receiving touchdowns. He is fourth in DePauw history in career receptions, second in receiving yards and tied for second in touchdown receptions.
Koors received six votes in the Offensive Player of the Year voting with Chris Baer of Trinity and Shane Bowser of Millsaps receiving one vote each.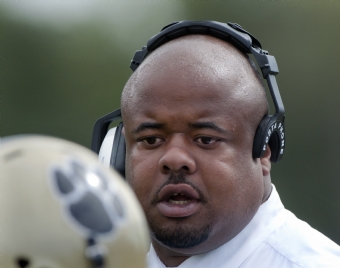 After guiding DePauw to a share of its third SCAC football title and the program's first-ever NCAA playoff appearance, Long (right) was selected by his peers as the SCAC's top coach. Long, who turned 30 on Sunday, took over as interim head football coach on August 7. He had spent the previous five seasons as an assistant coach at DePauw, including the last three as the Tigers' assistant head coach and defensive coordinator.
Long led the Tigers to their first-ever appearance in the NCAA Division III playoffs. DePauw battled 10th-ranked Thomas More on Saturday, but came up on the short end of a 49-39 score and ended the 2009 season with a 7-3 record. Long had the "interim" tag removed from his title yesterday and was officially named head coach.

Long captured five votes in the balloting, while Millsaps' Mike DuBose, Centre's Andy Frye and Trinity's Steve Mohr received one vote each.
Joining Koors on the first team offense is sophomore guard Lewis Brown, senior guard David Joeckel, senior receiver Bryan Mulligan and senior quarterback Spud Dick. The first team defense included senior defensive end Alex Fitch and junior linebackers Ryan Preuss and Kyle Sherer.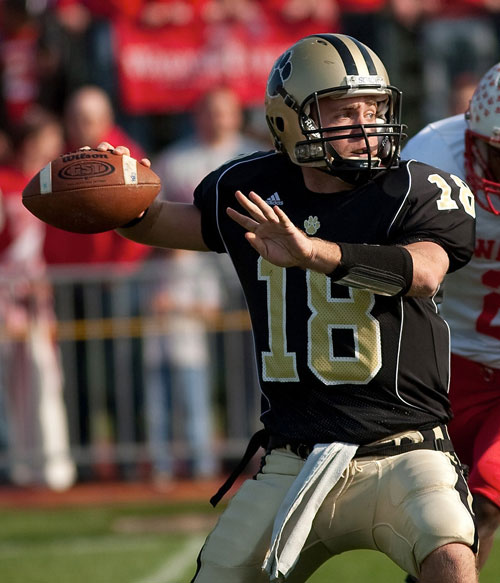 Brown and Joeckel earned the honor for the first time and anchored an offensive line which allowed just five sacks on the season which ranks 11th in Division III for fewest sacks allowed per game. The Tigers also set single-season school records for total offense yards, passing yards, pass completions, completion percentage and first downs. They also tied the school mark for passing touchdowns in a season.
Mulligan was an honorable mention choice in 2006, a first team selection as a sophomore and a second team pick last year. He caught 63 passes for 651 yards and six touchdowns this season. His 217 career receptions established both DePauw and SCAC records.
Dick (left) was a second team choice each of the last two years and he broke his own school record by completing 71.3 percent of his passes which also set a new SCAC mark. He totaled 2,785 passing yards with 27 touchdowns and 12 interceptions and a 156.26 passing efficiency. His seven games of 300 or more passing yards this year also broke the DePauw record. Dick finished as DePauw's all-time leader in every career category and as the SCAC's all-time leader in passing yards with 9,312.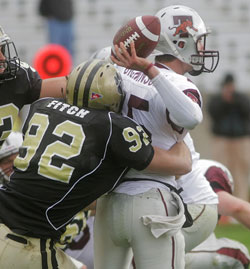 Fitch (right), who was named an ESPN The Magazine Academic All-America® selection for the second straight year, was a second team all-conference pick last year. He totaled 19 tackles this season including 12 solos. He led the team with 6.0 sacks and shared the team lead with 6.5 tackles for loss. He also blocked one kick, broke up two passes and recorded nine hurries.
Preuss was second on the team with 53 tackles including 34 solos with six tackles for loss. He intercepted a pass, broke up two others and recovered a fumble. Sherer finished with 50 tackles including 3.5 for loss. He also had three breakups, one hurry and forced a fumble.
Junior receiver Brayden Dahlstrom, junior tight end Mark Branigan and senior kicker Jordan Havercamp were named to the second team offense, while junior tackle Tyler Doane as well as junior safeties Jonathan Lambert and Thomas Wrona earned spots on the defensive second team.
Dahlstrom was an honorable mention selection last year and finished with 54 catches for 529 yards and three scores this year. Branigan totaled 13 catches for 116 yards and a pair of scores. Havercamp, a second team pick last year, connected on 29-of-33 extra points and 7-of-11 field goals for 50 points.
Doane also earned second team honors last year and finished with 23 tackles including 14 solos. He added six tackles for loss of which two were sacks. He also added two hurries and a forced fumble.
Wrona, who picked up one vote for defensive player of the year, led the team with 62 total tackles including 46 solos. He had five tackles for loss and his lone interception came in last Saturday's NCAA game at Thomas More. He also finished with four breakups, one hurry and a forced fumble. Lambert recorded 48 tackles with 28 solos ad had 2.5 tackles for loss, two breakups, one interception and a blocked kick.
Earning honorable mention were junior offensive tackle Paul DePoy, junior running back Derrick Karazsia, sophomore running back Jon Ellis, sophomore fullback Anthony Meek and junior defensive end Ryan Woodard.
Follow DePauw Athletics on Twitter | Become a Fan of DePauw Athletics on Facebook
PHOTOS: Alex Turco
Back