Spud Dick is One of 10 Gagliardi Trophy Finalists for Top Divison III Football Player
November 25, 2009
VOTE FOR SPUD DICK FOR THE GAGLIARDI TROPHY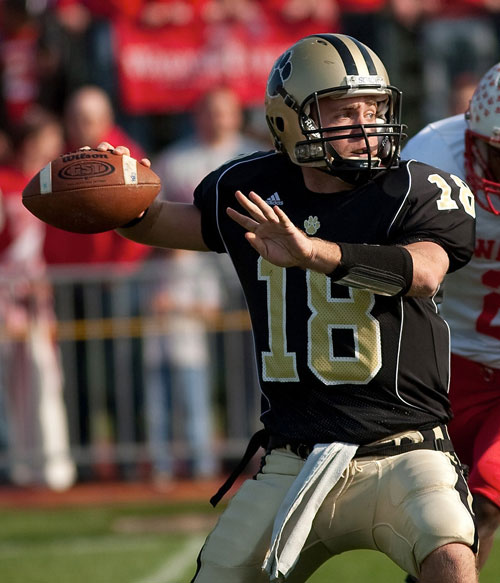 November 25, 2009, Greencastle, Ind. — After leading DePauw to its third Southern Collegiate Athletic Conference title and the program's first-ever NCAA Division III Championship appearance, DePauw senior quarterback Spud Dick has been selected as one of 10 finalists for the Gagliardi Trophy.
The Gagliardi Trophy is recognized as the top football award given in Division III honoring excellence in athletics, academics and campus/community service.
The award program is sponsored by Jostens, Inc. and conducted by the J-Club of St. John's University in Collegeville, Minn. This year's winner will be introduced Thursday, Dec. 17, in Salem, Va.
Dick finished his career last Saturday in the Tigers' NCAA Championship first-round game at Thomas More and did so as the Southern Collegiate Athletic Conference's all-time passing leader with 9,312 career passing yards.
The Indianapolis native and Lawrence Central High School graduate shattered the DePauw record book. In 38 career starts, he set school career records for passing yards (9,312), completion percentage (65.5%), pass attempts (1,195), pass completions (783), touchdown passes (76), pass efficiency (145.11), total offense yards (9,293) and total plays (1,322).
In leading the 7-3 Tigers this season, he broke his own school record for completion percentage at 71.3 percent which also established an SCAC mark. His eight 300-yard passing games were also a school record. He earned All-SCAC First Team honors this year after garnering second team selections each of the last two seasons.
Through six semesters, Dick has posted a 3.59 cumulative grade point average while majoring in economics. A Management Fellow at DePauw, Dick has been named to the SCAC Academic Honor Roll three times and was an ESPN The Magazine Academic All-District selection earlier this month.
Dick has also participated in the football team's community service projects which includes volunteering at the Indiana Women's Basketball Special Olympics State Championship which is hosted annually at DePauw. He has joined the team in visiting children hospitalized at Riley Hospital for Children and participated in a local reading program for K-2 grades.
He's also been active in the fall break service marathon with the local senior center which provides services for those in need in the community. Last summer, he volunteered at the U.S. Men's Senior Golf Open at Crooked Stick Golf Club.
The Gagliardi Trophy is named for St. John's coach John Gagliardi, the winningest coach in college football history with 471 career victories.
For the third year in a row, fans are being invited and encouraged to vote for the Gagliardi Trophy winner. Each individual computer is allowed one vote by clicking here. The award is voted on by a national selection committee. The combined result of fans' votes will comprise one of the final ballots to determine the winner.
Besides Dick, the other 9 finalists are: Mount Union linebacker Judd Lutz, Susquehanna running back Dave Paveletz, Union linebacker John Peters, UW-Whitewater kicker Jeff Schebler, Mississippi College quarterback Adam Shaffer, Monmouth quarterback Alex Tanney, Augustana tackle Blaine Westemeyer, Case Western Reserve quarterback Dan Whalen and Central running back David Zachary. Tanney is a junior, while the rest are seniors.
Follow DePauw Athletics on Twitter | Become a Fan of DePauw Athletics on Facebook
PHOTO of DICK: Alex Turco
Back