Saint Mary's Advances to Hasbrook Championship Game
December 29, 2009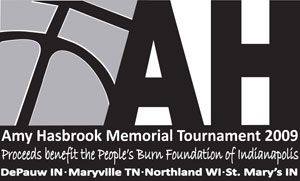 December 29, 2009, Greencastle, Ind. — Saint Mary's (Ind.) advanced to the Amy Hasbrook Memorial Tournament Championship game with a 74-64 win over Maryville (Tenn.).
The Belles improved to 7-3 with the win, while the Scots dropped to 6-4. Saint Mary's will face DePauw in tomorrow's 4 p.m. championship game, while Maryville takes on Northland in the 2 p.m. third-place game. DePauw defeated Northland by a 66-45 score in tonight's second game.
Saint Mary's jumped out to a 25-5 run in the game's opening seven minutes before the Scots closed the gap to 38-30. The Belles pushed the lead back to 16 early in the second half before Maryville eventually trimmed the margin to four on a couple of occasions with the last coming at 61-57 with 6:45 remaining. The Belles hit four straight free throws to start an 8-2 run which pushed the lead back to double digits.
Kelley Murphy led Saint Mary's with 22 points, while Patsy Mahoney followed with 21 and Jessica Centa added 14. Anna Kammrath grabbed a game-high 12 rebounds as the Belles held a 42-34 edge on the boards. Liz Wade dished out five assists in the win.
Alexis Rouvelas paced Maryville with 22 points and four steals, while Janell Menard added 13 points and Alicia Brown added 10. Tayler Smith gabbed nine boards and Brown dished out five assists.
Follow DePauw Athletics on Twitter | Become a Fan of DePauw Athletics on Facebook
Back