Tigers Wrap up SCAC Weekend Sweep with Win over Oglethorpe
January 10, 2010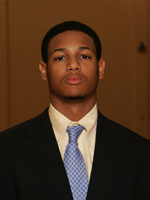 January 10, 2010, Greencastle, Ind. — DePauw scored the game's first seven points and never trailed on the way to an 80-60 Southern Collegiate Athletic Conference win over visiting Oglethorpe.
The Tigers improved to 10-4 overall and 3-2 in the SCAC, while the Stormy Petrels dropped to 8-5 overall and 3-2 in conference play. The victory was also DePauw's 18th straight at the Neal Fieldhouse.
Steve Lemasters knocked down a three on the game's opening possession before David Gray and Tom Callen each added buckets to make it 7-0 just 1:35 into the contest. DePauw led by as many as nine in the opening half, but the Stormy Petrels closed the halftime gap to 28-27.
DePauw scored the first six points of the second half to start a 19-5 run which sent the margin to double digits for the rest of the game.
Lemasters led DePauw with 16 points and knocked down four three-pointers, while Tony James (pictured) and Tommy Weakley each added 14 points. Weakley's 14 were a career best and he hit four threes as well. Tom Callen followed with 12 points.
Sean Haseley grabbed a career-best 10 rebounds as the Tigers held a 44-34 edge on the boards. In addition to tying his season high with 14 points, James equaled Friday's career-best of nine assists, matched his career-high of six rebounds and totaled four steals.
Todd Ward paced Oglethorpe with 16 points and nine rebounds with Joe Kennedy chipping in 11 points. Alec Pitts had four steals in the loss.
The Tigers shot 50.0 percent from the floor including 65.5 percent in the second half, while Oglethorpe hit just 34.3 percent.
DePauw travels to Hendrix on Friday, January 15, while Oglethorpe visits Trinity on the same evening.
Follow DePauw Athletics on Twitter | Become a Fan of DePauw Athletics on Facebook
Back