Tiger Men Win Third Straight after Victory at Hendrix
January 15, 2010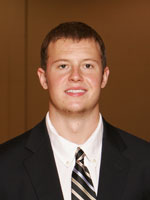 January 15, 2010, Conway, Ark. — Drew Wills (pictured) was perfect from the field and the line and scored a career-best 16 points to lead DePauw to an 89-81 Southern Collegiate Athletic Conference win at Hendrix.
DePauw improved to 11-4 overall and 4-2 in the SCAC, while the Warriors dropped to 4-8 overall and 1-5 in conference play.
The hosts built an early 8-point lead at 17-9, but DePauw came back and went to the intermission tied, 41-41.
The teams battled through five second-half ties before Steve Lemasters knocked down a three with 11:16 left which gave the Tigers a 57-54 advantage.
DePauw's lead was still four at 66-62, but Tony James and Wills scored on back-to-back possessions to push the lead to eight. They eventually stretched it to double figures and Hendrix got no closer than seven.
In addition to Wills' 16, James and Sean Haseley each added 14, while Lemasters followed with 12. David Gray grabbed nine rebounds and James added four assists. The Tigers shot 50.9 percent, including 60 percent in the second half, for their third straight game above the 50 percent plateau. DePauw also held a 32-29 margin on the boards.
Ryan Rizos paced Hendrix with 22 points followed by Cal Rose with 21. Chris Goodman and Ammon Martin each added 10. Janson Hightower, Rizos and Heathscott each grabbed five rebounds, while Hightower handed out eight assists.
DePauw travels to Millsaps on Sunday in a 2 p.m. CST contest.
Follow DePauw Athletics on Twitter | Become a Fan of DePauw Athletics on Facebook
Back