25th-ranked Tigers Improve to 4-1 with Sweep of Illinois Wesleyan and Franklin
January 23, 2010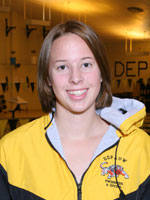 January 23, 2010, Greencastle, Ind. — DePauw's 25th-ranked women's swimming and diving team improved to 4-1 after defeating Illinois Wesleyan (180-103) and Franklin (238-19) at the Erdmann Natatorium.
Catie Baker (pictured) was a double-winner for the Tigers finishing in 1:09.58 in the 100-yard breaststroke and in 2:12.53 in the 200 backstroke. Morgan Crandall, last week's Southern Collegiate Athletic Conference Women's Diver of the Week, also won twice taking the top spot in one-meter diving with 197.75 points and on the three-meter board with 164.75 points.
Rachel Mercer won the 1000 freestyle in 11:18.41, while Katie Massey took first in the 50 free in 25.40 seconds and Nicole Rossillo won the 100 free in 56.05 seconds. Breanna Jennings won the 200 breast in 2:32.20 and Sally Tabler finished first in the 400 individual medley in 4:51.39.
The Tigers' 200 free relay of Katherine Devillebichot, Mercer, Courtney Lehmann and Massey wrapped up the meet with a win in 1:43.60.
DePauw returns to action at 13th-ranked University of Chicago.
Follow DePauw Athletics on Twitter | Become a Fan of DePauw Athletics on Facebook
 
Event 1  Women 200 Yard Medley Relay
===============================================================================
    School                                         Seed     Finals       Points 
===============================================================================
  1 Illinois Wesleyan University-IL  'A'        1:55.34    1:54.37         11  
     1) Peterson, Andrea 20             2) Werries, Chelsea 18            
     3) McHugh, Katie 18                4) Graffy, Melissa 19             
                  28.68     1:01.92 (33.24)     1:28.71 (26.79)     1:54.37 (25.66)
  2 DePauw University  'A'                      1:51.55    1:54.50          4  
     1) Quisenberry, Kendall            2) Baker, Catie                   
     3) Johnson, Danielle               4) Wheaton, Rachel                
                  30.08     1:00.98 (30.90)     1:28.55 (27.57)     1:54.50 (25.95)
  3 DePauw University  'B'                           NT    1:57.03          2  
     1) Bible, Carroll                  2) Jennings, Breanna              
     3) Long, Sabrina                   4) Rossillo, Nicole               
                  29.89     1:02.04 (32.15)     1:31.67 (29.63)     1:57.03 (25.36)
  4 DePauw University  'C'                           NT   x2:01.08        
     1) Boehme, Callie                  2) Zerbini, Gina                  
     3) Harms, Kelly                    4) Enix, Cassie                   
                  32.49     1:04.48 (31.99)     1:34.24 (29.76)     2:01.08 (26.84)
  5 Illinois Wesleyan University-IL  'B'             NT    2:01.42        
     1) Sebens, Alex 18                 2) Bell, Katie 19                 
     3) Bittner, Melissa 19             4) Brinkmeier, Alex 18            
                  30.48     1:05.28 (34.80)     1:34.31 (29.03)     2:01.42 (27.11)
  6 DePauw University  'D'                           NT   x2:03.18        
     1) Kortebein, Sarah                2) Bemendefer, Joan               
     3) Riggs, Lindsay                  4) Morrison, Katie                
                  34.45     1:07.88 (33.43)     1:35.89 (28.01)     2:03.18 (27.29)
  7 Illinois Wesleyan University-IL  'C'             NT   x2:12.07        
     1) Haynes, Kate 19                 2) Current, Claire 20             
     3) Hertel, Sydney 20               4) Riches, Brogan 18              
                  33.22     1:09.86 (36.64)     1:41.59 (31.73)     2:12.07 (30.48)
  8 Franklin College-IN  'A'                    2:08.19    2:12.98        
     1) Miller, Kristen                 2) Skene, Shay                    
     3) Walls, Stephanie                4) Rainesalo, Cassandra           
                  29.87     1:09.47 (39.60)     1:42.77 (33.30)     2:12.98 (30.21)
 -- Illinois Wesleyan University-IL  'D'             NT   X2:11.10        
     1) Gradle, Amy 20                  2) Kasman, Briana 20              
     3) Gracer, Tara 19                 4) Anderson, Lia 20               
                  33.83     1:10.23 (36.40)     1:43.64 (33.41)     2:11.10 (27.46)
 
Event 3  Women 1000 Yard Freestyle
===============================================================================
    Name               Age School                  Seed     Finals       Points 
===============================================================================
  1 Mercer, Rachael        DPU                 11:03.32   11:18.41          9  
                  31.08     1:05.09 (34.01)     1:39.33 (34.24)     2:13.02 (33.69)
        2:47.46 (34.44)     3:21.89 (34.43)     3:56.03 (34.14)     4:30.12 (34.09)
        5:04.63 (34.51)     5:39.19 (34.56)     6:13.65 (34.46)     6:48.18 (34.53)
        7:22.88 (34.70)     7:57.53 (34.65)     8:32.63 (35.10)     9:05.85 (33.22)
        9:39.71 (33.86)    10:14.01 (34.30)    10:46.81 (32.80)    11:18.41 (31.60)
  2 Baumann, Lindsey       DPU                       NT   11:19.47          4  
                  31.47     1:05.66 (34.19)     1:40.06 (34.40)     2:14.13 (34.07)
        2:48.39 (34.26)     3:22.70 (34.31)     3:57.29 (34.59)     4:31.72 (34.43)
        5:06.24 (34.52)     5:40.98 (34.74)     6:15.20 (34.22)     6:49.81 (34.61)
        7:24.70 (34.89)     7:59.01 (34.31)     8:33.23 (34.22)     9:07.16 (33.93)
        9:41.20 (34.04)    10:14.50 (33.30)    10:47.62 (33.12)    11:19.47 (31.85)
  3 Bell, Katie         19 Titans-IL           12:07.32   11:56.75          3  
                  32.94     1:08.33 (35.39)     1:43.99 (35.66)     2:20.17 (36.18)
        2:56.43 (36.26)     3:32.96 (36.53)     4:09.36 (36.40)     4:45.90 (36.54)
        5:22.46 (36.56)     5:58.92 (36.46)     6:34.91 (35.99)     7:10.73 (35.82)
        7:46.66 (35.93)     8:22.57 (35.91)     8:58.40 (35.83)     9:34.22 (35.82)
       10:09.73 (35.51)    10:45.49 (35.76)    11:21.48 (35.99)    11:56.75 (35.27)
  4 Baumgartle, Abby       DPU                 12:17.49   12:20.66          2  
                  31.99     1:07.35 (35.36)     1:43.04 (35.69)     2:19.45 (36.41)
        2:56.22 (36.77)     3:33.26 (37.04)     4:10.04 (36.78)     4:46.95 (36.91)
        5:24.21 (37.26)     6:01.83 (37.62)     6:39.43 (37.60)     7:17.49 (38.06)
        7:55.47 (37.98)     8:33.24 (37.77)     9:10.74 (37.50)     9:48.81 (38.07)
       10:26.79 (37.98)    11:04.53 (37.74)    11:42.95 (38.42)    12:20.66 (37.71)
  5 Hathaway, Stefanie     DPU                       NT  x12:35.16        
                  34.78     1:12.52 (37.74)     1:50.18 (37.66)     2:28.05 (37.87)
        3:05.98 (37.93)     3:44.05 (38.07)     4:22.11 (38.06)     5:00.44 (38.33)
        5:38.47 (38.03)     6:16.30 (37.83)     6:54.25 (37.95)     7:33.02 (38.77)
        8:11.04 (38.02)     8:48.57 (37.53)     9:27.24 (38.67)    10:05.37 (38.13)
       10:43.41 (38.04)    11:21.40 (37.99)    11:58.71 (37.31)    12:35.16 (36.45)
  6 Rainesalo, Cassand     Grizzlies-IN              NT   14:15.23          1  
                  35.99     1:17.54 (41.55)     2:00.52 (42.98)     2:43.58 (43.06)
        3:26.88 (43.30)     4:10.04 (43.16)     4:53.09 (43.05)     5:36.81 (43.72)
        6:20.36 (43.55)     7:04.43 (44.07)     7:48.22 (43.79)     8:32.21 (43.99)
        9:16.76 (44.55)    10:01.32 (44.56)    10:45.42 (44.10)    11:29.00 (43.58)
       12:12.56 (43.56)    12:55.92 (43.36)    13:37.16 (41.24)    14:15.23 (38.07)
 
Event 5  Women 200 Yard Freestyle
===============================================================================
    Name               Age School                  Seed     Finals       Points 
===============================================================================
  1 Lugg, Angela        19 Titans-IL            1:59.67    1:59.60          9  
                  27.78       58.02 (30.24)     1:28.92 (30.90)     1:59.60 (30.68)
  2 Morrison, Katie        DPU                  2:00.70    2:03.21          4  
                  28.22       59.33 (31.11)     1:31.49 (32.16)     2:03.21 (31.72)
  3 Massey, Katie          DPU                       NT    2:03.99          3  
                  27.83       58.63 (30.80)     1:31.15 (32.52)     2:03.99 (32.84)
  4 Boehme, Callie         DPU                       NT    2:04.37          2  
                  29.61     1:01.58 (31.97)     1:33.34 (31.76)     2:04.37 (31.03)
  5 Anderson, Lia       20 Titans-IL                 NT    2:14.35          1  
                  30.48     1:04.47 (33.99)     1:40.06 (35.59)     2:14.35 (34.29)
  6 Riches, Brogan      18 Titans-IL            2:16.44    2:14.99        
                  31.71     1:05.86 (34.15)     1:40.86 (35.00)     2:14.99 (34.13)
  7 Bittner, Melissa    19 Titans-IL                 NT   x2:15.33        
                  31.09     1:05.36 (34.27)     1:40.66 (35.30)     2:15.33 (34.67)
 
Event 7  Women 100 Yard Backstroke
===============================================================================
    Name               Age School                  Seed     Finals       Points 
===============================================================================
  1 Peterson, Andrea    20 Titans-IL            1:00.08    1:00.48          9  
                  29.33     1:00.48 (31.15)                                        
  2 Quisenberry, Kenda     DPU                  1:01.95    1:02.71          4  
                  30.78     1:02.71 (31.93)                                        
  3 Bible, Carroll         DPU                  1:02.63    1:02.97          3  
                  30.68     1:02.97 (32.29)                                        
  4 Miller, Kristen        Grizzlies-IN         1:04.48    1:03.58          2  
                  31.19     1:03.58 (32.39)                                        
  5 Sebens, Alex        18 Titans-IL            1:03.28    1:05.69          1  
                  31.86     1:05.69 (33.83)                                        
  6 Riggs, Lindsay         DPU                  1:02.64    1:06.39        
                  31.88     1:06.39 (34.51)                                        
  7 Johnson, Danielle      DPU                  1:04.61   x1:06.51        
                  32.36     1:06.51 (34.15)                                        
  8 Enix, Cassie           DPU                       NT   x1:07.79        
                  32.94     1:07.79 (34.85)                                        
  9 Haynes, Kate        19 Titans-IL            1:06.55    1:08.05        
                  33.16     1:08.05 (34.89)                                        
 10 Gracer, Tara        19 Titans-IL                 NT   x1:10.63        
                  34.10     1:10.63 (36.53)                                        
 11 Baumgartle, Abby       DPU                       NT   x1:12.66        
                  35.03     1:12.66 (37.63)                                        
 
Event 9  Women 100 Yard Breaststroke
===============================================================================
    Name               Age School                  Seed     Finals       Points 
===============================================================================
  1 Baker, Catie           DPU                  1:07.22    1:09.58        
                  32.99     1:09.58 (36.59)                                        
  2 Rossillo, Nicole       DPU                  1:10.47    1:11.05        
                  33.71     1:11.05 (37.34)                                        
  3 Jennings, Breanna      DPU                  1:09.84    1:11.21        
                  34.13     1:11.21 (37.08)                                        
  4 Zerbini, Gina          DPU                  1:10.06   x1:11.86        
                  34.40     1:11.86 (37.46)                                        
  5 Werries, Chelsea    18 Titans-IL            1:11.86    1:12.58        
                  33.73     1:12.58 (38.85)                                        
  6 Devillebichot, Kat     DPU                  1:14.02   x1:13.83        
                  34.75     1:13.83 (39.08)                                        
  7 Bell, Katie         19 Titans-IL            1:13.70    1:15.35        
                  35.98     1:15.35 (39.37)                                        
  8 Bemendefer, Joan       DPU                  1:12.97   x1:15.64        
                  35.89     1:15.64 (39.75)                                        
  9 Mercer, Rachael        DPU                       NT   x1:21.57        
                  39.02     1:21.57 (42.55)                                        
 10 Kortebein, Sarah       DPU                       NT   x1:22.47        
                  39.28     1:22.47 (43.19)                                        
 11 Kasman, Briana      20 Titans-IL                 NT    1:22.62        
                  39.31     1:22.62 (43.31)                                        
 12 Current, Claire     20 Titans-IL            1:22.63   x1:23.73        
                  39.40     1:23.73 (44.33)                                        
 13 Walls, Stephanie       Grizzlies-IN         1:23.37    1:24.54        
                  38.76     1:24.54 (45.78)                                        
 14 Gradle, Amy         20 Titans-IL                 NT   x1:25.97        
                  40.72     1:25.97 (45.25)                                        
 
Event 11  Women 200 Yard Butterfly
===============================================================================
    Name               Age School                  Seed     Finals       Points 
===============================================================================
  1 McHugh, Katie       18 Titans-IL            2:16.06    2:13.28        
                  29.93     1:03.97 (34.04)     1:38.60 (34.63)     2:13.28 (34.68)
  2 Tabler, Sally          DPU                  2:17.83    2:18.13        
                  30.78     1:05.30 (34.52)     1:41.08 (35.78)     2:18.13 (37.05)
  3 Baumann, Lindsey       DPU                  2:23.18    2:20.56        
                  33.13     1:09.42 (36.29)     1:45.55 (36.13)     2:20.56 (35.01)
  4 Hansen, Lauren      21 Titans-IL            2:21.10    2:23.52        
                  32.62     1:08.63 (36.01)     1:45.67 (37.04)     2:23.52 (37.85)
  5 Harms, Kelly           DPU                  2:26.70    2:31.67        
                  32.95     1:11.65 (38.70)     1:51.64 (39.99)     2:31.67 (40.03)
  6 Long, Sabrina          DPU                  2:26.43   x2:32.49        
                  34.46     1:13.56 (39.10)     1:53.60 (40.04)     2:32.49 (38.89)
  7 Hertel, Sydney      20 Titans-IL            2:34.93    2:35.37        
                  34.72     1:13.77 (39.05)     1:54.89 (41.12)     2:35.37 (40.48)
 
Event 13  Women 50 Yard Freestyle
===============================================================================
    Name               Age School                  Seed     Finals       Points 
===============================================================================
  1 Massey, Katie          DPU                    24.30      25.40        
  2 Graffy, Melissa     19 Titans-IL              25.69      25.62        
  3 Lehmann, Courtney      DPU                    25.60      25.96        
  4 Lugg, Angela        19 Titans-IL              26.35      25.97        
  5 Miller, Kristen        Grizzlies-IN           26.07      26.30        
  6 Wheaton, Rachel        DPU                    26.07      26.68        
  7 Johnson, Danielle      DPU                    27.64     x27.12        
  8 Enix, Cassie           DPU                    26.39     x27.50        
  9 Brinkmeier, Alex    18 Titans-IL              26.46      27.68        
 10 Bible, Carroll         DPU                    27.75     x27.76        
 11 Anderson, Lia       20 Titans-IL              27.31     x27.92        
 12 Skene, Shay            Grizzlies-IN           29.45      28.96        
 13 Long, Sabrina          DPU                    29.36     x30.10        
 -- Peterson, Andrea    20 Titans-IL                 NT     X26.61        
 
Event 15  Women 1 mtr Diving
===============================================================================
    Name               Age School                  Seed     Finals       Points 
===============================================================================
  1 Crandall, Morgan       DPU                   199.40     197.75        
  2 Mccortney, Katy     20 Titans-IL             164.45     154.50        
 
Event 17  Women 100 Yard Freestyle
===============================================================================
    Name               Age School                  Seed     Finals       Points 
===============================================================================
  1 Rossillo, Nicole       DPU                    56.62      56.05        
                  27.17       56.05 (28.88)                                        
  2 Lehmann, Courtney      DPU                    56.95      56.96        
                  27.26       56.96 (29.70)                                        
  3 Wheaton, Rachel        DPU                    56.11      57.00        
                  27.67       57.00 (29.33)                                        
  4 McHugh, Katie       18 Titans-IL              56.66      57.30        
                  27.51       57.30 (29.79)                                        
  5 Devillebichot, Kat     DPU                    57.21     x58.99        
                  28.46       58.99 (30.53)                                        
  6 Bible, Carroll         DPU                       NT     x59.19        
                  28.48       59.19 (30.71)                                        
  7 Hansen, Lauren      21 Titans-IL              59.02      59.24        
                  28.68       59.24 (30.56)                                        
  8 Bemendefer, Joan       DPU                       NT   x1:00.29        
                  28.75     1:00.29 (31.54)                                        
  9 Brinkmeier, Alex    18 Titans-IL              59.62    1:01.93        
                  29.73     1:01.93 (32.20)                                        
 10 Anderson, Lia       20 Titans-IL            1:00.70   x1:02.30        
                  29.56     1:02.30 (32.74)                                        
 11 Skene, Shay            Grizzlies-IN         1:08.97    1:07.58        
                  32.55     1:07.58 (35.03)                                        
 
Event 19  Women 200 Yard Backstroke
===============================================================================
    Name               Age School                  Seed     Finals       Points 
===============================================================================
  1 Baker, Catie           DPU                       NT    2:12.53        
                  31.18     1:03.88 (32.70)     1:38.02 (34.14)     2:12.53 (34.51)
  2 Peterson, Andrea    20 Titans-IL            2:12.80    2:12.78        
                  31.03     1:04.50 (33.47)     1:38.79 (34.29)     2:12.78 (33.99)
  3 Quisenberry, Kenda     DPU                  2:12.28    2:16.02        
                  31.89     1:05.95 (34.06)     1:41.17 (35.22)     2:16.02 (34.85)
  4 Boehme, Callie         DPU                  2:17.98    2:22.70        
                  34.44     1:10.22 (35.78)     1:46.74 (36.52)     2:22.70 (35.96)
  5 Harms, Kelly           DPU                  2:25.73   x2:23.68        
                  34.55     1:10.90 (36.35)     1:47.29 (36.39)     2:23.68 (36.39)
  6 Riggs, Lindsay         DPU                  2:15.94   x2:25.31        
                  34.67     1:11.31 (36.64)     1:48.28 (36.97)     2:25.31 (37.03)
  7 Haynes, Kate        19 Titans-IL            2:25.19    2:25.98        
                  34.89     1:11.69 (36.80)     1:48.92 (37.23)     2:25.98 (37.06)
  8 Tabler, Sally          DPU                       NT   x2:26.27        
                  34.74     1:11.75 (37.01)     1:49.06 (37.31)     2:26.27 (37.21)
  9 Kortebein, Sarah       DPU                  2:37.43   x2:37.32        
                  37.52     1:17.64 (40.12)     1:57.84 (40.20)     2:37.32 (39.48)
 10 Gradle, Amy         20 Titans-IL            2:33.07    2:40.29        
                  36.54     1:17.05 (40.51)     1:58.87 (41.82)     2:40.29 (41.42)
 
Event 21  Women 200 Yard Breaststroke
===============================================================================
    Name               Age School                  Seed     Finals       Points 
===============================================================================
  1 Jennings, Breanna      DPU                  2:30.17    2:32.20        
                  34.61     1:12.98 (38.37)     1:52.58 (39.60)     2:32.20 (39.62)
  2 Zerbini, Gina          DPU                  2:33.00    2:34.21        
                  34.90     1:14.11 (39.21)     1:54.11 (40.00)     2:34.21 (40.10)
  3 Werries, Chelsea    18 Titans-IL            2:38.25    2:35.93        
                  35.97     1:15.72 (39.75)     1:55.59 (39.87)     2:35.93 (40.34)
  4 Bell, Katie         19 Titans-IL            2:38.60    2:43.31        
                  37.55     1:19.27 (41.72)     2:01.20 (41.93)     2:43.31 (42.11)
  5 Bemendefer, Joan       DPU                  2:37.71    2:44.39        
                  37.58     1:19.62 (42.04)     2:02.56 (42.94)     2:44.39 (41.83)
  6 Kasman, Briana      20 Titans-IL            3:05.28    2:54.65        
                  40.52     1:24.60 (44.08)     2:09.91 (45.31)     2:54.65 (44.74)
  7 Current, Claire     20 Titans-IL            3:06.33   x3:05.14        
                  41.50     1:30.77 (49.27)     2:19.72 (48.95)     3:05.14 (45.42)
 
Event 23  Women 500 Yard Freestyle
===============================================================================
    Name               Age School                  Seed     Finals       Points 
===============================================================================
  1 Lugg, Angela        19 Titans-IL            5:23.66    5:23.66        
                  28.88     1:01.13 (32.25)     1:33.91 (32.78)     2:07.01 (33.10)
        2:40.01 (33.00)     3:12.64 (32.63)     3:45.40 (32.76)     4:18.47 (33.07)
        4:51.25 (32.78)     5:23.66 (32.41)                                        
  2 Morrison, Katie        DPU                  5:22.61    5:30.54        
                  30.16     1:02.49 (32.33)     1:35.63 (33.14)     2:08.54 (32.91)
        2:41.61 (33.07)     3:14.91 (33.30)     3:48.82 (33.91)     4:23.21 (34.39)
        4:57.26 (34.05)     5:30.54 (33.28)                                        
  3 Devillebichot, Kat     DPU                       NT    5:40.53        
                  30.82     1:04.62 (33.80)     1:39.23 (34.61)     2:14.04 (34.81)
        2:48.86 (34.82)     3:23.63 (34.77)     3:58.27 (34.64)     4:33.40 (35.13)
        5:07.66 (34.26)     5:40.53 (32.87)                                        
  4 Enix, Cassie           DPU                       NT    5:43.46        
                  31.11     1:05.44 (34.33)     1:40.45 (35.01)     2:14.94 (34.49)
        2:49.73 (34.79)     3:24.20 (34.47)     3:59.17 (34.97)     4:34.10 (34.93)
        5:09.12 (35.02)     5:43.46 (34.34)                                        
  5 Lehmann, Courtney      DPU                       NT   x5:46.49        
                  31.83     1:06.47 (34.64)     1:41.24 (34.77)     2:16.42 (35.18)
        2:52.16 (35.74)     3:26.97 (34.81)     4:02.00 (35.03)     4:36.77 (34.77)
        5:12.44 (35.67)     5:46.49 (34.05)                                        
  6 Riches, Brogan      18 Titans-IL            5:56.71    5:53.14        
                  32.68     1:08.05 (35.37)     1:43.79 (35.74)     2:19.02 (35.23)
        2:54.88 (35.86)     3:30.35 (35.47)     4:06.40 (36.05)     4:42.54 (36.14)
        5:18.30 (35.76)     5:53.14 (34.84)                                        
  7 Baumgartle, Abby       DPU                  5:58.30   x5:59.25        
                  31.50     1:06.55 (35.05)     1:42.46 (35.91)     2:18.67 (36.21)
        2:55.26 (36.59)     3:32.67 (37.41)     4:09.74 (37.07)     4:46.63 (36.89)
        5:23.48 (36.85)     5:59.25 (35.77)                                        
  8 Hathaway, Stefanie     DPU                  5:55.89   x6:00.50        
                  32.98     1:09.08 (36.10)     1:45.37 (36.29)     2:22.36 (36.99)
        2:59.09 (36.73)     3:35.80 (36.71)     4:12.27 (36.47)     4:48.98 (36.71)
        5:25.43 (36.45)     6:00.50 (35.07)                                        
  9 Gracer, Tara        19 Titans-IL                 NT    6:12.69        
                  32.22     1:09.19 (36.97)     1:46.57 (37.38)     2:24.53 (37.96)
        3:02.42 (37.89)     3:40.85 (38.43)     4:19.13 (38.28)     4:57.73 (38.60)
        5:35.97 (38.24)     6:12.69 (36.72)                                        
 10 Kortebein, Sarah       DPU                  6:07.36   x6:13.69        
                  34.02     1:10.69 (36.67)     1:48.61 (37.92)     2:26.80 (38.19)
        3:05.20 (38.40)     3:43.60 (38.40)     4:21.53 (37.93)     4:59.60 (38.07)
        5:37.22 (37.62)     6:13.69 (36.47)                                        
 11 Rainesalo, Cassand     Grizzlies-IN         6:51.44    6:46.75        
                  36.13     1:18.05 (41.92)     1:56.33 (38.28)     2:37.36 (41.03)
        3:21.32 (43.96)     4:04.14 (42.82)     4:47.23 (43.09)     5:30.58 (43.35)
        6:09.55 (38.97)     6:46.75 (37.20)                                        
 
Event 25  Women 100 Yard Butterfly
===============================================================================
    Name               Age School                  Seed     Finals       Points 
===============================================================================
  1 McHugh, Katie       18 Titans-IL              59.92    1:01.07        
                  28.75     1:01.07 (32.32)                                        
  2 Baker, Catie           DPU                       NT    1:02.01        
                  28.67     1:02.01 (33.34)                                        
  3 Peterson, Andrea    20 Titans-IL            1:03.56    1:02.97        
                  29.48     1:02.97 (33.49)                                        
  4 Baumann, Lindsey       DPU                       NT    1:04.33        
                  31.01     1:04.33 (33.32)                                        
  5 Johnson, Danielle      DPU                  1:02.23    1:05.18        
                  30.34     1:05.18 (34.84)                                        
  6 Bittner, Melissa    19 Titans-IL            1:04.84    1:06.70        
                  31.04     1:06.70 (35.66)                                        
  7 Graffy, Melissa     19 Titans-IL            1:05.01   x1:06.72        
                  30.29     1:06.72 (36.43)                                        
  8 Long, Sabrina          DPU                  1:03.84   x1:07.61        
                  31.82     1:07.61 (35.79)                                        
  9 Quisenberry, Kenda     DPU                       NT   x1:07.87        
                  31.85     1:07.87 (36.02)                                        
 10 Hertel, Sydney      20 Titans-IL                 NT   x1:09.27        
                  31.98     1:09.27 (37.29)                                        
 
Event 27  Women 3 mtr Diving
===============================================================================
    Name               Age School                  Seed     Finals       Points 
===============================================================================
  1 Crandall, Morgan       DPU                   168.75     164.75        
 
Event 29  Women 400 Yard IM
===============================================================================
    Name               Age School                  Seed     Finals       Points 
===============================================================================
  1 Tabler, Sally          DPU                  4:49.00    4:51.39        
                  31.20     1:07.18 (35.98)     1:44.85 (37.67)     2:22.02 (37.17)
        3:04.43 (42.41)     3:46.27 (41.84)     4:19.30 (33.03)     4:51.39 (32.09)
  2 Rossillo, Nicole       DPU                       NT    4:51.91        
                  31.76     1:09.13 (37.37)     1:47.39 (38.26)     2:23.65 (36.26)
        3:04.75 (41.10)     3:46.35 (41.60)     4:20.24 (33.89)     4:51.91 (31.67)
  3 Boehme, Callie         DPU                  4:55.25    4:56.23        
                  33.88     1:12.50 (38.62)     1:49.84 (37.34)     2:26.78 (36.94)
        3:07.22 (40.44)     3:48.93 (41.71)     4:22.68 (33.75)     4:56.23 (33.55)
  4 Riggs, Lindsay         DPU                  5:11.34   x5:01.69        
                  31.77     1:09.39 (37.62)     1:48.84 (39.45)     2:26.33 (37.49)
        3:09.50 (43.17)     3:53.22 (43.72)     4:28.74 (35.52)     5:01.69 (32.95)
  5 Zerbini, Gina          DPU                       NT   x5:02.63        
                  32.36     1:11.22 (38.86)     1:51.09 (39.87)     2:31.35 (40.26)
        3:11.52 (40.17)     3:53.08 (41.56)     4:28.51 (35.43)     5:02.63 (34.12)
  6 Wheaton, Rachel        DPU                       NT   x5:03.95        
                  31.00     1:07.19 (36.19)     1:46.63 (39.44)     2:25.60 (38.97)
        3:10.21 (44.61)     3:55.88 (45.67)     4:30.56 (34.68)     5:03.95 (33.39)
  7 Hansen, Lauren      21 Titans-IL            5:04.44    5:04.74        
                  31.58     1:07.83 (36.25)     1:47.77 (39.94)     2:27.93 (40.16)
        3:12.36 (44.43)     3:57.00 (44.64)     4:31.41 (34.41)     5:04.74 (33.33)
  8 Harms, Kelly           DPU                  5:09.12   x5:11.36        
                  33.48     1:13.37 (39.89)     1:53.34 (39.97)     2:31.94 (38.60)
        3:17.80 (45.86)     4:03.23 (45.43)     4:37.77 (34.54)     5:11.36 (33.59)
  9 Hertel, Sydney      20 Titans-IL            5:30.04    5:24.10        
                  34.59     1:13.70 (39.11)                             2:39.53 ( )
        3:26.98 (47.45)     4:13.16 (46.18)     4:49.39 (36.23)     5:24.10 (34.71)
 10 Haynes, Kate        19 Titans-IL            5:29.47    5:26.62        
                  35.23     1:16.37 (41.14)     1:55.38 (39.01)     2:33.55 (38.17)
        3:22.31 (48.76)     4:11.00 (48.69)     4:49.13 (38.13)     5:26.62 (37.49)
 11 Hathaway, Stefanie     DPU                       NT   x5:35.17        
                  35.57     1:16.51 (40.94)     2:01.27 (44.76)     2:44.46 (43.19)
        3:33.47 (49.01)     4:23.24 (49.77)     4:59.46 (36.22)     5:35.17 (35.71)
 12 Current, Claire     20 Titans-IL                 NT   x5:43.26        
                  37.25     1:22.18 (44.93)     2:07.12 (44.94)     2:52.73 (45.61)
        3:41.88 (49.15)     4:30.80 (48.92)     5:07.96 (37.16)     5:43.26 (35.30)
 -- Anderson, Lia       20 Titans-IL                 NT   X4:27.56        
                  27.50       59.54 (32.04)     1:35.22 (35.68)     2:08.95 (33.73)
        2:48.29 (39.34)     3:27.48 (39.19)     3:58.19 (30.71)     4:27.56 (29.37)
 
Event 31  Women 200 Yard Freestyle Relay
===============================================================================
    School                                         Seed     Finals       Points 
===============================================================================
  1 DePauw University  'A'                      1:40.54    1:43.60        
     1) Devillebichot, Katherine        2) Mercer, Rachael                
     3) Lehmann, Courtney               4) Massey, Katie                  
                  26.65       53.54 (26.89)     1:18.87 (25.33)     1:43.60 (24.73)
  2 Illinois Wesleyan University-IL  'A'        1:45.00    1:46.37        
     1) Graffy, Melissa 19              2) Anderson, Lia 20               
     3) Brinkmeier, Alex 18             4) Lugg, Angela 19                
                  26.13       53.20 (27.07)     1:20.63 (27.43)     1:46.37 (25.74)
  3 Illinois Wesleyan University-IL  'B'             NT    1:51.97        
     1) Werries, Chelsea 18             2) Bittner, Melissa 19            
     3) Gradle, Amy 20                  4) Hansen, Lauren 21              
                  28.47       56.65 (28.18)     1:25.51 (28.86)     1:51.97 (26.46)
  4 DePauw University  'B'                           NT    1:52.33        
     1) Morrison, Katie                 2) Baumann, Lindsey               
     3) Baumgartle, Abby                4) Jennings, Breanna              
                  28.24       56.53 (28.29)     1:25.43 (28.90)     1:52.33 (26.90)
  5 Franklin College-IN  'A'                    1:55.98    1:56.47        
     1) Miller, Kristen                 2)                                
                  29.35       43.96 (14.61)       59.16 (15.20)     1:56.47 (57.31)
 


Back