Centre Men Snap DePauw's Home Win Streak
February 6, 2010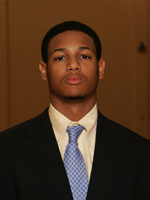 February 6, 2010, Greencastle, Ind. — Host DePauw was scoreless for a 4:37 stretch late in the second half as Centre broke free from a 49-49 tie with 10 straight points on the way to a 63-56 Southern Collegiate Athletic Conference win over the Tigers.
The loss dropped the Tigers to 15-6 overall and 8-4 in SCAC play, while Centre improved to 11-8 overall and 7-5 in the conference. DePauw's 20-game win streak at the Neal Fieldhouse also came to an end as the Tigers suffered their first home loss since a 69-66 defeat to Centre on February 16, 2008.
DePauw led by as many as eight in the first half at 16-8, but the Colonels used an 11-2 run to take a 19-18 lead with just over three minutes remaining in the half. Bryon Ellis nailed a three near the end of the opening 20 minutes to send Centre to a 24-22 lead at the break.
Centre extended the margin to six at 30-24, but the Tigers battled back to take a 41-36 advantage after Steve Lemasters knocked down a three with 13:02 left. DePauw's Tommy Weakley hit a jumper with 7:08 left to tie the contest at 49-49, but that would be the Tigers' last field goal until the 1:54 mark.
On their next six possessions, the Tigers missed three shots and committed three turnovers, while the Colonels scored 10 straight to take a 59-49 lead. Tom Callen hit a pair of free throws, Sean Haseley nailed a three and then two charity tosses with 1:01 left close the Centre gap to 59-56.
Centre's Matt Griggs hit two free throws with 26 seconds remaining to push the lead back to five, but the Tigers turned the ball over on their next possession and Centre's Jeff Mullaney sealed the win with two free throws with 18 seconds left.
Tony James (pictured) scored a career-high 19 in the win, while Callen added 13. Callen and Lemasters each had five rebounds in the loss as the Tigers held a 27-26 edge on the boards.
Josh Crawford led four Centre double-figure scorers with 16 followed by Danny Noll with 15, Ellis with 14 and Mullaney with 11. Alex Lloyd hauled down nine rebounds in the win and Noll dished out four assists.
DePauw shot 42.0 percent from the floor to Centre's 51.2 percent which included 65 percent shooting in the second half.
The Tigers return to action on Friday, February 12, when they travel to Sewanee for a 6 p.m. CST contest.
Follow DePauw Athletics on Twitter | Become a Fan of DePauw Athletics on Facebook
Back