Katie E. Aldrich '12
February 19, 2010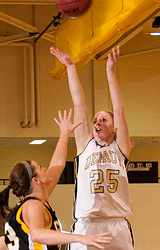 Sophomore Katie E. Aldrich started playing basketball when she was only seven years old. She had followed her older sister into the local parks and recreation league, but stuck with it even when her sister retired from the sport shortly thereafter.
"I don't remember my life without basketball," Aldrich says.
When the time came for Aldrich to go to college, the Lexington, Ky., native wanted to make sure that her final four years of competition would count. The opportunity to play for head women's basketball coach Kris Huffman is one of the main reasons Aldrich says she chose to become a DePauw Tiger.
"She's one of the best coaches in women's basketball," Aldrich says of Huffman. "She's selfless, and she's a great mentor and leader, at DePauw and in the community."
Now in her 17th year at DePauw, Huffman is the winningest coach in the program's history with a 354-92 career record, 8 SCAC titles and a NCAA Division III national championship in 2007.
Aldrich is putting up impressive numbers in her second season as a offensive specialist in Huffman's system. She is second on the team in points and third in rebounds as of mid-February, despite not having started a game. Her production from the bench has contributed to team's 20-3 record to date—their ninth consecutive 20-win season.
Aldrich credits her coach and her teammates for the success she's had as a point producer.
"I know when I get in the game that my job is to score," Aldrich says. "We have so many amazing girls on our team that it's hard to pinpoint one good player. We've had to work together to have the kind of success that we've had."
According to Aldrich, the team is just as tight-knit off the court. Their unofficial sorority, Gamma Beta Tau, or "Girls' Basketball Team," brings them together for mock Greek events, including a rush night pageant for freshman members of the team. But Aldrich is grateful for having the option of an external social life, as well—something that might not be possible in a larger school's basketball program.
"I really like the people here," she says. "Everybody is laid back and open-minded. It's such a great atmosphere to be a part of."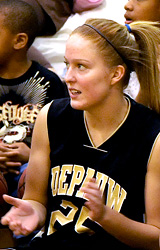 While basketball is an important piece of Aldrich's life, it wasn't her only reason for choosing DePauw.
"I was looking for a good liberal arts school, and Greencastle isn't too far from home," Aldrich recalls. "I came here knowing that I wanted to major in science. My dad is a conservation biologist for the Nature Conservancy in Kentucky, so I grew up in the outdoors hiking, canoeing and kayaking. I ended up choosing environmental geoscience as my major."
When her playing days are behind her, Aldrich hopes to put her major to use in dealing with fresh water restoration, either in the United States or abroad.
"Fresh water is one of the most valuable resources that we have on the planet, and it's being depleted at a rapid rate," Aldrich says. "There are already hundreds of millions of people without clean drinking water, and it's just going to get worse. When I leave DePauw, I want to be able to help."
Back