Vincennes Women Win DePauw Indoor Classic; Tigers Place Fifth
February 20, 2010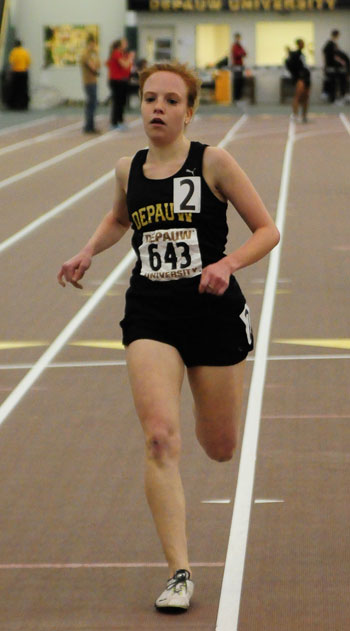 NOTE: Corrected results posted on Sunday evening (2/21)
February 20, 2010, Greencastle, Ind. — The Vincennes women totaled 117 points and won the DePauw Indoor Track and Field Classic by five points over Cuyahoga Community College which finished with 112. Rhodes was third with 103 followed by Bellarmine with 102.5 and DePauw with 96.5.
Claire Hollis picked up a pair of wins after finishing the mile run in 5:08.77 and the 800 meters in 2:25.45. Lisa Becharas placed third in the 800 meters in 2:27.92.
Ellen Mail (pictured) won the 3,000 meters in 10:37.06, while Jess Macy was fifth in 10:56.17 and Kelsey Moore ninth in 11:24.27.
Nicole Stein finished third in the 55-meter hurdles in 9.10 seconds, while Lee Harmon was fifth in 9.29, Brittany Brand sixth in 9.41 and Chelsea Courtney was eighth in 9.82. Stein was also fourth in the 400 meters in 1:01.84.
Tamesha McGuire was fifth in the 200 meters in 27.13 seconds and seventh in the 55 meters in 7.68. Sam Wong was sixth in the long jump at 4.74 meters (15-6.75) and Ashley Louis placed fifth in the pole vault (2.90 meters/9-6.25).
Harmon also finished seventh in the high jump (1.48 meters/4-10.25) and eighth in the triple jump (9.69 meters/31-9.5). Chelsea Courtney was eighth in the high jump (1.43 meters/4-8.25) as was Briana Holder in the shot put (9.80 meters/32-2).
DePauw finished second in the distance medley in 14:33.6 and fourth in both the 4 x 200 relay in 1:51.36 and the 4 x 400 relay in 4:24.93.
The Tigers travel to Anderson for the Fred Wilt Invitational on Saturday, February 27.
Follow DePauw Athletics on Twitter | Become a Fan of DePauw Athletics on Facebook

Licensed to DePauw University                             HY-TEK's Meet Manager
                    2010 DePauw Indoor Classic - 2/20/2010                     
                 Hollensteiner Track/DePauw U./Greencastle,IN                  
                                    Results                                    


                   Women - Team Rankings - 19 Events Scored
===============================================================================
    1) Vincennes                  117        2) Cuyahoga CC               112   
    3) Rhodes                     103        4) Bellarmine                102.50
    5) DePauw                      96.50     6) Earlham                    48   
    7) Cumberlands                 42        8) Huntington                 32   
    9) Centre                      29       10) Lindsey Wilson             17   
   11) St. Mary-of-the-Woods       14                                           


 
Event 1  Women Distance Medley
================================================================================
       Track: T 11:41.66  3/15/2003   Wartburg, Wartburg                       
                          Holubar, Olson, Tiernan, Buttry                   
        Meet: M 12:22.27  2/24/2001   Wittenberg, Wittenberg                   
    School                                               Seed     Finals  Points
================================================================================
Finals
  1 Vincennes  'A'                                   13:52.26   14:03.51   10   
  2 DePauw  'A'                                                 14:33.36    8   
  3 Earlham  'A'                                     15:08.86   14:57.29    6   
  4 Cuyahoga CC  'A'                                 14:00.00   15:12.54    5   
 
Event 3  Women 4x200 Meter Relay
================================================================================
       Track: T 1:41.51  2/11/2006   Missouri Baptist University, Missouri Bapt
        Meet: M 1:42.47  2/16/2008   Illinois Wesleyan, Illinois Wesleya       
    School                                               Seed     Finals  Points
================================================================================
  1 Bellarmine  'A'                                   1:48.93    1:48.73   10   
  2 Cumberlands  'A'                                  1:49.76    1:49.41    8   
  3 Rhodes  'A'                                       1:52.00    1:51.09    6   
  4 DePauw  'A'                                       1:52.00    1:51.36    5   
  5 Earlham  'A'                                      1:57.88    1:57.19    4   
 
Event 5  Women 5000 Meter Run
================================================================================
       Track: T 16:39.16  3/14/2003   Melissa White, Geneseo State             
        Meet: M 17:05.05  2/16/2008   Heather Cooksey, Southern Indiana        
    Name                    Year School                  Seed     Finals  Points
================================================================================
  1 Crystal Watson            SO Cuyahoga CC         20:15.00   20:12.11   10   
  2 Lauren McCafferty         SR Centre              19:30.00   20:14.73    8   
  3 Valerie Thomas            SO Bellarmine          20:16.86   20:30.52    6   
  4 Molly Shirey              SO Huntington          21:03.57   20:38.41    5   
  5 Nadia Husien              SO Cuyahoga CC         23:30.00   21:20.15    4   
 
Event 7  Women 55 Meter Hurdles
============================================================================
       Track: T  7.99  3/15/2003   Aquilla Williams-Judge, Wheaton (Mass.)     
        Meet: M  8.22  2/17/2007   Shana Levett, Alabama-Huntsvil              
    Name                    Year School                  Seed    Prelims  H#
============================================================================
Preliminaries
  1 Lauren Lyles              FR Cuyahoga CC             8.70       8.91q  1 
  2 Jessie Ormand             JR Rhodes                  8.89       9.10q  1 
  3 Lee Harmon                FR DePauw                  9.24       9.27q  1 
  4 Nora Bowe                 FR Bellarmine              9.34       9.27q  2 
  5 Nicole Stein              SR DePauw                  9.20       9.37q  1 
  6 Brittany Brand            SR DePauw                  9.80       9.48q  2 
  7 Camilla Aramburu          JR Bellarmine              9.62       9.66q  2 
  8 Chelsea Courtney          FR DePauw                  9.96       9.83q  2 
  9 Ruth Olson                FR Lindsey Wils            9.50       9.99   2 
 10 Sara Alsman               FR Vincennes               9.60      10.00   1 
 11 Amanda Schoenfelder       SO Bellarmine             10.50      10.44   2 
 12 Kacie Gamm                JR Bellarmine             10.97      10.46   2 
 13 Ariell Akel               FR Cuyahoga CC            10.00      10.62   1 
 
Event 7  Women 55 Meter Hurdles
================================================================================
       Track: T  7.99  3/15/2003   Aquilla Williams-Judge, Wheaton (Mass.)     
        Meet: M  8.22  2/17/2007   Shana Levett, Alabama-Huntsvil              
    Name                    Year School               Prelims     Finals  Points
================================================================================
Finals
  1 Lauren Lyles              FR Cuyahoga CC             8.91       8.89   10   
  2 Jessie Ormand             JR Rhodes                  9.10       9.09    8   
  3 Nicole Stein              SR DePauw                  9.37       9.10    6   
  4 Nora Bowe                 FR Bellarmine              9.27       9.22    5   
  5 Lee Harmon                FR DePauw                  9.27       9.29    4   
  6 Brittany Brand            SR DePauw                  9.48       9.41    3   
  7 Camilla Aramburu          JR Bellarmine              9.66       9.67    2   
  8 Chelsea Courtney          FR DePauw                  9.83       9.82    1   
Preliminaries
  9 Ruth Olson                FR Lindsey Wils            9.99             
 10 Sara Alsman               FR Vincennes              10.00             
 11 Amanda Schoenfelder       SO Bellarmine             10.44             
 12 Kacie Gamm                JR Bellarmine             10.46             
 13 Ariell Akel               FR Cuyahoga CC            10.62             
 
Event 9  Women 55 Meter Dash
============================================================================
       Track: T  7.01  2/5/2005    Nicheshia Anderson, Mo.  Baptist            
        Meet: M  7.19  2/19/2005   Stephanie Woodfin, Cumberland               
    Name                    Year School                  Seed    Prelims  H#
============================================================================
  1 Christine Pendleton       SO Cuyahoga CC             7.26       7.34q  1 
  2 Ebony Wright              FR Vincennes               7.46       7.41q  4 
  3 Elaine Kuntz              FR Bellarmine              7.53       7.50q  4 
  4 Josann Schoeff            JR Huntington              7.55       7.57q  1 
  5 Lindsay Svehla            FR Rhodes                  7.65       7.59q  3 
  6 Tamesha McGuire           FR DePauw                  7.62       7.61q  1 
  7 Dyrena Darrett            FR Vincennes               7.49       7.63q  2 
  8 Kristina Wimsatt          SR Lindsey Wils            7.85       7.66q  2 
  9 Dominique Gainer          JR Cumberlands             7.60       7.67   2 
 10 Diana Unuode              FR Cumberlands             7.59       7.67   3 
 11 Maria Bush                FR Cuyahoga CC             7.76       7.72   3 
 12 Rachel Eychmans           FR Bellarmine              7.53       7.72   1 
 13 Katie Neiser              FR Bellarmine              7.63       7.79   1 
 14 Vickie Phillips           SO Cuyahoga CC             7.70       7.82   2 
 15 Kyla Graham               SO Rhodes                  7.78       7.84   1 
 16 Jasmine Prunty            SO Cuyahoga CC             7.82       7.85   3 
 17 Schavel Morrison          JR DePauw                  7.81       8.05   3 
 18 Janelle McSurley          JR Cumberlands             8.10       8.06   4 
 19 Emily Reavis              SO DePauw                             8.07   4 
 20 Nora Bowe                 FR Bellarmine              7.83       8.18   1 
 21 Rachel Bayon              FR Huntington              8.14       8.23   3 
 22 Gaynal Mullings           FR Huntington                         8.24   4 
 23 Brianna Cecil             FR Cumberlands             8.38       8.28   3 
 24 Dana Stewart              SO Huntington              8.31       8.28   2 
 25 Amanda Schoenfelder       SO Bellarmine              8.42       8.31   4 
 26 Shannon McMullen          SO Bellarmine              8.40       8.59   2 
 
Event 9  Women 55 Meter Dash
================================================================================
       Track: T  7.01  2/5/2005    Nicheshia Anderson, Mo.  Baptist            
        Meet: M  7.19  2/19/2005   Stephanie Woodfin, Cumberland               
    Name                    Year School               Prelims     Finals  Points
================================================================================
Finals
  1 Christine Pendleton       SO Cuyahoga CC             7.34       7.28   10   
  2 Ebony Wright              FR Vincennes               7.41       7.44    8   
  3 Dyrena Darrett            FR Vincennes               7.63       7.49    6   
  4 Josann Schoeff            JR Huntington              7.57       7.51    5   
  5 Lindsay Svehla            FR Rhodes                  7.59       7.53    4   
  6 Elaine Kuntz              FR Bellarmine              7.50       7.58    3   
  7 Tamesha McGuire           FR DePauw                  7.61       7.68    2   
  8 Kristina Wimsatt          SR Lindsey Wils            7.66       7.70    1   
Preliminaries
  9 Dominique Gainer          JR Cumberlands             7.67             
 10 Diana Unuode              FR Cumberlands             7.67             
 11 Maria Bush                FR Cuyahoga CC             7.72             
 12 Rachel Eychmans           FR Bellarmine              7.72             
 13 Katie Neiser              FR Bellarmine              7.79             
 14 Vickie Phillips           SO Cuyahoga CC             7.82             
 15 Kyla Graham               SO Rhodes                  7.84             
 16 Jasmine Prunty            SO Cuyahoga CC             7.85             
 17 Schavel Morrison          JR DePauw                  8.05             
 18 Janelle McSurley          JR Cumberlands             8.06             
 19 Emily Reavis              SO DePauw                  8.07             
 20 Nora Bowe                 FR Bellarmine              8.18             
 21 Rachel Bayon              FR Huntington              8.23             
 22 Gaynal Mullings           FR Huntington              8.24             
 23 Brianna Cecil             FR Cumberlands             8.28             
 24 Dana Stewart              SO Huntington              8.28             
 25 Amanda Schoenfelder       SO Bellarmine              8.31             
 26 Shannon McMullen          SO Bellarmine              8.59             
 
Event 11  Women 1 Mile Run
================================================================================
       Track: T 4:55.85  2/10/2007   Bethany McCoy, Olivet Nazarene            
        Meet: M 5:00.07  2/22/2003   Heather Cooksey, Southern Indiana         
    Name                    Year School                  Seed     Finals  Points
================================================================================
Finals
  1 Claire Hollis             SO DePauw               5:18.00    5:08.77   10   
  2 Briana Ulanowski          FR Bellarmine           5:42.11    5:27.54    8   
  3 Maddie Harrigan           FR Rhodes               5:25.00    5:27.71    6   
  4 Stephanie Clouser         JR Bellarmine           5:45.87    5:43.73    5   
  5 Alicia Mattingly          SO Lindsey Wils         5:45.00    5:52.95    4   
  6 Bethany Pratt             FR Centre               5:50.00    5:57.84    3   
  7 Caroline Webster          SO Rhodes               5:45.00    6:03.60    2   
  8 Amanda Buck               SO Cuyahoga CC          5:40.00    6:05.63    1   
  9 Joanna Stebing            JR Huntington           6:11.08    6:09.84  
 10 Brittany Buck             SO Cuyahoga CC          5:45.00    6:10.50  
 11 Ariel Lyles               FR Lindsey Wils         6:05.00    6:12.11  
 12 Caryn Wixom               JR Earlham                         6:37.76  
 13 Marini Pickering          FR Earlham              6:46.05    6:43.79  
 
Event 13  Women 400 Meter Dash
===================================================================================
       Track: T 55.47  3/15/2003   Amber James, Wheaton (Mass.)                
        Meet: M 57.21  2/19/2004   Gena Rawlins, Illinois Wesleya              
    Name                    Year School                  Seed     Finals  H# Points
===================================================================================
  1 Courtney Ward             SO Cumberlands          1:01.70    1:00.47   4  10   
  2 JaMisha Abney             FR Vincennes            1:00.03    1:00.97   4   8   
  3 Jazmunn Ritchie           SO Vincennes              59.55    1:01.12   4   6   
  4 Nicole Stein              SR DePauw               1:03.00    1:01.84   3   5   
  5 Megan Lee                 FR Rhodes               1:02.00    1:02.26   3   4   
  6 Kristin Hamrick           FR Bellarmine           1:04.34    1:02.95   2   3   
  7 Camilla Aramburu          JR Bellarmine           1:02.93    1:03.26   3   2   
  8 Kate Mastronicola         SO Bellarmine           1:03.51    1:03.53   3   1   
  9 Emily Reavis              SO DePauw               1:03.00    1:03.55   3 
 10 Mariah Town               FR Huntington           1:02.34    1:03.69   3 
 11 Christine Pendleton       SO Cuyahoga CC          1:02.00    1:04.07   4 
 12 Sarah Turi                FR Bellarmine           1:04.60    1:05.73   2 
 13 Kacie Gamm                JR Bellarmine           1:04.73    1:05.75   2 
 14 Jerrica Payton            JR Cumberlands          1:04.90    1:07.09   2 
 15 Brianna Cecil             FR Cumberlands          1:07.45    1:09.09   1 
 16 Sarah Hobbs               JR Cumberlands          1:07.78    1:10.60   1 
 17 Jasmine Prunty            SO Cuyahoga CC          1:05.00    1:10.90   2 
 18 Martika Dabney            FR Cuyahoga CC          1:12.15    1:11.81   1 
 19 Rachael Nodine            FR Vincennes            1:11.91    1:12.71   1 
 20 Lacey Boley               JR Bellarmine           1:14.52    1:14.24   1 
 -- Valencia Anderson            Unattached             59.01   X1:00.71   4 
 
Event 15  Women 600 Meter Run
===================================================================================
       Track: T 1:35.38  2/11/2006   Denele DeVerteuil, Missouri Baptist       
        Meet: M 1:38.06  2/17/2007   Stellah Sang, Lindsey Wilson              
    Name                    Year School                  Seed     Finals  H# Points
===================================================================================
  1 Molly Buck                JR Rhodes               1:41.00    1:38.45   2  10   
  2 Brittany Buck             SO Cuyahoga CC          1:44.56    1:42.21   2   8   
  3 Dionna Snaden             SO Vincennes            1:41.00    1:43.27   2   6   
  4 Maria Bush                FR Cuyahoga CC          1:47.00    1:47.74   1   5   
  5 Abbey Wise                FR Huntington           1:40.00    1:47.84   2   4   
  6 Molly Fallon              JR Earlham                         1:55.73   1   3   
  7 Melissa Bowers            JR St. Mary-of-         1:45.20    2:00.10   2   2   
  8 Candace Young             JR Lindsey Wils         2:10.00    2:02.49   1   1   
 -- Jessica Keys              SO Vincennes                           DNF   1 
 
Event 17  Women 800 Meter Run
================================================================================
       Track: T 2:11.59  3/15/2003   Liz Woodworth, Wisconsin-Oshkosh          
        Meet: M 2:14.36  2/16/2008   Mackenzie Clemens, Illinois Wesleya       
    Name                    Year School                  Seed     Finals  Points
================================================================================
  1 Claire Hollis             SO DePauw               2:26.00    2:25.45   10   
  2 Stephanie Runyon          FR St. Mary-of-         2:32.27    2:27.75    8   
  3 Lisa Becharas             SO DePauw               2:28.09    2:27.92    6   
  4 Amanda Buck               SO Cuyahoga CC          2:32.00    2:32.78    5   
  5 Meghan Swope              FR Cumberlands          2:35.75    2:35.84    4   
  6 Jennifer Marcum           FR Cumberlands          2:45.00    2:36.13    3   
  7 Audrey Springer           FR Cumberlands          2:33.56    2:36.32    2   
  8 Eirinn Cooper             SR Earlham              2:42.05    2:36.37    1   
  9 Myrissa Scales            SO Vincennes            2:35.00    2:36.67  
 10 Jessica Murrer            FR Rhodes               2:27.00    2:40.61  
 11 Natasha Lowe              SO Cuyahoga CC          2:45.00    2:43.13  
 12 Cassi Crew                SO Vincennes            2:40.00    2:47.27  
 
Event 19  Women 1000 Meter Run
================================================================================
       Track: T 2:50.92  2/9/2008    Bethany Carr, Olivet Nazarene             
        Meet: M 3:04.85  2/19/2004   Tara Henshaw, Lindsey Wilson              
    Name                    Year School                  Seed     Finals  Points
================================================================================
  1 Elyse Velte               SR Cumberlands          3:15.00    3:07.63   10   
  2 Cierrra Gerbers           FR Vincennes            3:15.00    3:22.89    8   
  3 Brittany Buck             SO Cuyahoga CC          3:16.07    3:29.33    6   
  4 Nora Swift                FR Earlham              3:43.63    3:29.95    5   
  5 Jennifer Hughes           FR St. Mary-of-         3:40.00    3:40.45    4   
  6 Emily Doering             SR Earlham                         3:52.00    3   
  7 Erin McIlvain             SO Earlham              4:05.93    3:52.87    2   
  8 Vickie Phillips           SO Cuyahoga CC          3:45.00    4:08.11    1   
 
Event 21  Women 200 Meter Dash
===================================================================================
       Track: T 24.70  3/1/2009    Kelsey Conrad, Wisconsin-Milwaukee          
        Meet: M 25.91  2/19/2004   Tashi Johnson, Earlham                      
    Name                    Year School                  Seed     Finals  H# Points
===================================================================================
  1 Christine Pendleton       SO Cuyahoga CC            27.01      26.44   6  10   
  2 Dyrena Darrett            FR Vincennes              26.12      26.56   7   8   
  3 Josann Schoeff            JR Huntington             27.49      26.91   5   6   
  4 Ebony Wright              FR Vincennes              26.58      27.05   7   5   
  5 Tamesha McGuire           FR DePauw                 27.69      27.13   5   4   
  6 Courtney Ward             SO Cumberlands            26.89      27.26   7   3   
  7 Julia Goss                SR Rhodes                 26.90      27.33   7   2   
  8 Gretchen Lussi            FR Bellarmine             27.09      27.40   6   1   
  9 Diana Unuode              FR Cumberlands            27.90      27.72   5 
 10 Ellen Groneman            FR Bellarmine             27.93      27.86   5 
 11 Dominique Gainer          JR Cumberlands            27.30      27.88   6 
 12 Kristina Wimsatt          SR Lindsey Wils           27.98      27.94   5 
 13 Katie Neiser              FR Bellarmine             26.89      28.07   7 
 14 Rachel Eychmans           FR Bellarmine             27.47      28.13   6 
 15 Mariah Town               FR Huntington             28.27      28.17   4 
 16 Jasmine Prunty            SO Cuyahoga CC            28.14      28.47   4 
 17 Kyla Graham               SO Rhodes                 27.47      28.61   6 
 18 Ruth Olson                FR Lindsey Wils           28.84      28.66   3 
 19 Schavel Morrison          JR DePauw                 28.15      28.71   4 
 20 Kristin Hamrick           FR Bellarmine             28.30      28.81   4 
 21 Camilla Aramburu          JR Bellarmine             28.58      28.82   4 
 22 Jackie Atkins             JR Bellarmine             28.69      28.95   3 
 23 Jerrica Payton            JR Cumberlands            28.87      29.35   3 
 24 Jessica Pond              SR DePauw                 28.10      29.51   5 
 25 Gaynal Mullings           FR Huntington             30.77      29.93   2 
 26 Rachel Bayon              FR Huntington             30.78      30.12   2 
 27 Dana Stewart              SO Huntington             32.16      30.55   1 
 28 Rachael Nodine            FR Vincennes              30.96      30.73   1 
 29 Loraine James             FR Rhodes                 30.00      30.88   3 
 30 Shannon McMullen          SO Bellarmine             30.12      31.73   2 
 31 Lacey Boley               JR Bellarmine             31.87      32.48   1 
 -- Valencia Anderson            Unattached             25.51     X25.91M  7 
 
Event 23  Women 3000 Meter Run
================================================================================
       Track: T  9:44.72  3/1/2009    Laura Rolf, Valparaiso                   
        Meet: M 10:31.97  2/19/2004   Casey Schneider, Southern Indiana        
    Name                    Year School                  Seed     Finals  Points
================================================================================
  1 Ellen Mail                SR DePauw              10:45.00   10:37.06   10   
  2 Kelsey Dudziak            JR Rhodes              11:10.00   10:38.84    8   
  3 Cybil Covic               SR Rhodes              10:50.00   10:41.11    6   
  4 Anna Johnson              JR Rhodes              10:45.00   10:49.18    5   
  5 Jess Macy                 FR DePauw              11:05.00   10:56.17    4   
  6 Melissa DeFabrizio        SR Rhodes              11:10.00   11:08.90    3   
  7 Lisa Miville              SO Bellarmine          11:15.20   11:09.00    2   
  8 Maddie Harrigan           FR Rhodes              11:30.00   11:20.30  
  9 Kelsey Moore              SO DePauw                         11:24.27    1   
 10 Krystal McHenry           SO Huntington          11:42.76   11:29.71  
 11 Julie Southworth          SR DePauw                         11:32.47  
 12 Whitney Langston          FR Rhodes              11:40.20   11:33.57  
 13 Melissa Buckley           SR DePauw              11:44.80   11:36.24  
 14 Marianne Kirk             JR Rhodes              11:15.00   11:36.65  
 15 Haley Gray                JR Centre              12:00.00   11:47.00  
 16 Hillary Quirk             FR Rhodes              12:20.00   11:49.22  
 17 Ashlee Karp               JR DePauw                         11:53.19  
 18 Emma Fesperman            FR Rhodes              12:25.00   12:05.95  
 19 Megan O'Brien             SO Rhodes              12:14.05   12:18.48  
 20 Megan Miller              JR Centre              12:20.00   12:23.37  
 21 Amanda Buck               SO Cuyahoga CC         11:30.26   12:33.26  
 22 Crystal Watson            SO Cuyahoga CC         11:20.00   12:33.30  
 
Event 25  Women 4x400 Meter Relay
================================================================================
       Track: T 3:45.01  3/15/2003   Wheaton (Mass.), Wheaton (Mass.)          
                         Smith, Williams-Judge, Bromell, James             
        Meet: M 3:57.77  2/16/2008   Illinois Wesleyan, Illinois Wesleya       
    School                                               Seed     Finals  Points
================================================================================
  1 Vincennes  'A'                                    4:07.21    4:09.53   10   
  2 Rhodes  'A'                                       4:05.00    4:15.68    8   
  3 Huntington  'A'                                   4:18.00    4:21.59    6   
  4 DePauw  'A'                                       4:15.00    4:24.93    5   
  5 Earlham  'A'                                                 4:49.01    4   
 
Event 27  Women Weight Throw
==========================================================================================
       Track: T 19.21m  2/6/2010    Kelsey Hanley, Indiana Stat                
        Meet: M 15.26m  2/16/2008   Courtney Kuzmicz, Indianapolis             
    Name                    Year School                  Seed     Finals            Points
==========================================================================================
  1 Emily Niehaus             SO Centre                16.35m     16.60mM  54-05.50  10   
  2 Julia Zalewski            SO Bellarmine            13.84m     14.62m   47-11.75   8   
  3 Bellosie Frazier          SO Vincennes             15.03m     14.21m   46-07.50   6   
  4 Rachel Deloney            FR Vincennes             12.71m     12.55m   41-02.25   5   
  5 Samantha Goodman          FR Vincennes             12.01m     11.55m   37-10.75   4   
  6 Reghann Covert            JR Bellarmine            12.97m     11.53m   37-10.00   3   
  7 Aubrey Sears              SO Vincennes             13.12m     11.34m   37-02.50   2   
  8 Hillary Botts             FR Centre                10.59m     11.25m   36-11.00   1   
  9 Elizabeth Chandler        SO Vincennes             13.72m     11.23m   36-10.25 
 10 Alison Lang               FR Rhodes                           10.05m   32-11.75 
 11 Jordyn Hammel             FR Vincennes             10.34m      9.42m   30-11.00 
 11 Elizabeth Amponsah        FR Lindsey Wils           8.70m      9.42m   30-11.00 
 13 Brittany Sievers          FR DePauw                 8.49m      9.08m   29-09.50 
 14 Carlita Mitchner          SO Rhodes                 7.62m      8.00m   26-03.00 
 15 Anna Sundean              FR Lindsey Wils           7.28m      7.52m   24-08.25 
 16 Meredith McGrady          JR DePauw                 9.87m      7.22m   23-08.25 
 -- Alicia Dupilka            SO Bellarmine            13.37m         ND            
 -- Toywonia Jones               Unattached            17.33m    X17.56mM  57-07.50 
 
Event 29  Women Long Jump
==========================================================================================
       Track: T 5.87m  2/11/2006   Sherlonda Johnson, Wisconsin-Milwaukee      
        Meet: M 5.84m  2/19/2004   Pristina Jones, Unat                        
    Name                    Year School                  Seed     Finals            Points
==========================================================================================
  1 Maria Bush                FR Cuyahoga CC            5.50m      5.31m   17-05.25  10   
  2 Julia Goss                SR Rhodes                            5.30m   17-04.75   8   
  3 Kristina Wimsatt          SR Lindsey Wils           5.36m      5.21m   17-01.25   6   
  4 Lauren Lyles              FR Cuyahoga CC            4.78m      4.95m   16-03.00   5   
  5 Jessie Ormand             JR Rhodes                            4.84m   15-10.50   4   
  6 Sam Wong                  SO DePauw                 4.89m      4.74m   15-06.75   3   
  7 Gretchen Lussi            FR Bellarmine             5.18m      4.69m   15-04.75   2   
  8 Jackie Atkins             JR Bellarmine             4.63m      4.62m   15-02.00   1   
  9 Remsing King              FR Bellarmine             4.75m      4.55m   14-11.25 
 10 Amanda Schoenfelder       SO Bellarmine             4.66m      4.52m   14-10.00 
 11 Elaine Kuntz              FR Bellarmine             4.86m      4.41m   14-05.75 
 12 Shannon McMullen          SO Bellarmine             4.32m      4.22m   13-10.25 
 13 Ramona Hemmings           JR Earlham                4.72m      4.02m   13-02.25 
 14 Martika Dabney            FR Cuyahoga CC            4.09m      3.70m   12-01.75 
 15 Jasmine Hammond           FR Lindsey Wils           3.74m      3.66m   12-00.25 
 
Event 31  Women High Jump
==========================================================================================
       Track: T 1.76m  3/14/2003   Kim Deprez, Geneseo State                   
        Meet: M 1.68m  2/23/2002   Elizabeth Stoll, Washington                 
    Name                    Year School                  Seed     Finals            Points
==========================================================================================
  1 Elizabeth Ross            SO Earlham                1.60m      1.58m    5-02.25  10   
  2 Ariell Akel               FR Cuyahoga CC            1.61m      1.53m    5-00.25   7   
  2 Nora Bowe                 FR Bellarmine             1.55m      1.53m    5-00.25   7   
  4 Maria Bush                FR Cuyahoga CC            1.52m      1.53m    5-00.25   5   
  5 Hayden Kelley             FR Bellarmine             1.58m      1.53m    5-00.25   4   
  6 Lauren Lyles              FR Cuyahoga CC            1.53m      1.48m    4-10.25   3   
  7 Lee Harmon                FR DePauw                 1.55m      1.48m    4-10.25   2   
  8 Chelsea Courtney          FR DePauw                 1.45m      1.43m    4-08.25   0.50
  8 Ellen Groneman            FR Bellarmine             1.40m      1.43m    4-08.25   0.50
 10 Sagan King                FR Cumberlands            1.47m      1.43m    4-08.25 
 -- Alexandra Wolfe           SR Bellarmine             1.47m         NH            
 -- Cara Farris               FR Earlham                              NH            
 
Event 33  Women Triple Jump
==========================================================================================
       Track: T 12.37m  3/15/2003   LaNeatra Johnson, Christopher Newport      
        Meet: M 11.61m  2/16/2008   Leeann White, Austin Peay                  
    Name                    Year School                  Seed     Finals            Points
==========================================================================================
  1 Alexandra Wolfe           SR Bellarmine            10.02m     10.53m   34-06.75  10   
  2 Ramona Hemmings           JR Earlham               10.31m     10.25m   33-07.50   8   
  3 Elaine Kuntz              FR Bellarmine            10.33m     10.24m   33-07.25   6   
  4 Jessie Ormand             JR Rhodes                10.82m     10.15m   33-03.75   5   
  5 Samantha Specht           FR Rhodes                10.64m     10.05m   32-11.75   4   
  6 Remsing King              FR Bellarmine            10.24m     10.01m   32-10.25   3   
  7 Gretchen Lussi            FR Bellarmine            10.19m     10.00m   32-09.75   2   
  8 Lee Harmon                FR DePauw                10.23m      9.69m   31-09.50   1   
  9 Chelsea Courtney          FR DePauw                 9.53m      9.63m   31-07.25 
 10 Maria Bush                FR Cuyahoga CC            8.53m      9.52m   31-03.00 
 11 Sam Wong                  SO DePauw                 9.60m      9.41m   30-10.50 
 12 Jackie Atkins             JR Bellarmine            10.01m      9.09m   29-10.00 
 13 Lauren Lyles              FR Cuyahoga CC            8.00m      8.88m   29-01.75 
 -- Jasmine Hammond           FR Lindsey Wils           7.47m         ND            
 
Event 35  Women Pole Vault
==========================================================================================
       Track: T 4.30m  2/6/2010    Kylie Hutson, Indiana Stat                  
        Meet: M 3.50m  2/16/2008   Carrie Burggraf, Austin Peay                
    Name                    Year School                  Seed     Finals            Points
==========================================================================================
  1 Kim Tryon                 SR Rhodes                 3.20m      3.42m   11-02.50  10   
  2 Erin Dwenger              FR Bellarmine             3.30m      3.20m   10-06.00   8   
  3 Michelle Kyler            SR Huntington             3.20m      3.05m   10-00.00   6   
  4 Ariell Akel               FR Cuyahoga CC            3.05m      2.90m    9-06.25   5   
  5 Ashley Louise             SR DePauw                            2.90m    9-06.25   4   
  6 Meredith Naughton         JR Earlham                2.75m      2.75m    9-00.25   2   
  6 Danielle Uher             SO Cuyahoga CC            2.75m      2.75m    9-00.25   2   
  6 Janelle McSurley          JR Cumberlands            2.95m      2.75m    9-00.25   2   
  9 Emily Kerber              SO Cumberlands            2.90m      2.75m    9-00.25 
 10 Erica Mills               FR DePauw                 2.59m      2.60m    8-06.25 
 11 Whitney Thomas            FR Bellarmine             2.60m      2.60m    8-06.25 
 12 Lisa Becharas             SO DePauw                 2.40m      2.30m    7-06.50 
 -- Sara Alsman               FR Vincennes              2.60m         NH            
 
Event 37  Women Shot Put
==========================================================================================
       Track: T 15.51m  3/15/2003   Healy Thompson, Williams                   
        Meet: M 14.68m  2/22/2003   Cari Roush, Indianapolis                   
    Name                    Year School                  Seed     Finals            Points
==========================================================================================
  1 Rachel Deloney            FR Vincennes             13.40m     13.05m   42-09.75  10   
  2 Bellosie Frazier          SO Vincennes             13.65m     12.76m   41-10.50   8   
  3 Emily Niehaus             SO Centre                11.67m     11.27m   36-11.75   6   
  4 Elizabeth Amponsah        FR Lindsey Wils          10.06m     10.77m   35-04.00   5   
  5 Aubrey Sears              SO Vincennes             10.40m     10.03m   32-11.00   4   
  6 Samantha Goodman          FR Vincennes             10.43m      9.98m   32-09.00   3   
  7 Elizabeth Chandler        SO Vincennes             10.56m      9.96m   32-08.25 
  8 Briana Holder             SO DePauw                 9.59m      9.80m   32-02.00   2   
  9 Hillary Botts             FR Centre                 8.59m      9.57m   31-04.75   1   
 10 Jordyn Hammel             FR Vincennes              8.99m      9.47m   31-01.00 
 11 Emily Kerber              SO Cumberlands            9.76m      9.46m   31-00.50 
 12 Tessie Rice               FR Cumberlands            8.31m      8.59m   28-02.25 
 13 Amanda Brinkman           FR DePauw                 8.47m      8.46m   27-09.25 
 14 Amanda Schoenfelder       SO Bellarmine             8.92m      7.93m   26-00.25 
 15 Alison Lang               FR Rhodes                            7.88m   25-10.25 
 16 Kaitlyn Fothergill        FR Cumberlands            6.98m      7.63m   25-00.50 
 17 Carlita Mitchner          SO Rhodes                            7.08m   23-02.75 
 18 Natausha Burke            FR Cumberlands            7.96m      6.92m   22-08.50 
 19 Anna Sundean              FR Lindsey Wils           8.23m      6.65m   21-10.00 
 -- Toywonia Jones               Unattached            12.95m    X12.09m   39-08.00 
 
Back