Wabash wins DePauw Indoor Classic; Tigers Place Fifth
February 20, 2010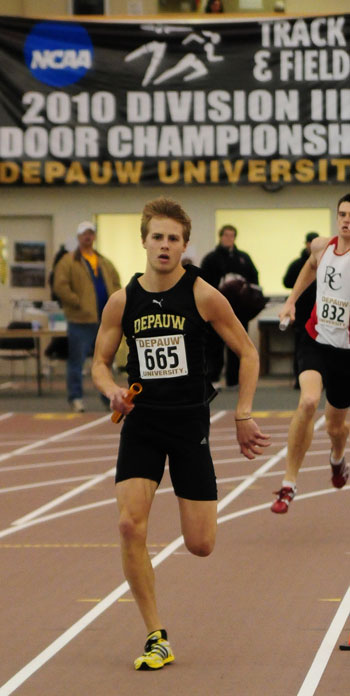 February 20, 2010, Greencastle, Ind. — Wabash totaled 141.5 points and won the DePauw Indoor Track and Field Classic. Bellarmine was second with 107 and DePauw was fifth with 72.5.
Chris Dietrick (pictured) was third in the 800-meter run in an NCAA provisional and school record time of 1:53.89. Jon Cripe finished fifth in the event in 1:59.53.

Joe Evans was second in the mile run in 4:26.89, while Nick Pucillo was fourth in 4:31.37 and Steve Clark was seventh in 4:34.77. Robert Steele placed fourth in the 55-meter dash in 6.68 seconds and fifth in the 200 meters in 23.38.

Myron Burr was fifth in the 55-meter hurdles in 8.23 seconds, while Kyle Barrett was sixth in the 5,000 meters in 16:51.12 and Bobby Dvorscak was also sixth in the 600 meters in 1:27.96. Peter Richard finished eighth in the 3,000 meters in 9:18.53.

In the field events, Nathan Evans finished fourth in the high jump at 1.75 meters (5-8.75) and Byra Khosbayar was eighth at 1.65 meters (5-5). Joe Donner was fourth in the shot put at 14.27 meters (46-10) and Tyler Doane was seventh at 13.24 meters (43-5.25). David Garrett placed eighth in the pole vault at 3.40 meters (11-1.75).

DePauw's 4 x 400 relay won in 3:29.71, while the 4 x 200 relay was fifth in 1:43.29.
The Tigers travel to Anderson for the Fred Wilt Invitational on Saturday, February 27.
Follow DePauw Athletics on Twitter | Become a Fan of DePauw Athletics on Facebook
Licensed to DePauw University                             HY-TEK's Meet Manager
                    2010 DePauw Indoor Classic - 2/20/2010                     
                 Hollensteiner Track/DePauw U./Greencastle,IN                  
                                    Results                                    

                    Men - Team Rankings - 19 Events Scored
===============================================================================
    1) Wabash                     141.50     2) Bellarmine                107   
    3) Cumberlands                 86        4) Rhodes                     78   
    5) DePauw                      72.50     6) Huntington                 68   
    7) Earlham                     65        8) Centre                     35   
    9) Lindsey Wilson              34       10) Vincennes                  17   

 
Event 2  Men Distance Medley
================================================================================
       Track: T  9:53.82  2/28/2009   Butler, Butler                           
                          MacDonald, Kos, Lisgo, Baker                      
        Meet: M 10:18.60  2/16/2008   Alabama-Huntsville, Alabama-Huntsvil     
                          W Rodgers, C Sunday, J Moshier, N Milles          
    School                                               Seed     Finals  Points
================================================================================
Finals
  1 Cumberlands  'A'                                 10:20.00   10:42.85   10   
 
Event 4  Men 4x200 Meter Relay
================================================================================
       Track: T 1:29.89  2/12/2005   Southern Illinois University E, SIU Edward
        Meet: M 1:31.50  2/16/2008   Greenville, Greenville                    
    School                                               Seed     Finals  Points
================================================================================
  1 Bellarmine  'A'                                   1:31.83    1:33.22   10   
  2 Rhodes  'A'                                       1:32.00    1:33.48    8   
  3 Lindsey Wilson  'A'                               1:35.49    1:36.00    6   
  4 Earlham  'A'                                      1:34.98    1:36.25    5   
  5 DePauw  'A'                                       1:35.00    1:43.29    4   
 
Event 6  Men 5000 Meter Run
================================================================================
       Track: T 14:24.21  2/28/2009   Kiplingat Tisia, Youngstown State        
        Meet: M 14:36.29  2/22/2003   Graham Wellman, DePauw                   
    Name                    Year School                  Seed     Finals  Points
================================================================================
  1 Jacob Naegeli             SO Earlham             16:05.14   15:50.62   10   
  2 Lance Wood                FR Huntington          16:30.00   16:07.97    8   
  3 Kenny Farris              SO Wabash              15:58.12   16:08.43    6   
  4 Sean McGuire              SO Earlham             16:30.14   16:16.95    5   
  5 Justin Hodge              FR Bellarmine          16:02.30   16:27.12    4   
  6 Kyle Barrett              SR DePauw                         16:51.12    3   
  7 Nathan Rupp               FR Huntington          16:30.00   17:01.96    2   
 
Event 8  Men 55 Meter Hurdles
============================================================================
       Track: T  7.40  2/6/2009    Cory Holman, Rend Lake                      
        Meet: M  7.68  2/16/2008   Jarod Renford, Greenville                   
    Name                    Year School                  Seed    Prelims  H#
============================================================================
Preliminaries
  1 Emmanuel Aouad            SR Wabash                  7.61       7.87q  3 
  2 Korey Newman              SO Vincennes               7.98       8.08q  1 
  3 Seth Sigler               FR Bellarmine              7.62       8.19q  2 
  4 John Haley                FR Wabash                  8.13       8.23q  2 
  5 Patrick Posthauer         FR Wabash                  8.33       8.24q  1 
  6 Jonathon Mervine          JR Rhodes                  8.39       8.45q  3 
  7 Myron Burr                FR DePauw                  8.34       8.49q  1 
  8 Billy Rosson              FR Wabash                             8.54q  2 
  9 Kyle White                JR Bellarmine              8.35       8.76   2 
 10 Andrew Willis             FR Lindsey Wils            9.11       8.99   1 
 11 Daniel Pearson            SO Centre                  8.23       9.14   3 
 12 Jeremy Moye               SR Rhodes                  8.80       9.17   2 
 13 Tristan Wright            FR Earlham                 9.52       9.53   2 
 14 Kyle Uhlmann              FR DePauw                  9.86       9.78   3 
 15 Mark Carr                 SR Centre                  8.67      10.08   3 
 
Event 8  Men 55 Meter Hurdles
================================================================================
       Track: T  7.40  2/6/2009    Cory Holman, Rend Lake                      
        Meet: M  7.68  2/16/2008   Jarod Renford, Greenville                   
    Name                    Year School               Prelims     Finals  Points
================================================================================
Finals
  1 Seth Sigler               FR Bellarmine              8.19       7.81   10   
  2 Emmanuel Aouad            SR Wabash                  7.87       7.82    8   
  3 Korey Newman              SO Vincennes               8.08       7.89    6   
  4 John Haley                FR Wabash                  8.23       8.15    5   
  5 Myron Burr                FR DePauw                  8.49       8.23    4   
  6 Patrick Posthauer         FR Wabash                  8.24       8.24    3   
  7 Billy Rosson              FR Wabash                  8.54       8.52    2   
  8 Jonathon Mervine          JR Rhodes                  8.45       8.57    1   
Preliminaries
  9 Kyle White                JR Bellarmine              8.76             
 10 Andrew Willis             FR Lindsey Wils            8.99             
 11 Daniel Pearson            SO Centre                  9.14             
 12 Jeremy Moye               SR Rhodes                  9.17             
 13 Tristan Wright            FR Earlham                 9.53             
 14 Kyle Uhlmann              FR DePauw                  9.78             
 15 Mark Carr                 SR Centre                 10.08             
 
Event 10  Men 55 Meter Dash
============================================================================
       Track: T  6.33  3/15/2003   Bret Blake, Nebraska Wesleyan               
        Meet: M  6.36  2/19/2005   Jordan Jeffers, Cumberland                  
    Name                    Year School                  Seed    Prelims  H#
============================================================================
  1 Eric Tisdol               SR Cumberlands             6.60       6.66q  1 
  2 Hughston Taylor           SO Cumberlands             6.60       6.70q  2 
  3 Jeremy Fugate             SO Bellarmine              6.57       6.71q  2 
  4 Sylvester Dunn            FR Vincennes               6.69       6.73q  2 
  5 Robert Steele             JR DePauw                  6.70       6.75q  4 
  6 Greg Palm                 JR Rhodes                  6.76       6.77q  2 
  7 Christopher Youree        FR Vincennes               6.79       6.79q  1 
  8 Roscoe Moore              FR Lindsey Wils            6.76       6.82q  4 
  9 Austin Hodges             FR Wabash                  6.79       6.82   3 
 10 Bob Evans                 JR Cumberlands             6.73       6.84   1 
 11 Taylor Wagner             FR DePauw                             6.85   2 
 12 John Haley                FR Wabash                  6.85       6.86   2 
 13 Cody Dixon                FR Lindsey Wils            6.69       6.86   2 
 13 Cory Dardenne             SR Rhodes                  6.89       6.86   3 
 15 Jamal Noland              FR Vincennes               6.75       6.87   1 
 16 Kevin Stechler            SO Rhodes                  6.66       6.88   5 
 17 Van Hunt                  FR Wabash                  6.93       6.89   4 
 18 Devin Kelley              SO Wabash                  7.04       6.91   4 
 19 Seth Sigler               FR Bellarmine              6.59       6.93   3 
 20 Daiyaan Epps              FR Cumberlands             6.82       6.94   4 
 21 Willie Jones              SO Lindsey Wils            6.99       7.03   3 
 22 Patrick Neary             FR Wabash                  7.10       7.14   3 
 23 Armani Williams           FR Cumberlands             6.99       7.21   1 
 24 Josh McMurray             SR Rhodes                  6.90       7.21   5 
 25 Byra Khosbayar            FR DePauw                  7.39       7.47   5 
 26 Jared Findlater           FR Bellarmine              6.88       7.49   1 
 27 Reuben Goldstein          SR Earlham                 8.00       7.96   5 
 
Event 10  Men 55 Meter Dash
================================================================================
       Track: T  6.33  3/15/2003   Bret Blake, Nebraska Wesleyan               
        Meet: M  6.36  2/19/2005   Jordan Jeffers, Cumberland                  
    Name                    Year School               Prelims     Finals  Points
================================================================================
Finals
  1 Eric Tisdol               SR Cumberlands             6.66       6.62   10   
  2 Sylvester Dunn            FR Vincennes               6.73       6.65    8   
  3 Jeremy Fugate             SO Bellarmine              6.71       6.66    6   
  4 Robert Steele             JR DePauw                  6.75       6.68    5   
  5 Hughston Taylor           SO Cumberlands             6.70       6.71    4   
  6 Christopher Youree        FR Vincennes               6.79       6.76    3   
  7 Greg Palm                 JR Rhodes                  6.77       6.78    2   
  8 Roscoe Moore              FR Lindsey Wils            6.82       6.98    1   
Preliminaries
  9 Austin Hodges             FR Wabash                  6.82             
 10 Bob Evans                 JR Cumberlands             6.84             
 11 Taylor Wagner             FR DePauw                  6.85             
 12 John Haley                FR Wabash                  6.86             
 13 Cody Dixon                FR Lindsey Wils            6.86             
 13 Cory Dardenne             SR Rhodes                  6.86             
 15 Jamal Noland              FR Vincennes               6.87             
 16 Kevin Stechler            SO Rhodes                  6.88             
 17 Van Hunt                  FR Wabash                  6.89             
 18 Devin Kelley              SO Wabash                  6.91             
 19 Seth Sigler               FR Bellarmine              6.93             
 20 Daiyaan Epps              FR Cumberlands             6.94             
 21 Willie Jones              SO Lindsey Wils            7.03             
 22 Patrick Neary             FR Wabash                  7.14             
 23 Armani Williams           FR Cumberlands             7.21             
 24 Josh McMurray             SR Rhodes                  7.21             
 25 Byra Khosbayar            FR DePauw                  7.47             
 26 Jared Findlater           FR Bellarmine              7.49             
 27 Reuben Goldstein          SR Earlham                 7.96             
 
Event 12  Men 1 Mile Run
================================================================================
       Track: T 4:08.22  3/1/2009    Stephen Lesgo, Butler                     
        Meet: M 4:17.62  2/17/2007   Rob Leventhal, Emory                      
    Name                    Year School                  Seed     Finals  Points
================================================================================
Finals
  1 Alex Jones                SO Bellarmine           4:29.30    4:25.52   10   
  2 Joe Evans                 SR DePauw               4:29.82    4:26.89    8   
  3 Evan Nelsen               SO Rhodes               4:25.00    4:28.49    6   
  4 Nick Pucillo              JR DePauw               4:32.14    4:31.37    5   
  5 Matt Montavon             FR Bellarmine           4:35.20    4:32.14    4   
  6 Chris Moore               JR Rhodes               4:25.00    4:32.75    3   
  7 Steve Clark               SR DePauw               4:40.00    4:34.77    2   
  8 Micah Milliman            SR Wabash               4:35.69    4:36.01    1   
  9 Tyler Catterton           FR Rhodes               4:36.00    4:38.04  
 10 Tyler Giesting            SO DePauw               4:45.00    4:41.32  
 11 Willie Polio              SO Centre               4:40.00    4:48.00  
 12 Matt Miller               FR Rhodes               4:45.00    4:50.15  
 13 Isaiah Laatsch            FR Huntington           4:54.18    4:51.49  
 14 Daniel Wolfe              SO Rhodes               5:00.00    4:55.12  
 15 Robert Lugg               SO Earlham                         4:58.04  
 16 Alex Bettag               SO Bellarmine           4:49.93    5:00.93  
 17 Edward Alcock             FR Centre               4:50.00    5:03.17  
 18 James Gorman              FR Wabash                          5:03.62  
 19 Daniel Becker             FR Huntington           5:10.00    5:04.33  
 20 Alan Huffman              FR Huntington           5:01.16    5:04.70  
 21 David Boyer               JR Huntington           5:20.31    5:29.69  
 -- Tony Perugini             SR Lindsey Wils         5:05.00        DNF  
 
Event 14  Men 400 Meter Dash
===================================================================================
       Track: T 46.96  3/15/2003   Andrew Rock, Wisconsin-La Crosse            
        Meet: M 49.64  2/16/2008   Matt Harden, Illinois Wesleya               
    Name                    Year School                  Seed     Finals  H# Points
===================================================================================
  1 Kameron Bailey            SR Huntington             51.95      51.44   4  10   
  2 Spencer Sheridan          SO Wabash                 51.54      51.56   5   8   
  3 Joseph Kiefer             JR Bellarmine             50.21      51.81   5   6   
  4 Jesse Shelton             JR Bellarmine             51.40      52.01   5   5   
  5 Bo Braun                  SR Earlham                52.75      52.08   3   4   
  6 Sean Klosterman           FR Bellarmine             51.73      52.46   4   3   
  7 Robert Riddle             FR Wabash                 52.00      52.58   4   2   
  8 Jonathon Mervine          JR Rhodes                 51.00      52.70   5   1   
  9 Sean LaFontaine           JR Huntington             52.84      53.31   3 
 10 Jacob Ezell               SO Wabash                 53.80      53.58   3 
 11 Andre Adeymi              SO Wabash                 52.00      53.83   4 
 12 David Thomas              SO Rhodes                 53.00      54.33   3 
 13 Jacob McPheron            FR Cumberlands            53.25      54.59   3 
 14 James Kervan              FR Wabash                 54.58      54.65   2 
 15 Ysidro Sorilla            FR Lindsey Wils           54.50      55.35   2 
 16 Tim Greenwood             SO Bellarmine             54.56      55.69   2 
 17 Nick Brown                FR Vincennes              54.97      57.18   1 
 18 Kyle Uhlmann              FR DePauw                 58.24      57.84   1 
 19 Geoffrey Hayes            FR Lindsey Wils           56.98      58.75   1 
 20 Nathan Davis              FR Lindsey Wils         1:00.00    1:01.60   1 
 
Event 16  Men 600 Meter Run
===================================================================================
       Track: T 1:20.96  3/1/2003    John Wachtmann, Taylor                    
        Meet: M 1:22.46  2/17/2007   Lemuel Holifield, Cumberlands             
    Name                    Year School                  Seed     Finals  H# Points
===================================================================================
  1 Aundreas Lopez            SO Cumberlands          1:21.79    1:23.75   3  10   
  2 Brenden Kelly             FR Cumberlands          1:21.79    1:24.20   3   8   
  3 Jared Findlater           FR Bellarmine           1:30.61    1:27.30   1   6   
  4 Anson Purdy               SR Rhodes               1:25.00    1:27.82   3   5   
  5 Kevin Gnotek              JR Bellarmine           1:30.12    1:27.93   2   4   
  6 Bobby Dvorscak            SO DePauw               1:29.00    1:27.96   2   3   
  7 Zak Zivkovic              JR Cumberlands          1:28.00    1:28.39   3   2   
  8 Andy Williams             SR Centre               1:30.00    1:28.40   2   1   
  9 Josh Blount               FR Rhodes               1:31.00    1:29.27   1 
 10 Mark Carr                 SR Centre               1:30.00    1:34.71   2 
 11 Ned Arthur                JR Centre               1:30.00    1:35.50   2 
 12 Daniel Pearson            SO Centre               1:30.72    1:35.56   1 
 -- Calvin Fletcher              Unattached           1:22.45   X1:26.15   3 
 
Event 18  Men 800 Meter Run
================================================================================
       Track: T 1:51.07  3/1/2009    Kris Gauson, Butler                       
        Meet: M 1:54.54  2/16/2008   Blake McDaniel, Birmingham-South          
    Name                    Year School                  Seed     Finals  Points
================================================================================
  1 Jake Waterman             FR Wabash               1:55.80    1:52.88M  10   
  2 Kevin McCarthy            SO Wabash               1:55.85    1:53.45M   8   
  3 Chris Dietrick            SR DePauw               1:59.00    1:53.89M   6   
  4 Chris Hardy               FR Rhodes               2:00.00    1:59.16    5   
  5 Jon Cripe                 SO DePauw               2:00.00    1:59.53    4   
  6 Ethan Medley              FR Huntington           1:59.10    2:00.93    3   
  7 Cullen Kuntz              SO Bellarmine           2:01.21    2:01.76    2   
  8 Matt Jacobs               JR Rhodes               2:05.00    2:06.32    1   
  9 Zack Weinberg             SR DePauw                          2:07.18  
 10 Thomas Maloney            SO DePauw               2:05.00    2:07.28  
 11 Joe Evans                 SR DePauw                          2:07.48  
 12 Max Eden                  SO Bellarmine           2:05.11    2:07.97  
 13 Nick Pucillo              JR DePauw                          2:09.56  
 14 Steve Clark               SR DePauw                          2:09.70  
 15 Charles Martin            FR Lindsey Wils         2:13.00    2:11.21  
 16 Willie Polio              SO Centre               2:05.00    2:12.96  
 17 Matt Bittner              FR Huntington           2:12.00    2:13.12  
 18 Edward Alcock             FR Centre               2:10.00    2:15.05  
 19 Matthew Humphress         FR Lindsey Wils                    2:15.36  
 20 Cyrus Dudgeon             JR Earlham                         2:17.57  
 21 Daniel Becker             FR Huntington           2:20.00    2:22.60  
 22 Alan Huffman              FR Huntington           2:15.00    2:25.21  
 23 Isaiah Laatsch            FR Huntington           2:10.00    2:40.35  
 
Event 20  Men 1000 Meter Run
================================================================================
       Track: T 2:28.76  2/24/2002   Nathan Dosanjh, Butler                    
        Meet: M 2:31.18  2/18/2006   Joel Sanders, Huntington Colle            
    Name                    Year School                  Seed     Finals  Points
================================================================================
  1 Justin Allen              JR Wabash                          2:35.62   10   
  2 Seth Einterz              JR Wabash                          2:36.04    8   
  3 Donavan White             SO Wabash                          2:39.31    6   
  4 Tyler Catterton           FR Rhodes               2:40.00    2:39.35    5   
  5 Colin Dunlap              SO Wabash                          2:42.79    4   
  6 Micah Milliman            SR Wabash                          2:45.83  
  7 Jordan Green              FR Lindsey Wils         2:50.00    2:49.26    3   
  8 Calvin Boesch             FR Rhodes               2:47.00    2:55.01    2   
  9 Daniel Wolfe              SO Rhodes               2:46.00    2:57.09    1   
 10 Matt Miller               FR Rhodes               2:47.00    2:58.91  
 
Event 22  Men 200 Meter Dash
===================================================================================
       Track: T 22.11  2/28/2009   Lesley Hanna, Detroit Mercy                 
        Meet: M 22.32  2/16/2008   Jordan Jeffers, Cumberlands                 
    Name                    Year School                  Seed     Finals  H# Points
===================================================================================
  1 Kameron Bailey            SR Huntington             23.25      22.96   7  10   
  2 Jesse Shelton             JR Bellarmine             23.11      23.17   8   8   
  3 Wes Chamblee              JR Wabash                 22.70      23.20   9   6   
  4 Spencer Sheridan          SO Wabash                 23.90      23.30   5   5   
  5 Robert Steele             JR DePauw                 23.06      23.38   8   4   
  6 Deshon Batts              JR Bellarmine             23.39      23.51   7   3   
  7 Cody Dixon                FR Lindsey Wils           23.50      23.53   6   2   
  8 Kevin Stechler            SO Rhodes                 23.69      23.54   5   1   
  9 Austin Hodges             FR Wabash                 23.50      23.57   6 
 10 Steve Wojanis             JR DePauw                 23.22      23.59   8 
 11 LV Plummer                SO Earlham                23.84      23.62   5 
 12 Sylvester Dunn            FR Vincennes              23.04      23.84   9 
 13 Andre Adeymi              SO Wabash                 23.50      23.87   6 
 14 Emmanuel Aouad            SR Wabash                 23.50      23.93   7 
 14 Sean Klosterman           FR Bellarmine             23.49      23.93   7 
 16 Greg Palm                 JR Rhodes                 23.21      24.04   8 
 17 Christopher Youree        FR Vincennes              23.45      24.05   7 
 18 Devin Kelley              SO Wabash                 24.40      24.13   4 
 19 Robert Riddle             FR Wabash                 23.45      24.16   7 
 20 Cory Dardenne             SR Rhodes                 23.61      24.30   6 
 21 Patrick Posthauer         FR Wabash                 24.52      24.32   4 
 22 Patrick Neary             FR Wabash                 24.87      24.37   3 
 23 Roscoe Moore              FR Lindsey Wils           23.56      24.38   6 
 24 Jamal Noland              FR Vincennes              22.99      24.39   9 
 25 Evan Gronajer             FR Wabash                            24.49   1 
 26 Joseph Kiefer             JR Bellarmine             23.22      24.54   8 
 27 Daniel Pearson            SO Centre                 24.89      24.78   3 
 28 Billy Rosson              FR Wabash                 24.30      24.80   4 
 29 Josh McMurray             SR Rhodes                 24.00      24.94   5 
 30 Nick Brown                FR Vincennes              24.69      25.19   3 
 31 Willie Jones              SO Lindsey Wils           25.36      25.25   2 
 32 James Kervan              FR Wabash                 24.64      25.57   4 
 33 Mark Carr                 SR Centre                 25.04      25.65   2 
 34 Sam Glowinski             SO Wabash                            25.97   1 
 35 Armani Williams           FR Cumberlands            25.31      26.47   2 
 36 Reuben Goldstein          SR Earlham                28.43      28.58   1 
 
Event 24  Men 3000 Meter Run
================================================================================
       Track: T 8:17.62  3/1/2009    Joe MacDonald, Butler                     
        Meet: M 8:31.23  2/19/2005   Joe Eby, Unattached                       
    Name                    Year School                  Seed     Finals  Points
================================================================================
  1 Seth Einterz              JR Wabash                          8:48.41   10   
  2 Jairus Kipkemoi           FR Lindsey Wils         8:45.00    8:49.62    8   
  3 Joseph Herber             SO Huntington           8:53.41    8:51.56    6   
  4 Kevin McCarthy            SO Wabash                          8:57.56    5   
  5 Luke Diehl                SR Huntington           8:58.12    9:09.86    4   
  6 Alec Rosario              SO Huntington           9:15.00    9:10.69    3   
  7 Kevin Rono                FR Lindsey Wils         9:40.00    9:17.71    2   
  8 Pete Richard              SO DePauw               9:00.00    9:18.53    1   
  9 Donavan White             SO Wabash               9:03.18    9:22.22  
 10 Evan Fackler              SR Earlham              9:23.68    9:22.68  
 11 Will Hawes                SO Rhodes               9:25.00    9:26.98  
 12 Jay Wellik                SR DePauw               9:15.00    9:28.51  
 13 Colin Johnson             SR Rhodes               9:25.00    9:29.26  
 14 Colin Dunlap              SO Wabash               9:24.61    9:33.03  
 15 Michael Ascuitto          FR Rhodes               9:45.00    9:39.10  
 16 Steve Brunson             JR Rhodes               9:40.00    9:39.73  
 17 Will Hunt                 JR Rhodes               9:50.00    9:53.97  
 18 Quentin Goodwin              Vincennes                      10:19.71  
 19 Clay Meyer                FR Vincennes           10:22.65   10:22.68  
 20 James Gorman              FR Wabash               9:50.87   10:24.58  
 
Event 26  Men 4x400 Meter Relay
===================================================================================
       Track: T 3:13.68  3/15/2003   Wisconsin-La Crosse, Wisconsin-La Crosse  
                         Rock, Wittleder, Smith, Toshner                   
        Meet: M 3:23.32  2/16/2008   Illinois Wesleyan, Illinois Wesleya       
    School                                               Seed     Finals  H# Points
===================================================================================
  1 DePauw  'A'                                       3:31.41    3:29.71   2  10   
  2 Rhodes  'A'                                       3:26.00    3:30.34   2   8   
  3 Earlham  'A'                                      3:40.09    3:33.50   1   6   
  4 Rhodes  'B'                                       3:36.89    3:37.00   1 
  5 Huntington  'A'                                   3:32.00    3:37.04   1   5   
  6 Centre  'A'                                       3:36.24    3:40.85   1   4   
  7 Cumberlands  'A'                                  3:26.00    3:44.08   2   3   
  8 Lindsey Wilson  'A'                               3:29.90    3:47.71   2   2   
 
Event 28  Men Weight Throw
==========================================================================================
       Track: T 21.03m  2/10/2007   Arthur Turland, Louisville                 
        Meet: M 18.70m  2/24/2001   Hank Benedict, Wilmington                  
    Name                    Year School                  Seed     Finals            Points
==========================================================================================
  1 Andrew Maryott            JR Rhodes                14.67m     15.27m   50-01.25  10   
  2 Chris Shaw                SR Earlham               14.28m     14.68m   48-02.00   8   
  3 Wes Fehrenbacher          FR Bellarmine            13.35m     13.88m   45-06.50   6   
  4 Joel Thatcher             FR Huntington            12.65m     13.24m   43-05.25   5   
  5 Matt Scheller             JR Wabash                           13.12m   43-00.50   4   
  6 Chad Wertman              JR Earlham               13.33m     13.11m   43-00.25   3   
  7 Jacob Carter              SO Centre                12.53m     12.72m   41-08.75   2   
  8 Jonathon Neff             FR Bellarmine            13.86m     12.47m   40-11.00   1   
  9 Mike Benson               JR DePauw                12.08m     11.95m   39-02.50 
 10 Bryan Myers               FR Huntington            10.35m     10.19m   33-05.25 
 11 Charlie Mullennex         FR Lindsey Wils           8.49m     10.11m   33-02.00 
 12 Eric Parton               FR Earlham                7.96m      8.87m   29-01.25 
 13 Logan Goodwin             FR Earlham                8.26m      8.08m   26-06.25 
 14 Mark Piacitelli           FR Earlham                           7.87m   25-10.00 
 
Event 30  Men Long Jump
==========================================================================================
       Track: T 7.35m  2/14/2009   Eric Tisdol, Cumberlands                    
        Meet: M 6.91m  2/16/2008   Kemar James, Fisk                           
    Name                    Year School                  Seed     Finals            Points
==========================================================================================
  1 Eric Tisdol               SR Cumberlands            7.30m      6.85m   22-05.75  10   
  2 Chrys Jones               JR Centre                 7.01m      6.78m   22-03.00   8   
  3 Nicholas Hushebeck        FR Bellarmine             6.32m      6.45m   21-02.00   6   
  4 Jonathan Sergent          FR Centre                 6.09m      6.35m   20-10.00   5   
  5 Bob Evans                 JR Cumberlands            6.31m      6.24m   20-05.75   4   
  6 Hughston Taylor           SO Cumberlands            6.20m      6.23m   20-05.25   3   
  7 Alex Lippincott           SO Rhodes                            6.22m   20-05.00   2   
  8 Daiyaan Epps              FR Cumberlands            6.30m      6.11m   20-00.50   1   
  9 Bobby Dvorscak            SO DePauw                 6.05m      5.96m   19-06.75 
 10 Geoffrey Hayes            FR Lindsey Wils           5.87m      5.93m   19-05.50 
 11 Jonathan Dyson            SO Earlham                5.83m      5.78m   18-11.75 
 12 Marquise Trippett         SR Wabash                            5.57m   18-03.25 
 13 Sam Glowinski             SO Wabash                 5.13m      5.31m   17-05.25 
 13 Sean LaFontaine           JR Huntington             5.70m      5.31m   17-05.25 
 15 Byra Khosbayar            FR DePauw                 5.32m      4.99m   16-04.50 
 
Event 32  Men High Jump
==========================================================================================
       Track: T 2.26m  2/10/2007   Adam Shunk, Nike                            
        Meet: M 1.98m  2/16/2008   Bryan Back, Indianapolis                    
    Name                    Year School                  Seed     Finals            Points
==========================================================================================
  1 Eric Tisdol               SR Cumberlands            2.05m      1.95m    6-04.75  10   
  2 Alex Lippincott           SO Rhodes                 1.98m      1.95m    6-04.75   8   
  3 Jared Patton              FR Earlham                1.80m      1.85m    6-00.75   6   
  4 Nathan Evans                 DePauw                            1.75m    5-08.75   4.50
  4 Sam Kloeker               SO Bellarmine             1.72m      1.75m    5-08.75   4.50
  6 Devin Kelley              SO Wabash                            1.75m    5-08.75   3   
  7 Patrick Posthauer         FR Wabash                            1.75m    5-08.75   2   
  8 Byra Khosbayar            FR DePauw                            1.65m    5-05.00   1   
 -- Sam Glowinski             SO Wabash                               NH            
 
Event 34  Men Triple Jump
==========================================================================================
       Track: T 15.40m  2/24/2002   Ken Hunt, Wisconsin-Milwaukee              
        Meet: M 14.33m  2/16/2008   Kemar James, Fisk                          
    Name                    Year School                  Seed     Finals            Points
==========================================================================================
  1 Chrys Jones               JR Centre                15.24m     14.45mM  47-05.00  10   
  2 Andrew Willis             FR Lindsey Wils          12.19m     13.43m   44-00.75   8   
  3 Daiyaan Epps              FR Cumberlands           14.00m     12.85m   42-02.00   6   
  4 Jonathan Sergent          FR Centre                12.56m     12.09m   39-08.00   5   
  5 Van Hunt                  FR Wabash                           11.98m   39-03.75   4   
  6 Nicholas Hushebeck        FR Bellarmine            12.39m     11.89m   39-00.25   3   
  7 Billy Rosson              FR Wabash                           11.59m   38-00.25   2   
  8 James Kervan              FR Wabash                           11.12m   36-05.75   1   
  9 Robert Riddle             FR Wabash                           11.06m   36-03.50 
 10 Tristan Wright            FR Earlham                9.62m      9.77m   32-00.75 
 -- Jared Patton              FR Earlham               10.70m         ND            
 -- Jonathan Dyson            SO Earlham               11.20m         ND            
 
Event 36  Men Pole Vault
==========================================================================================
       Track: T 5.68m  2/22/2003   Jeremy Scott, Allegheny                     
        Meet: M 5.68m  2/22/2003   Jeremy Scott, Allegheny                     
    Name                    Year School                  Seed     Finals            Points
==========================================================================================
  1 Matt Knox                 FR Wabash                 4.50m      4.65m   15-03.00  10   
  2 Joseph Mills              SR Huntington             3.95m      4.00m   13-01.50   8   
  3 Sam Kloeker               SO Bellarmine             3.75m      3.70m   12-01.50   5.50
  3 Josh Sparks               FR Wabash                 3.80m      3.70m   12-01.50   5.50
  5 Tyler Skinner             FR Huntington             3.35m      3.70m   12-01.50   4   
  6 Jeremy Moye               SR Rhodes                 3.96m      3.70m   12-01.50   3   
  7 Benjamin Joseph           FR Lindsey Wils           3.50m      3.40m   11-01.75   2   
  8 David Garrett             FR DePauw                            3.40m   11-01.75   1   
 -- Kyle White                JR Bellarmine             3.20m         NH            
 -- Scot Fidler               FR Vincennes              4.10m         NH            
 -- Seth Herr                 SR Earlham                              NH            
 -- Adam Hobson               SO Bellarmine             4.11m         NH            
 
Event 38  Men Shot Put
==========================================================================================
       Track: T 19.69m  2/17/2001   Simon Ercegovac, Taylor                    
        Meet: M 16.26m  2/16/2008   Lucas Beach, Huntington                    
    Name                    Year School                  Seed     Finals            Points
==========================================================================================
  1 Chad Wertman              JR Earlham               15.39m     15.99m   52-05.50  10   
  2 Chris Shaw                SR Earlham               14.38m     14.42m   47-03.75   8   
  3 Andrew Maryott            JR Rhodes                14.68m     14.31m   46-11.50   6   
  4 Joe Donner                FR DePauw                13.92m     14.27m   46-10.00   5   
  5 Dwight Williams           FR Cumberlands           12.81m     13.67m   44-10.25   4   
  6 Matt Scheller             JR Wabash                14.14m     13.36m   43-10.00   3   
  7 Tyler Doane               JR DePauw                12.93m     13.24m   43-05.25   2   
  8 Alex Wright               FR Cumberlands           13.63m     13.04m   42-09.50   1   
  9 Jacob Carter              SO Centre                13.41m     12.73m   41-09.25 
 10 Zach Helman               FR Wabash                12.62m     12.72m   41-08.75 
 11 Paul DePoy                JR DePauw                           12.61m   41-04.50 
 12 Joel Thatcher             FR Huntington            12.49m     12.59m   41-03.75 
 13 Joe Granger               FR Wabash                12.90m     12.51m   41-00.50 
 14 Wes Fehrenbacher          FR Bellarmine            12.52m     12.10m   39-08.50 
 15 Michael Fultz             SO DePauw                11.73m     12.09m   39-08.00 
 16 Charlie Mullennex         FR Lindsey Wils          11.81m     11.41m   37-05.25 
 17 Eric Parton               FR Earlham               11.73m     11.04m   36-02.75 
 18 Arron Haney               FR Cumberlands           10.89m     11.03m   36-02.25 
 19 Sebastian Scott           SO DePauw                           10.50m   34-05.50 
 20 Logan Goodwin             FR Earlham               10.82m     10.41m   34-02.00 
 21 Jeremy Moye               SR Rhodes                           10.21m   33-06.00 
 22 Mark Piacitelli           FR Earlham               10.19m      9.82m   32-02.75 
 23 Bryan Myers               FR Huntington             9.58m      9.81m   32-02.25 
 24 Cody McHone               FR Cumberlands            9.37m      9.16m   30-00.75 
 25 Matt Karnes               JR Cumberlands            8.89m      8.58m   28-01.75 
 26 Sam Kloeker               SO Bellarmine                        7.98m   26-02.25 
 

Back