DePauw Places Three on All-SCAC Men's Basketball Teams
March 3, 2010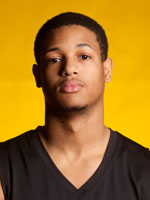 February 27, 2010, Jackson, Miss. — In voting by the conference's head coaches, three DePauw student-athletes earned spots on the All-Southern Collegiate Athletic Conference Men's Basketeball Team. The complete team is available here.
Senior guard Tony James (left) and junior guard Steve Lemasters earned spots on the third team, while sophomore guard Sean Haseley was an honorable mention choice. The announcement came at halftime of the Tigers' SCAC Touranment Semifinal game with Centre.
Prior to the conference tournament, James was the Tigers' third-leading scorer with 10.5 points per game and paced the team with 4.3 assists and 2.0 steals per the game. He shot 48.78 percent from the floor and knocked in a team-best 85.2 percent of his free throws.
Lemasters led the team with 12.4 points per contest and hit a team-high 70 three-pointers while shooting 38.5 percent from beyond the arc.
Haseley was second on the team with 11.7 points per game and was second with 48 three-pointers, while hitting 37.8 percent from three-point range.
Follow DePauw Athletics on Twitter | Become a Fan of DePauw Athletics on Facebook
Back