Ross Named SCAC Pitcher of the Year; Six Tigers Earn All-Conference Honors
April 22, 2010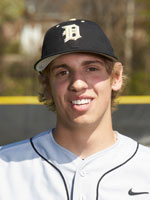 April 22, 2010, Greencastle, Ind. — With an 8-1 record with a 2.58 earned run average entering the Southern Collegiate Athletic Conference Tournament, DePauw sophomore pitcher Elliott Ross has been named the conference's Pitcher of the Year. The announcement was made this evening at the conference tournament in Millington, Tenn. The complete team is available on the SCAC site.
Ross (pictured) was one of six DePauw players earning all-SCAC honors. The left hander is the second Tiger in three years to earn the honor as John Tschantz did so in 2008. Ross was a two-time SCAC Pitcher of the Week this year and has won his last eight decisions. In 45 1/3 innings he struck out 45 and allowed just 12 walks and 38 hits with opposing hitters batting just .218. He also recorded one save.
He appeared in four SCAC games, making two starts, and didn't allow a run in 18 1/3 innings. In that span he struck out 18 and walked just three with nine hits and opposing batters hit just .141.
Joining him on the first team are senior second baseman Taylor Hoffman and junior shortstop Ben Gardner. Hoffman earned first team honors last year as well and is hitting .383 this season with four homers and 31 RBI as well as a team-high 44 runs. He shares the team lead with 46 hits.
Gardner is batting .368 on the season with three homers and 15 RBI. He led the Tigers with 14 stolen bases in 16 attempts. Gardner missed much of the first third of the season due to injury, but has hit safely in 14 of his last 15 games and is batting .526 (30-57) in that time. He earned honorable mention last year.
Picking up honorable mention accolades were freshman designated hitter Jason Cohen, sophomore outfielder Alex Jacques and sophomore first baseman Rob McPike. Cohen is hitting a team-high .438, while Jacques is batting.368 and McPike .338. McPike leads the team with 45 RBI and was a firs team all-SCAC selection last year.
The Tigers open SCAC Tournament play tonight at 7 p.m. CDT against Austin. The double-elimination tournament continues through Sunday. More information is available from the official site.
Follow DePauw Athletics on Twitter | Become a Fan of DePauw Athletics on Facebook
Back