Tiger Men in Second after First Round of SCAC Golf Championships
April 23, 2010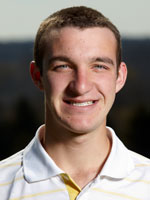 April 23, 2010, Stone Mountain, Ga. — DePauw shot an opening-round 308 and is just one stroke behind 25th-ranked Centre after the first of three rounds of the Southern Collegiate Athletic Conference Men's Golf Championships at the Stonemont Golf Course.
Centre shot a 307 today, while sixth-ranked Oglethorpe is tied for third with eighth-ranked Rhodes as each shot a 310. Southwestern, ranked 17th in Division III, is fifth at 312, while 20th-ranked Trinity is sixth with a 315.
DePauw's Ryan Berra (pictured) is tied for second with a 75, while Ronnie Harris is tied for sixth at 76 and Chase King is in 12th with a 77. Nick Reardon shot an 80 and is tied for 22nd, while Peter Haller is tied for 35th with an 85. Centre's Chris Morris leads the field with a 73.
Play continues Saturday and Sunday. Complete information is available from the official site.
Follow DePauw Athletics on Twitter | Become a Fan of DePauw Athletics on Facebook
Back