Soultz Tosses Three-Hit Shutout as Tigers Advance in SCAC Tournament
April 23, 2010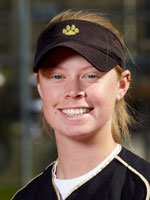 April 23, 2010, Conway, Ark. — DePauw senior pitcher Megan Soultz (left) allowed just three singles and posted her 45th career shutout and 104th win as the 12th-ranked Tigers advanced in the Southern Collegiate Athletic Conference Softball Tournament with a 3-0 win over Southwestern.
DePauw improved to 31-3 with its 19th straight win, while the Pirates dropped to 26-11. The Tigers take on Millsaps at 3 p.m. CDT on Saturday, while Southwestern faces Rhodes in an elimination game.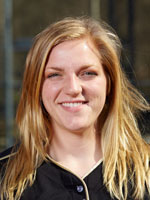 The Tigers scored all they would need in the fourth when Amy Hallett ripped a one-out triple and scored when Ashlee Anton (right) followed with a double.
They added two more in the fifth as Cymone Allen led off with a bunt single and moved to second on Brianne Weeks' sacrifice bunt. Emma Minx hit a two-out triple which scored Allen and Holly Paris followed with a run-scoring single.
DePauw totaled seven hits with Anton leading the way with a pair of doubles. Three different Southwestern players had one hit apiece, but the Pirates couldn't get a runner to second in the contest.
Soultz improved to 21-2 after striking out five and not allowing a walk. Lyndsy Maus dropped to 13-5 with the loss.
Follow DePauw Athletics on Twitter | Become a Fan of DePauw Athletics on Facebook
Back