Ninth-ranked Tigers Win Third Straight SCAC Women's Tennis Title
April 25, 2010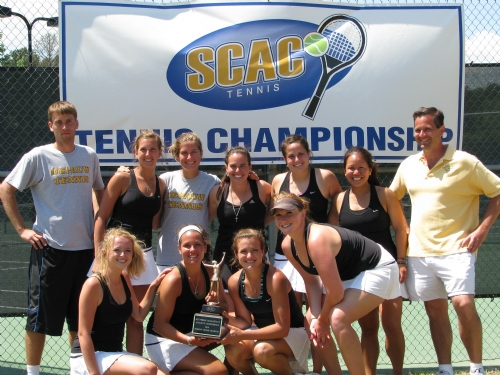 April 25, 2010, North Little Rock, Ark. — The ninth-ranked Tigers captured their third straight Southern Collegiate Athletic Conference title after a 9-0 win over 30th-ranked Sewanee in the SCAC title match. DePauw improved to 20-4 with the win, while Sewanee dropped to 13-10.
DePauw swept the doubles competition before taking all six singles matches including five in straight sets. The match marked the sixth straight year the Tigers battled in the championship match.
With the championship, DePauw has earned automatic qualification into the NCAA Division III Championships which begin on Friday, May 14, with the 48-team field announced on May 10.
Sewanee vs DePauw University
4/25/2010 at North Little Rock, Ark.

#9 DePauw University 9, #30 Sewanee 0

Singles competition
1. Janelle Arita (DEPAUW) def. Jenny Liles (SEWANEE) 1-6, 6-3, 6-3
2. Kelly Gebert (DEPAUW) def. Michelle Flume (SEWANEE) 6-1, 7-5
3. Greer Mackie (DEPAUW) def. Julia Wood (SEWANEE) 6-4, 6-1
4. Kayla Smith (DEPAUW) def. Lindsay Wilburn (SEWANEE) 6-1, 6-1
5. Tricia Wilks (DEPAUW) def. Derry Roberson (SEWANEE) 6-1, 7-5
6. Courtney Griffin (DEPAUW) def. Kathleen Catherall (SEWANEE) 6-2, 6-1

Doubles competition
1. Greer Mackie/Kayla Smith (DEPAUW) def. Jenny Liles/Michelle Flume (SEWANEE) 8-6
2. Janelle Arita/Kelly Gebert (DEPAUW) def. Julia Wood/Kathleen Catherall (SEWANEE) 8-3
3. Tricia Wilks/Taylor Prodromos (DEPAUW) def. Laura Szyperski/Lindsay Wilburn (SEWANEE) 8-3

Match Notes:
Sewanee 13-10; National ranking #30
DePauw University 20-4; National ranking #9
SCAC Women's Tennis Championship Match
Follow DePauw Athletics on Twitter | Become a Fan of DePauw Athletics on Facebook
Back