#14 Tigers Take Two over Trine; Improve to 33-5
May 2, 2010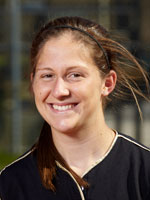 May 2, 2010, Noblesville, Ind. — The 14th-ranked Tigers improved to 33-5 on the season following a doubleheader sweep over Trine in games played at Noblesville High School. DePauw won by scores of 4-2 and 6-0. Trine dropped to 23-13 with the losses.
In the opener, the Tigers scored three in the second as Cymone Allen drew a bases loaded walk which scored Holly Paris. Rachel MacBeth followed with a single to left which scored Ashlee Anton before Brianne Weeks walked, scoring Amy Hallett.
Trine added one in the bottom of the second as Andi Gasco beat the tag at the plate as Alishia Raak reached on a fielder's choice.
The Tigers scored on in the third as Anton came home from second when Haley Buchanan reached on an error. The Thunder scored the game's last run in the seventh when pinch-runner Nicole Grimm scored from third on a wild pitch.
Each team totaled five hits with Paris collecting two for the Tigers. Megan Soultz improved to 22-4, while Gasco dropped to 10-6.
In the nightcap, Soultz and Kristin Barrow combined for the shutout, while the Tigers collected 12 hits. Paris delivered a first-inning double which scored Weeks and Hallett later singled scoring Emma Minx (pictured). Minx's three-run homer in the second made it 5-0, while Jamie Story's solo shot in the fifth rounded out the scoring.
Minx led DePauw with three of the Tigers' 12 hits, while Paris and Hallett each had two. Minx drove in three in the win. Sara Hilvey and Tory Bluhm each had two of Trine's seven hits.
Barrow improved to 9-1 after pitching the final five innings, while Rachel Wisman dropped to 11-6.
DePauw returns to action tomorrow when it hosts Illinois Wesleyan in a 4 p.m. doubleheader.
Follow DePauw Athletics on Twitter | Become a Fan of DePauw Athletics on Facebook
Back