Reich and Stein Advance to NCAA Track Finals; Lauer Begins Heptathlon
May 27, 2010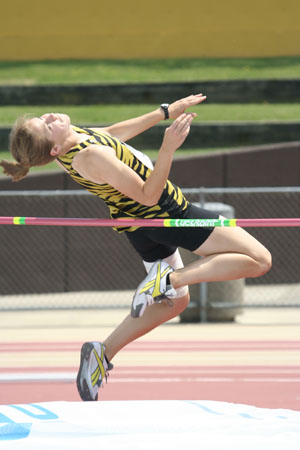 May 26, 2010, Berea, Ohio — DePauw seniors Lauren Reich and Nicole Stein advanced to Saturday's finals and junior Courtney Lauer began competition in the heptathlon on the first day of the NCAA Division III Outdoor Track and Field Championships at Baldwin-Wallace College in Berea, Ohio. Complete details are available through the official site.
Stein won her heat of the 400-meter hurdles in 62.05 seconds which was the fifth-fastest time in the event. She'll compete in Saturday's finals at 3:15 p.m.
Reich was second in her heat of the 1,500-meter run to Marie Borner of Bethel (Minn.) and was second overall in the event. She advanced to Saturday's 1:20 p.m. final.
Lauer (pictured) totaled 2,662 points and is in 12th place after four of the seven heptathlon events. She was seventh in the shot put, ninth in the high jump, 11th in the 200 meters and 16th in the 100 hurdles. Heptathlon competition wraps up on Friday.
Reich also competes in the 5,000 meters which takes place at 3:55 p.m. on Saturday. She ran Division III's fifth-fastest time in the event this year.
Follow DePauw Athletics on Twitter | Become a Fan of DePauw Athletics on Facebook
Back