Pair of Tigers Named All-Region; Lazar is Region's Top Coach
May 12, 2010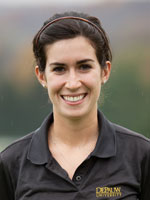 May 12, 2010, Howey-in-the-Hills, Fla. — DePauw senior Erin Kielty and sophomore Taylor Beaty each have been named to the National Golf Coaches Association's 10-player All-Great Lakes Region Team and the Tigers' head coach, Vince Lazar, was named the Great Lakes Region Coach of the Year. The complete release is available here.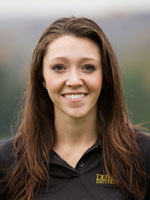 Through the Southern Collegiate Athletic Conference Championships, Kielty (left) paces the Tigers with an 82.0 stroke average over 21 rounds. She's posted five top 10 finishes amongst her 10 total rounds including medalist honors at the Big Four Classic in April.
The Clarendon Hills, Ill., resident shot a season's best 75 in the second round of the Anderson Fall Invitational.
Beaty (right) is third on the Tigers with an 82.5 stroke average including five top 10 finishes in her 10 tournaments. The Auburn, Ind., resident took medalist honors at the Illinois Wesleyan Spring Fling when she topped the 102-player field with a 149 including her season best rounds of 74 and 75.
Lazar led the Tigers to their ninth straight NCAA Division III Championship appearance and the team finished sixth for its eighth top-six performance in the nine Championships. He also directed DePauw to its sixth SCAC title this season. The Division III Coach of the Year in 2002 and 2004, Lazar's regional coach of the year honor is the sixth of his career.
Follow DePauw Athletics on Twitter | Become a Fan of DePauw Athletics on Facebook
Back