DePauw Opens Field Hockey Season with 2-0 Win at Wittenberg
September 1, 2010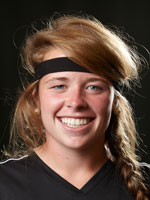 September 1, 2010, Springfield, Ohio — DePauw scored once in each half and opened the 2010 season with a 2-0 win at Wittenberg in the season opener for both schools.
Addie McDonnell (pictured) scored on Katie Sowar's assist just 11:15 into the contest and Kimberly Trainor followed with a score at 49:56 on Margaret Ellis' assist.
Liz Attewell totaled four saves in posting the shutout in goal for DePauw, while Jenny Schaafsma had six stops for the hosts.
The visiting Tigers held a 17-7 advantage in shots and a 7-2 edge in penalty corners.
DePauw returns to action on Saturday, September 4, when it travels to Trine.
Follow DePauw Athletics on Twitter | Become a Fan of DePauw Athletics on Facebook
Back