Tiger Men Open Hoops Season with Win over Franklin
November 19, 2010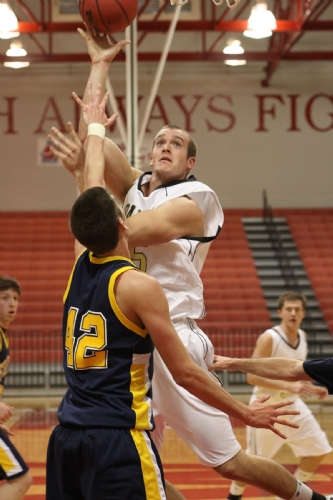 November 19, 2010, Crawfordsville, Ind. — Joe Bergfeld (pictured) posted career highs of 22 points and eight rebounds to lead DePauw to a 64-58 win over Franklin in the opening game of Wabash's Little Giant Tipoff Classic. Franklin dropped to 1-1, while the game was the Tigers' season opener.
Franklin led by as many as five in the opening half before the Tigers took a 36-33 lead at the break. The Grizzlies opened the half with a bucket to trim DePauw's lead to one, but the Tigers scored nine straight to push it to double digits.
After Franklin scored six straight DePauw built no more than a six-point gap the rest of the way. The Grizzlies were within three at 61-58 with just over one minute remaining, but Sean Haseley hit a three with 30 seconds left to seal the victory.
In addition to Bergfeld's 22 point, eight rebound effort, Ryan Sever added a career-best 17 points and Haseley added 10 and eight boards. Ryan Russell also grabbed eight boards in the win as the Tigers held a 46-31 edge on the boards.
Clay Starrett paced Franklin with 19 points followed by Will Conoley with 14 and Gunner Erwin with 11.
DePauw faces Earlham at 1 p.m. tomorrow.
Follow DePauw Athletics on Twitter | Become a Fan of DePauw Athletics on Facebook
PHOTO: Jim Amidon, Wabash
Back