DePauw Defeats Redlands; Mathews Named Classic MVP
November 27, 2010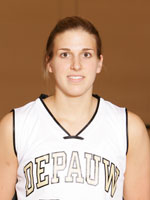 November 27, 2010, Thousand Oaks, Calif. — DePauw shot just under 51 percent for the game and held Redlands to just 31 percent and came away with a 63-38 win over the Bulldogs at the Cal Lutheran Thanksgiving Classic. The Tigers, ranked 10th in the latest USA Today/ESPN Coaches' Poll and 12th in the D3hoops.com preseason poll, improved to 3-1, while Redlands dropped to 2-3.
The Tigers held a 33-27 lead early in the second half before going on an 11-2 run to take a 44-29 advantage with 10:51 left. Redlands briefly closed the margin to 11, but DePauw outscored the Bulldogs 17-3 over the game's final 7:33 for the win.
Katie Mathews was the Tigers' lone double-figure scorer with 16, while Leah Freestone grabbed a team-high six rebounds. Kate Walker dished out four assists and totaled four steals in the win. Mathews was named the Classic MVP, while Ellie Pearson was named to the all-classic team.
Christina Rios and Madison Sanders Curry each scored nine for Redlands.
The Tigers hit 50.9 percent for the game including 57.7 percent in the second half, while Redlands hit 31.3 percent for the game and only 27.3 percent in the second half.
The Tigers open Southern Collegiate Athletic Conference play on Friday, December 3, when they host Birmingham-Southern at 6 p.m.
Follow DePauw Athletics on Twitter | Become a Fan of DePauw Athletics on Facebook
Back