Men's Basketball Travels to Oglethorpe
January 5, 2011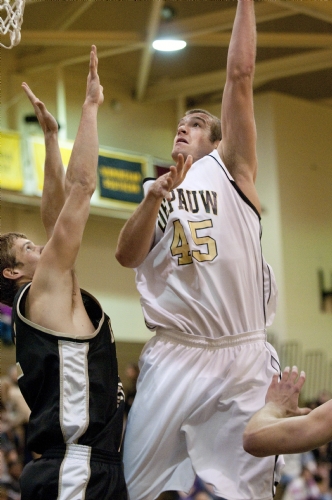 LISTEN LIVE (WGRE) | WATCH LIVE (Oglethorpe) | LIVE STATS | DEPAUW GAME NOTES
January 5, 2011, Greencastle, Ind. — The Tigers travel to Atlanta on Friday for the first Southern Collegiate Athletic Conference road game of the season when they face Oglethorpe University. Tipoff from the Dorough Field House is set for 8 p.m.
DePauw enters the contest with a 6-6 overall record and 1-2 SCAC mark after Sunday's 62-54 home loss to Centre. Oglethorpe is 6-6 overall and 2-1 in the SCAC following Sunday's 87-79 loss at Birmingham-Southern.
Friday's game will be carried live by WGRE and DePauw game notes are available for download. Oglethorpe will provide live stats as well as live video for a $7.95 charge.
The Tigers wrap up the SCAC weekend on Sunday with a 2 p.m. CST contest at Sewanee.
Follow DePauw Athletics on Twitter | Become a Fan of DePauw Athletics on Facebook
Back