#10 DePauw Women Rally in Second Half for SCAC Win
January 16, 2011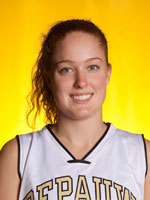 January 16, 2011, Greencastle, Ind. — DePauw shot 59 percent in the second half and pulled away from visiting Hendrix for an 85-68 Southern Collegiate Athletic Conference win.
The Tigers, ranked 10th in the latest USA Today/ESPN Division III Coaches' Poll and 11th by D3hoops.com, improved to 14-2 overall and 7-0 in the SCAC with their ninth straight win, while the Warriors dropped to 6-9 overall and 3-4 in the conference. The win was DePauw's 21st straight SCAC victory and 59th consecutive SCAC home win.
Hendrix jumped out to a 16-9 lead in the opening five minutes and still held a 21-15 lead before DePauw scored 13 straight to take a 28-21 advantage with 5:08 left in the half. The Warriors rallied late in the half to even the score, 39-39, at the intermission.
The teams battled back-and-forth through the first seven minutes of the second half with Hendrix holding a 52-51 lead, but DePauw's Katie Aldrich scored four straight to start a 20-2 run which gave the Tigers a 71-54 lead with 6:14 remaining and put the game out of reach.
Aldrich (pictured) led the Tigers with a career-high 32 points which equaled the second-highest single-game output in DePauw history. The junior scored 21 in the second half. Katie Mathews followed with 18 points and Kate Walker added 10. Aldrich and Ellie Pearson each grabbed eight rebounds as the Tigers held a 39-31 edge on the boards. Walker dished out four assists in the win.
Katy Ashley-Pauley paced Hendrix with 16 with Anna Roane adding 15 and Samantha Devlin 12. Roane hauled down seven rebounds and Jamie Tate dished out three assists.
The Tigers shot 49.3 percent from the floor to Hendrix's 40.0 percent and DePauw committed just 10 turnovers.
DePauw travels to Trinity on Friday, January 21, for a 6 p.m. CST contest.
Follow DePauw Athletics on Twitter | Become a Fan of DePauw Athletics on Facebook
Back