Coach Brad Stevens '99 Leads Butler to Second Straight National Title Game
April 2, 2011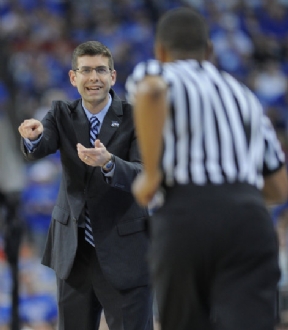 April 2, 2011, Greencastle, Ind. — Butler University's men's basketball team, led by 1999 DePauw University graduate Brad Stevens, is advancing to the national NCAA Division I championship game after defeating Virginia Commonwealth University tonight, 70-62. The Bulldogs (28-9) will face the winner of Kentucky-Connecticut on Monday night. (photo: Matt Detrich/Indianapolis Star)

"They played terrific all the way through, and we were fortunate to pull that one out," Stevens said after the game. "We had guys make individual plays all the way through that were crucial."

An Associated Press recap notes, "The Bulldogs came within a bounce of winning it all last year only to see Gordon Hayward's last-ditch, half-court heave carom off the rim and watch Duke celebrate the title with a 61-59 win. That the Bulldogs are playing for the title again is maybe even more impressive than the first trip, having lost Hayward, their leading scorer and rebounder, to the NBA lottery. Butler also lost two other players who made significant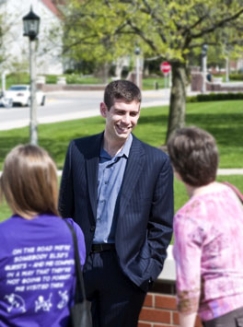 contributions, Willie Veasley and Avery Jukes."
The full text is available at the website of the San Jose Mercury News.
Brad Stevens, who has been head coach at Butler for four years, was an economics major and Management Fellow at DePauw, where he played on the Tiger basketball team. In an article Tuesday, the Chicago Tribune noted the relationship between Stevens and his college coach, Bill Fenlon, and the day before Sports Illustrated again cited the latter's paper, 'Up Three: To Foul Or Not To Foul.' In June, a half-hour program on Fox Sports Midwest focused on Stevens' success at Butler University and included comments from Fenlon.
On April 13, 2010, Stevens returned to his alma mater to deliver the Robert C. McDermond Lecture (photo at right shows Stevens visiting with people on campus last spring).
Also available is an online profile of Brad Stevens.
Back