DePauw Women Win Wabash Hokum Karem
September 3, 2011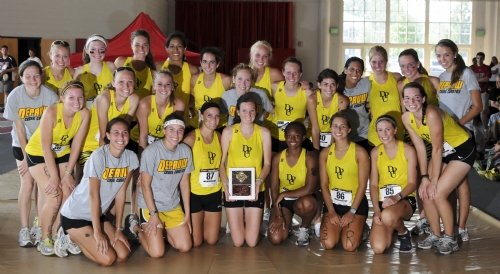 September 3, 2011, Crawfordsville, Ind. — DePauw's women totaled nine points and won the Wabash Hokum Karem by seven points over second-place Indianapolis.
The duo of Siri Retrum and Lisa Becharas won in a combined time of 23:14, while Hope Jordan and Claire Hollis were third in 23:39. Kelsey Moore and Megan Everhart rounded out the scoring and teamed for a fifth-place finish in 24:02. Elizabeth King and Jess Macy finished sixth in 24:06.
DePauw competes in the Indiana Intercollegiates in Bloomington on September 16.
Women's Results 
 
 
  1. DEPAUW                          
            1    3    5  =     9 
         Retrum / Becharas, Jordan / Hollis, Moore / Everhart 
  2. UINDY                           
            2    6    8  =    16 
         Cave / Wittig, Raypole / Rucker, Knapp / Lewis 
  3. SAINT MARY'S COLLEGE            
            4   12   13  =    29 
         Almond / Kenney, Baker / Nebesny, Curtis / Copi 
  4. HUNTINGTON                      
            7   11   14  =    32 
         McHenry / G.Spahr, Boyts / Ogle, N. Spahr / Henningfield 
  5. ANDERSON                        
            9   15   18  =    42 
         Delong / Quinlan, Gillespie / Tyler, Maran / Phillips 
  6. RHIT                            
           10   16   17  =    43 
         Clauser / Moravec, Butler / Taylor, Stark / Gonzalez 
 
 
Place Team                    School                    Time  
===== ======================  ========================= ======
    1 Retrum / Becharas       DEPAUW                    23:14 
    2 Cave / Wittig           UINDY                     23:37 
    3 Jordan / Hollis         DEPAUW                    23:39 
    4 Almond / Kenney         SAINT MARY'S COLLEGE      23:42 
    5 Moore / Everhart        DEPAUW                    24:02 
    6 King / Macy             DEPAUW                    24:06 
    7 Raypole / Rucker        UINDY                     24:10 
    8 McHenry / G.Spahr       HUNTINGTON                24:28 
    9 Knapp / Lewis           UINDY                     24:36 
   10 DeLong / Quinlan        ANDERSON                  24:40 
   11 Clauser / Moravec       RHIT                      24:54 
   12 Berstein / Howland      UINDY                     24:59 
   13 Dilbone / Doron         DEPAUW                    25:12 
   14 Chamberlain / Shannon   UINDY                     25:16 
   15 Boyts / Ogle            HUNTINGTON                25:18 
   16 Baker / Nebesny         SAINT MARY'S COLLEGE      25:40 
   17 Owens / Freiny          DEPAUW                    25:53 
   18 Curtis / Copi           SAINT MARY'S COLLEGE      26:00 
   19 Kurasz / Arvin          DEPAUW                    26:09 
   20 N. Spahr / Henningfield HUNTINGTON                26:11 
   21 Gillespie / Tyler       ANDERSON                  26:21 
   22 Chittenden / Majewski   SAINT MARY'S COLLEGE      26:30 
   23 Bauman / Hannamann      DEPAUW                    26:36 
   24 Rhodes / Walker         UINDY                     26:44 
   25 Rambaud / Guevara       DEPAUW                    26:55 
   26 Bib 99                  Saint Mary of the Woods   27:01 
   27 Butler / Taylor         RHIT                      27:13 
   28 Bib 98                  Saint Mary of the Woods   27:27 
   29 Stark / Gonzalez        RHIT                      27:42 
   30 Nurkowski / Wells       UINDY                     27:53 
   31 Ehrgott / Conley        DEPAUW                    27:56 
   32 Krupp / Wolf            SAINT MARY'S COLLEGE      27:57 
   33 Bib 96                  Saint Mary of the Woods   28:14 
   34 Maran / Phillips        ANDERSON                  28:38 
   35 Dinn / Brinker          DEPAUW                    29:03 
   36 Bib 97                  Saint Mary of the Woods   29:19 
   37 Clor / Heard            DEPAUW                    29:40 

Back