Tigers win Hokum Karem
September 6, 2003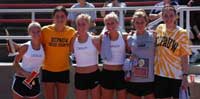 The Tigers took three of the top four finishes to win the Wabash Hokum Karem in Crawfordsville. DePauw finished with eight points followed by the University of Indianapolis with 15.
Emily Mason and Natalie Shaffer won the meet with a combined time of 22:33. Katy Quirk and Amanda Royalty teamed to finish third in 23:32, while Betsy App and Liz Ulrich rounded out the scorers in fourth at 23:33. Libby Huffman and Abby Laymon placed sixth in 23:45.
Complete results are available here.
Back