Tigers top Majors in record-setting game
October 25, 2003
DePauw junior Jamarcus Shephard set a school and conference record with two kickoff returns for touchdowns and tied the DePauw mark with four touchdowns to lead the Tigers to a 55-34 Southern Collegiate Athletic Conference win over visiting Millsaps on a rainy, cool afternoon at Blackstock Stadium.
The Tigers' 55 points also tied a school modern-day record previously set against Washington (Mo.) on October 30, 1982. DePauw improved to 5-2 overall and 3-1 in the SCAC, while Millsaps dropped to 0-7 and 0-3.
Shephard's four touchdowns equaled the modern day school record set by Rick Lindlow against Oberlin on November 6, 1982 and his two kickoff returns for scores also tied an NCAA Division III record. He also finished with the second best single-game all-purpose total in DePauw history with 320 yards with 11 catches for 134 yards. Terry Dickey holds that record with 337 yards against Hanover on November 9, 1991. Shephard entered the game ranked second in Division III in kickoff return average despite not having returned one for a score. The two returns were the second and third scores for his career.
"How about Jamarcus today," DePauw head coach Nick Mourouzis asked. "Had he not under thrown the receiver on a reverse pass he would have accounted for another score. That was a tremendous individual performance."
On DePauw's first series, a bad snap gave Millsaps the ball on the DePauw 38 and they wasted little time in jumping out to a 7-0 lead as quarterback Brandon Morris ran 26 yards for the score with left. Shephard then started his heroics as he returned the ensuing kickoff 95 yards for the score. John Wallace's first of seven successful extra-point attempts tied the game at 7-7 with remaining in the first.
Later in the first, after a Mike Laszynski third-down sack and a Millsaps punt, the Tigers took over on the Millsaps 46. Three straight rushes by DePauw quarterback Andy Yoder netted 13 yards to the Millsaps 33. Yoder then tossed the first of four touchdown passes on the day as he teamed with Brian Culp for a score to make it 14-7 with left in the quarter.
The Majors tied the game on Tal Hendrix's 6-yard run early in the second, but Shephard put DePauw in the lead with his second kickoff return for a score as he scampered 91 yards to pay dirt to give the Tigers a 21-14 lead with 14:15 remaining in the half.
Millsaps tied the score with 36 seconds left in the half as Brandon Morris ran it in from six yards to cap an 11-play, 85-yard drive. Wallace missed a 32-yard field as time expired after the Yoder completed four passes for 43 yards in less than 30 seconds.
DePauw took the lead for good early in the third when Cory Partlow recovered Hendrix's fumble at the Majors' 24. Yoder completed a 20-yard pass to Torey Rauch before Matt King rushed in from four yards with left in the third.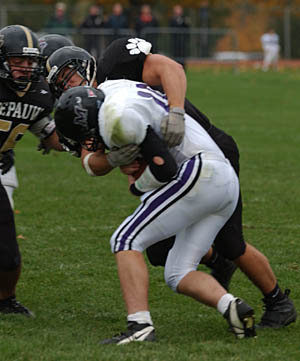 Millsaps defensive tackle Eugene Lamberth scooped up Yoder's errant pitch and scampered 55 yards for a score with remaining in the third, but Todd Rhoden's point-after was off the mark and DePauw remained in the lead, 28-27.
Starting on their own 36 on the next series, the Tigers needed just four plays to cover 66 yards with Yoder tossing a 42-yard scoring strike to Adam Sisson with left in the quarter to make it 35-27. DePauw extended the lead to 42-27 after a third-down sack by Aaron Key and a short Millsaps punt gave the Tigers the ball on the Millsaps 32. Jackson Rust picked up four yards on a first-down run before Yoder and Shephard teamed for a 28-yard score with remaining in the third.
The Tigers pushed the lead to 48-27 on a 37-yard Yoder to Shephard pass just 14 seconds into the fourth. That play followed Shephard's reverse pass that was just short of Rauch near the goal line.
Millsaps scored its final points on the next series by going 78 yards in seven plays with Christian Johnson tossing a 33-yard pass to Chandler Malone. Following a Millsaps unsuccessful onside kick, the Tigers started their final scoring drive on their own 45. Yoder picked up five yards on the first play before Rust carried the ball on the next five and scored from the one with left in the game.
The Tigers finished with a 390-346 total offense advantage, but DePauw finished with just 83 yards on the ground after coming into the game averaging over 220 per contest. Rust led the Tigers with 59 yards in eight carries. Yoder completed 19 of 23 passes for 299 yards with no interceptions and the four touchdowns. In addition to Shephard's 11 catches for 134 yards, seven other Tigers hauled in passes.
Hendrix paced Millsaps with 44 rushing yards on 11 carries with Morris adding 41 on 15 attempts.  Morris completed nine of 14 passes for 118 yards and Johnson was five of nine for 83 yards. Malone led the Majors with five catches for 103 yards and one touchdown.
DePauw sacked Millsaps quarterbacks seven times with Laszynski leading the way with two as part of his team-high 11 tackles. Joshua Swift finished with a team-best 2.5 tackles for loss including 1.5 sacks. Matt O'Bryant led the Majors with 13 tackles, 2.5 for loss, two sacks and a hurry.
DePauw hosts Centre on Saturday, November 1, at , while Millsaps hosts Sewanee next Saturday.
Back