Tigers defeat Hope 35-14
September 18, 2004
Greencastle, Ind. - DePauw totaled 388 rushing yards and 498 total on the way to a 35-14 win over visiting Hope on a sunny, warm day at Blackstock Stadium. The Tigers improved to 2-1 on the season, while Hope dropped to 1-1.
Junior quarterback Ross Wiethoff rushed for a career-high 158 yards on 16 carries and completed 13 of 17 passes for 110 yards and three touchdowns. Freshman running back Jeremiah Marks also topped the 100-yard mark with a career-best 144 yards and a touchdown on 16 carries.
The Tigers scored first (pictured at right) on a 21-yard pass from Wiethoff to Jamarcus Shephard with just 53 seconds left in the first quarter. Tyler Mallory booted the first of five successful extra points to make it 7-0. The Flying Dutchmen tied the score just over two minutes later as Jake Schrock hauled in a 56-yard pass from Joe Schwander.
DePauw took the lead for good on its next possession as Shephard returned the ensuing kickoff 64 yards to the Hope 27. Six plays later, Wiethoff and Shephard teamed for a 9-yard scoring pass. On its next series the Tigers made it 21-7 on Jason Murphy's 3-yard run. Marks picked up 50 yards in the series including a 37-yard gain (pictured below) that set up the score.
A key point in the second half occurred when Wiethoff fumbled near midfield and the Tigers were assessed a personal foul on the play giving the Flying Dutchmen the ball on the DePauw 32. Schwander and Joe Verschueren teamed for a 30-yard gain to the 2-yard line, but the DePauw defense put together a goal line stand with Luis Davila recording a fourth-down tackle of Paul Burgess for a 1-yard loss.
Later in the third, Wiethoff picked up 71 yards on a scamper to the Hope 6 and then tossed a 2-yard touchdown pass to Brett Claxton to make it 28-7 with 6:27 left in the quarter.
Hope scored on its next series as Schwander and Dustin Smith connected on a 7-yard scoring pass that was preceded by Schwander's 44-yard strike to Schrock.
The final score of the contest came with 12:25 remaining when Marks scored on a 5-yard run. The freshman totaled 59 yards on four carries during the drive.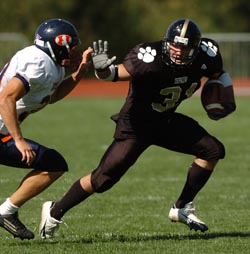 DePauw held a 39:26-20:34 time of possession advantage and outgained the Flying Dutchmen 498-378. Schwander completed 14 of 35 passes for 255 yards and two touchdowns, while two Hope receivers topped the 100-yard plateau. Verschueren caught seven passes for 110 yards with Schrock totaling 115 yards on three catches.
Shephard caught nine passes for 83 yards and the two touchdowns and returned two kickoffs 80 yards to finish with 163 all-purpose yards.
Eric Rausch and Matt Koch each finished with five tackles for the Tigers, while Eric Lewis, Aaron Key and Obinna Ugokwe each had four. Mitch Cumings led Hope with 12 stops including three for losses totaling 12 yards. Joe Diekevers, Bryan Turner and Nick Oostveen each added nine tackles.
DePauw returns to Southern Collegiate Athletic Conference action on Saturday, September 25, when it hosts 11-time defending conference champion Trinity at 1:30 p.m. Hope hosts Wheaton next week.
Back