17th-ranked Tigers win Otterbein Invitational
September 25, 2004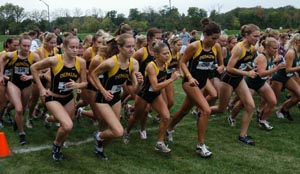 Westerville, Ohio - The 17th-ranked women's cross country team totaled 22 points to finish ahead of Baldwin-Wallace's 60 and win the Otterbein Invitational.
Natalie Shaffer finished second in 23:07 behind Mount Union's Dara Ford who won in 22:41.6. Lauren Hendrix was third in 23:09.2 followed by Liz Ulrich in fourth at 23:20.5 and Leslie Dillon in fifth at 23:31.5. Mandy Willingham was eighth in 23:43.9 with Katy Quirk finishing 19th in 24:09.7.
Other DePauw finishers included Sabrina Henry (25th, 24:21.8), Tiffany Carson (28th, 24:27.9), Amanda Royalty (30th, 24:29.4), Johanna Fickenscher (33rd, 24:31.7), Libby Huffman (34th, 24:37.7), Amber Manriquez (36th, 24:42.5), Taylor Penrod (42nd, 24:59.3), Jaime Mathias (54th, 25:20.9), Lauren Hill (55th, 25:22.3), Sarah Gagle (63rd, 25:54.6), Abby Laymon (69th, 26:04.9), Laura Parks (78th, 26:27.4), Erin Goss (81st, 26:37) and Lauren Jagiel (90th, 27:05.6).
Back