DePauw loses 2-0 SCAC decision to Rhodes
October 10, 2004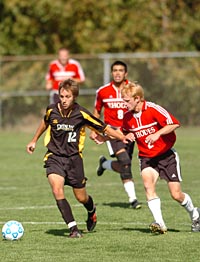 GREENCASTLE, Ind. - Visiting Rhodes College scored one goal in each half on the way to a 2-0 Southern Collegiate Athletic Conference win over DePauw. The Tigers dropped to 6-4-1 overall and 3-2-1 in the SCAC, while the Lynx improved to 9-2-1 overall and 4-1-1 in conference play.
Chase LaFont scored unassisted at 32:00 to give Rhodes all it would need. Paul Staab added the second goal on an assist from Chase Mathis at 68:18.
Rhodes outshot DePauw 10-8, but DePauw held a 5-1 edge in corners. The Tigers committed 17 with the Lynx totaling seven.
Kye Clemens recorded two saves for the Tigers with Jonathan Nelson posting four for Rhodes.
DePauw returns to action on October 20 when it travels to Colorado College.
Back