17th-ranked Tigers win easily at Sewanee
January 28, 2005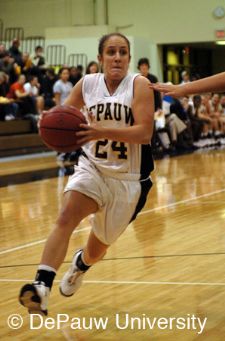 January 28, 2005, Sewanee, Tenn. - The 17th-ranked DePauw women's basketball team opened the second half with a 20-2 run on the way to a 73-50 Southern Collegiate Athletic Conference victory at Sewanee. The Tigers improved to 16-3 overall and 7-1 in the SCAC, while the hosts fell to 13-5 overall and 5-3 in the conference.
DePauw opened the game by taking a big lead early as it scored 11 straight to take a 13-3 advantage. That margin reached 16 on a couple of occasions with the last at 27-11 on Amy Argetsinger's layup with 8:23 left in the half.
Sewanee battled back with 12 straight points to make it 27-23 with just under four minutes to play as it held DePauw scoreless for nearly five minutes. DePauw went to the intermission with a 38-30 lead after shooting 50 percent from the floor.
The hosts cut the lead to six early in the second half, but Sarah Zondor knocked down a three-pointer at the 18:19 mark to start a string of 15 straight points that pushed DePauw's lead to 21 at 55-34 with 11:53 remaining in the contest.
That margin twice reached as many as 30 before Sewanee scored the game's final seven points.
Argetsinger led the Tigers with 18 points with Zondor adding 13. Gretchen Haehl followed with a career-high 11 and Jordan Cuddy chipped in 10 in the victory. Pettay was the lone double-figure scorer for Sewanee with 20.
DePauw finished the contest with 46.8 percent shooting from the field and held Sewanee to just 30 percent including only 23 percent in the second half. DePauw also had a decisive advantage on the boards where they outrebounded Sewanee 50-25 and also hauled down 23 offensive rebounds. Liz Bondi led DePauw with seven rebounds, while Jamie McConnell grabbed seven for Sewanee.
Suzy Doughty dished out a game-high six assists with Kalei Lowes adding five, while Bridget Bailey blocked three shots and Lowes two. Ashleigh Whitworth paced Sewanee with five assists.
DePauw travels to Centre on Sunday for a 3 p.m. contest that can be heard on WGRE.
Back