Tigers come all the way back from 16-point deficit only, but Calvin holds on for NCAA second-round win
March 5, 2005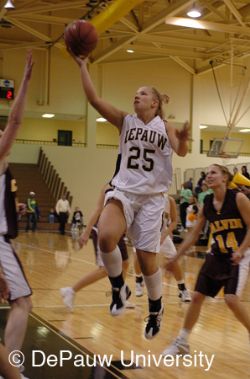 March 5, 2005, Greencastle, Ind. - Visiting Calvin scored the game's first 13 points and held off a second-half DePauw rally to defeat the Tigers by a 72-63 count in the NCAA Division III Women's Basketball Championship second round.
DePauw finished its season with a 23-6 mark, while the Knights improved to 24-4 on the season and advanced to play conference rival Albion in one of next weekend's sectionals.
After missing their first shot, the Knights knocked down their next six with four different players scoring to take a 13-0 lead just 4:25 into the contest. They extended the margin to as many as 16 on two occasions with the last coming at 28-12 on Lisa Nanninga's basket with 7:23 left in the half.
DePauw then scored seven straight to close to within nine, but Calvin quickly pushed the lead back to 14 and took a 43-30 halftime advantage. The Knights shot 56 percent from the floor and nailed five-of-10 three pointers over the opening 20 minutes, while the Tigers hit just 37 percent.
The Knights still held a 49-34 lead after Kristen McDonald's layup with 16:29 remaining, but three straight layups by Amy Argetsinger, Sarah Zondor and Liz Bondi, a jumper from Jordan Cuddy and a Bondi free throw made it 49-43 just four minutes later.
Calvin briefly pushed the margin back to nine at 52-43, but a 16-6 DePauw run capped by Gretchen Haehl's layup with 7:58 left gave DePauw its first lead of the game at 59-58. McDonald's three-pointer a little less than a minute later made it the Tigers' only lead of the contest as she put the Knights ahead 61-59.
Argetsinger tied the game at 61-61 with  6:15 remaining, but Calvin closed the contest by outscoring the Tigers 11-2 down the stretch as Lisa Winkle scored eight of the final nine and DePauw hit just one of its final nine shots.
"We were a little disappointed with our effor on Wednesday against Franklin," Calvin coach John Ross said. "We felt we could play better and we really did a great job on the boards."
Calvin held a 37-36 rebounding edge with Winkle grabbing 14, all on the defensive end, and Nanninga added 10. Caitlin McGonigal led DePauw with six rebounds.
"I loved our performance in the second half," DePauw head coach Kris Huffman said. "We played aggressively and confidently, but I think we just ran out of gas at the end."
Winkle led all scorers with 22 and nearly recorded a triple-double as she blocked eight DePauw shots. McDonald added 19 points and nine asssists in the win.
Zondor paced the Tigers with 16, while Argetsinger added 13. The two seniors closed out their DePauw careers with the best four-year record in school history at 97-19.
Back