Schott scores 33, but Tigers fall in overtime
December 21, 2005
December 21, 2005, Indianapolis, Ind. - DePauw's Stephen Schott scored a career-high 33 points, but it wasn't enough as Earlham defeated DePauw, 90-87, in one overtime at Conseco Fieldhouse. The Tigers dropped to 4-5 with the loss, while the Hustlin' Quakers improved to 4-6.
DePauw led 65-60 after Austin Brown's bucket with 2:46 left in regulation, but Earlham rallied with nine straight points capped by Markous Jewett's two free throws with 1:05 remaining to take a 69-65 lead.
Schott's bucket with 37.5 seconds left closed the margin to 69-67 before LaRon Henry hit one of two free throws with 34.8 seconds left to push the Quakers' lead to 70-67. Brian Oilar drained a game-tying three-pointer with 8.1 seconds left and a potential game-winner by the Quakers was released just after the horn sounded.
Earlham led by as many as six in the overtime at 88-82 before Reid Sakel hit a three-pointer with 27.8 seconds left and a layup with 11.4 seconds remaining to trim the Quakers lead to 88-87. Brandon Miller extended the Quakers' lead to three with two free throws with 9.6 seconds left and Mike Moore's three-pointer at the buzzer was blocked.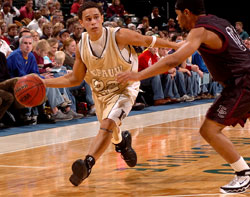 In addition to Schott's 33, Sakel dropped in a career-high 18 and Brown added 12. Jewett led Earlham with 22 with Brandon Miller and Henry each scoring 18. Neil Collins followed with 12 and Trisitan Gregory added 11.
The Tigers outrebounded Earlham 41-36 with Schott totaling 11 for his 10th career double-double and third of the season. Jewett paced Earlham with nine rebounds.
DePauw travels to Evanston, Ill., on Friday to face Division I Northwestern University at 7 p.m. CST. The game can be heard live on WGRE (91.5 FM). 
Back